We've investigated the best espresso machines under $300 for 2020 and come up with nine strong candidates.
If you brew for two or more people and your household's tastes range from straight shots, to rich Americanos, to foamy lattes, then our top pick is clear: It's the Breville ESP8XL Café Roma.
Breville ESP8XL Café Roma Stainless Espresso Maker
Stainless-steel espresso machine with 15-bar thermoblock pump

Dual-wall filter system for excellent crema; froth enhancer, cup-warming plate

Accesories: Stainless steel frothing pitcher Tamping tool/measuring spoon/cleaning tool

Removable drip tray and grid; Frothing jug included

Measures 9 x 9 x 12 inches; 1-year limited warranty

40.6 oz (1.2 L) removable water tank
Prices pulled from the Amazon Product Advertising API on:
Product prices and availability are accurate as of the date/time indicated and are subject to change. Any price and availability information displayed on [relevant Amazon Site(s), as applicable] at the time of purchase will apply to the purchase of this product.
Of course, different espresso machines are good for different things. To get the best value in a home espresso machine, you first need to look in the mirror.
What drinks do you want to make?
How interested are you in the finer points of espresso making?
You won't find an espresso machine under $300 that can do it all, so the first step is to understand what you want it to do.
Top 4 espresso machines under $300 by category
With that in mind, and before we go into more detail on these nine machines, here are four quick picks, one for each major category of machine. To learn more about these types of espresso machines (manual, semi-automatic, fully automatic and capsule), see our espresso machine buying guide near the end of this post.
| Category | Image | Title | Price | Shop |
| --- | --- | --- | --- | --- |
| Best Manual | | Flair Espresso Maker, Classic - Manual Press | | See Deal |
| Best Semi-Automatic | | Breville ESP8XL Cafe Roma Stainless Espresso Maker | | See Deal |
| Best Fully Automatic | | Delonghi EC680M Dedica 15-Bar Pump Espresso Machine, Stainless Steel | | See Deal |
| Best Capsule | | Breville-Nespresso USA BEC680SIL1BUC1 CitiZ and Milk Espresso Machine, Bundle - Silver | | See Deal |
Prices and images pulled from the Amazon Product Advertising API on:
Best espresso machines under $300
ROK's slogan is "Feel the coffee," and you certainly will with this manual machine, the ROK EspressoGC. It has two handles, which is a good thing because it seems to demand a little more strength that the Flair. Otherwise, the process is similar: pre-heat the portafilter and your cup, load up the machine and start pressing.
The portafilter's spout is detachable so you can switch between single and double. The machine also comes with a portable milk-frothing pump.
It's a nice, shiny-looking machine out of the box, but know that because it's aluminum the finish will dull quickly. The satisfaction of nailing a perfect shot, however, will not.
9. Capresso 118.05 EC Pro
Here's another entry-level model that lets you flex your barista muscles a bit. You can get it with an automatic milk frother, but the wand is great and let's face it—most people in the market for a semi-automatic want to steam the milk themselves.
The Capresso 118.05 EC Pro comes with two portafilters, one pressurized and one non-pressurized. The first one has a double spout and can brew one or two cups at a time, usually with good results. The second one requires you to get the grind right, but also gives you more opportunity to experiment.
You'll notice more plastic on the Capresso than on the other machines, but it is generally sturdy and well-designed. The portafilter has a really comfortable handle and locks in nicely to the brew head. The machine's relatively light weight means you might have to steady it while locking the portafilter.
Parts for this machine are not sold separately, so if it needs something you'll have to send the entire machine in for repairs.
Espresso machine buying guide
Home espresso machines vary widely in the demands they make on you. We'll go through them here, moving from most demanding to least demanding.
Types of espresso machines
Manual espresso machines
Manual espresso machines have no electrical or electronic components and actually rely on your physical strength and finesse to achieve the right pressure for pulling a shot of espresso. Nothing will do a better job of teaching you the art and science of espresso. It's easy to mess up, but when you nail it, the results can be sublime. They are for the patient purist.
Semi-automatic espresso machines
Semi-automatic espresso machines have electronic temperature controls and built-in pumps, so you can set the temperature just right and you don't have to push the water through yourself. But you do have to decide when to start and stop the flow of water, and you can learn how different variables affect your shot by tinkering with the settings.
Fully automatic espresso machines
Fully automatic espresso machines give you minimal control over settings and they also control the water flow, based on your selection. You still grind the beans and load the grounds yourself.
Capsule espresso machines
Capsule espresso machines are simple, compact, hands-off machines. You fill the water reservoir, drop a capsule of pre-ground coffee into the machine, place your cup under the spout, push a button and walk away.
Tips for buying an espresso machine
As you set out to choose a machine, here are a few questions to ask yourself that will help narrow down your options.
How steep is the learning curve? Usually, there's a tradeoff between feature-richness and user-friendliness. The more a machine can do, the more time it takes to learn. Some people want a high degree of control and don't mind having to do a little homework to get it. Others just want simplicity. Somewhere between those two extremes lies your sweet spot.
What style of coffee you want to make? Some machines do one style well, others are more versatile. Make sure you're looking at machines that can handle your type(s) of drink.
How much coffee will you prepare at a time? The size of the water reservoir can vary. If you entertain a lot and don't want to constantly be refilling it, you'll need a big one. Some machines also require more downtime between drinks and can't make them in rapid succession.
How quickly does the machine heat up? If espresso is part of your morning routine and your mornings are rushed, you probably don't want to wait 15 minutes for your machine to heat up. Most of the machines I've chosen here heat up quite quickly.
Can it froth milk? Some machines are equipped with a steaming wand or an automatic milk frother. Others make only the coffee, in which case you would have to buy a milk frother separately to make cappuccinos and lattés.
How tall are your cups? If a machine has low clearance beneath the portafilter spout, you may need dedicated espresso cups or short cappuccino cups. On many models, a removable or adjustable cup tray allows for taller cups.
How much counter space do you have? Some machines have a bigger footprint than others. You'll want to check the weight, too, if you plan on storing your machine in a cupboard when you're not using it.
How hard is it to clean? Cleaning your espresso machine is important for health reasons, but also to ensure it continues to operate properly and produces the best possible coffee. You must do some basic cleaning after each use, because it doesn't take long for unpleasant odours and tastes to develop. Try to find a machine that makes this quick and easy.
Finally, check out customer reviews online to find out what people are saying about a machine's durability. Don't let one negative review deter you—every machine on this list has had at least one unhappy customer—but if broken parts seem to be a pattern, proceed with caution. At the very least, make sure the item has a good warranty and the brand provides good customer support.
Espresso accessories you might have to buy separately
Grinder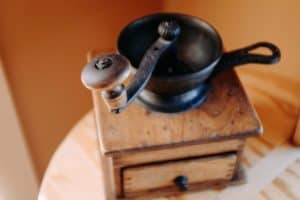 Only one of these machines comes with its own grinder, and it's not a great grinder. Of course, the two capsule machines on our list use capsules with pre-ground coffee so they won't require a grinder, but all the others will. Any knowledgeable barista will tell you that grind is everything, so for quality espresso prepare to invest about $250 in a good burr grinder that's built to last.
Tamper
Many of these models include a tamper, but they tend to be plastic and more pliable than you want. A good steel tamper does a much better job of compacting your grounds for optimum extraction, so consider investing $20 or so in one.
Further reading
Whatever your tastes, the best espresso machine under $300 for you is bound to be on this list. But if you want a more in-depth read on all the considerations that go into buying a home espresso machine, take advantage of the comprehensive guide over at Coffee Geek.