If you want to expand your repertoire of free pour latte art designs beyond hearts and tulips, we have some ideas for you.
Not that there's anything wrong with the classics. As you'll see below, a well-executed latte art tulip can be about as pretty as anything. But dive a little deeper into Instagram and you start to find some really creative ideas.
What is free pour latte art?
In its purest form, free pour latte art is done with nothing more than a cup of espresso and a pitcher of foamed milk—no extra tools allowed. Some people use stencils, pens and syrups to create intricate latte art, but the designs featured below are almost entirely free pour. We made exceptions in a few cases where the artist may have used a pen or other implement to finish off the eye of an animal.
How to make latte art
While our main purpose here is to show off some great designs for inspiration rather than give a full-on tutorial, let's first do a quick overview of proper latte art technique.
Foaming the milk
To make good latte art, you need silky foamed milk with really small bubbles. You can only accomplish this with fresh, cold milk, straight out of the refrigerator. Whole milk is best.
Put it in your stainless steel milk frothing pitcher. (The narrower the spout, the more control you'll have when it comes time to pour.) Lower the steaming wand into the milk.
Now reverse direction and bring the end of the wand up to just under the surface of the milk. The sound you want to hear is a stuttering hiss—like when you make a "ts" sound over and over again with your tongue against the back of your teeth.
This will swirl the milk and build up foam on the surface. When you have plenty of foam, you can lower the wand more deeply into the milk to heat the rest of it. You want it between 130-140 F (about 60 C).
Making the espresso
Maybe this goes without saying, but you have to get the coffee right. Latte art works best when the espresso is well made, with a thick crema. In fact, any time you're served a cappuccino or latte with a great free pour design on top, it's virtually a guarantee that your coffee will be high quality. You simply can't do the art well without a well-pulled shot.
Pouring the milk
Pour the milk as soon as possible after you foam it. Angle your cup slightly, and start pouring from about two inches above the cup, which will ensure the milk goes straight to the bottom.. The flow should be moderate but steady. Use a circular motion.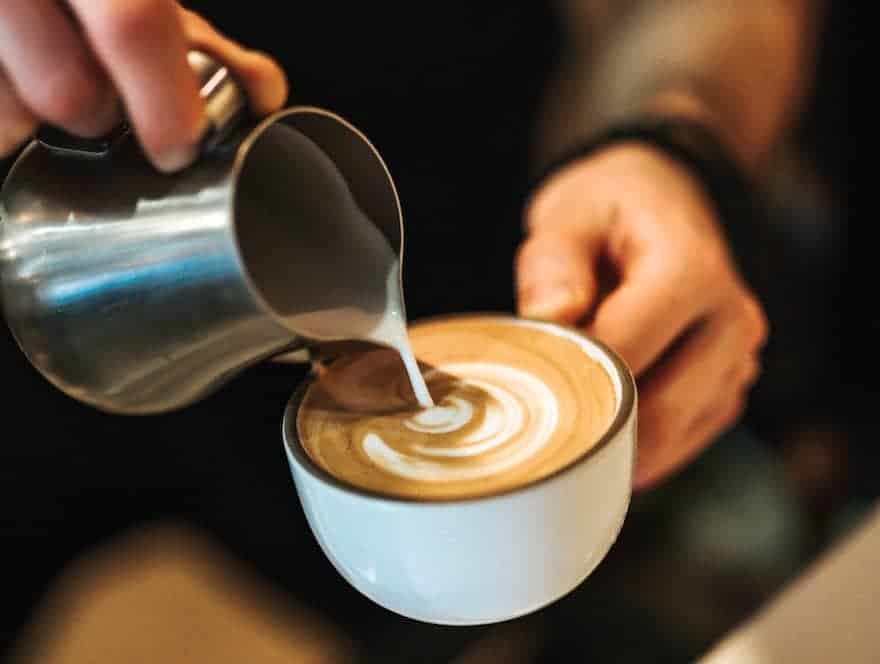 When the cup is about half full, you're ready to bring the spout of the pitcher closer—like, as close as you can get to the surface. Use a gentle side-to-side motion with your wrist until you see the foam break through the crema. From this close distance, the rest of the milk you pour should stay at the surface and allow you to make your designs.
Free pour latte art in action
Dritan Alsela, a barista from Dusseldorf, Germany, has a popular YouTube channel for educating people about coffee. Here he demonstrates the techniques we're talking about:
Alsela also has some great ideas for practising at home. You can imagine how wasteful it would be trying to pull a perfect espresso shot and meticulously foam milk every time you wanted to practise latte art. Instead, Alsela shows how it can be done using nothing but hot milk, a French press, and a coffee cup with some grounds in the bottom:
Latte art designs
Now, let's get to the inspiration. Here are 16 wonderful free pour latte art designs that ought to provide you with some motivation.
Let's start things off with a simple but beautiful design. The tulip is a classic.
View this post on Instagram
But even the tulip provides some opportunities to get extra creative.
View this post on Instagram
We're not even certain this is a tulip, but it sure is pretty.
View this post on Instagram
A classic leaf design is easier to pull off than it looks.
View this post on Instagram
The heart is among the first designs that baristas learn. Bonus points to this artist for adding Cupid's arrow.
View this post on Instagram
Is it a peach or an apple? Either way, looks good!
View this post on Instagram
Your first few tries might look like ugly ducklings, but keep practising and you'll soon be painting beautiful swans.
View this post on Instagram
Pegasus is not in the standard latte art manual. Nicely done.
View this post on Instagram
The barb on the tail of this creature suggests it's a stinging scorpion rather than a harmless crayfish.
View this post on Instagram
A monkey among the coconuts, captured on video from start to finish. We don't advise using coconut milk for latte art.
View this post on Instagram
More coconuts, but that looks like a rhinoceros getting some shade under the palms.
View this post on Instagram
Pigeon wants a biscotti to go with that cappuccino.
View this post on Instagram
This mountain goat was geotagged from Zugspitze, which turns out to be the highest peak in Germany. Makes sense.
View this post on Instagram
Who's afraid of this big, bad wolf?
View this post on Instagram
A bumblebee takes flight from a fern.
View this post on Instagram
Baristas who can pull off designs like this are as rare as, well, unicorns.
View this post on Instagram