Last Updated on February 22, 2022
If you've decided to join the capsule coffee machine craze, you've likely had your eye on the Nespresso line of coffee machines. They've long been a favored brand for their simplicity, quality, and robust capsule recycling program.
Nespresso's best models vary in features, complexity, and price, so it can be difficult to decide which is right for you. If you're looking for a simple, compact model that brews great espresso, with an optional milk-frothing attachment, the Nespresso CitiZ is a great option. 
Before you begin
Nespresso has two lines, the Original and their newer Vertuoline. The CitiZ belongs to the Original line.
The Original line uses a pump to deliver rich espresso coffee. The Vertuoline uses Nespresso's patented "centrifusion" technology (a high rate of spin mixed with water) to offer larger brew sizes in an attempt to satisfy "regular" coffee drinkers.
While Vertuoline machines are compatible only with Nespresso brand capsules, Original line machines like the CitiZ can accommodate some third-party capsules.
Espresso only
If you're looking to create primarily espresso-based drinks, know that the Original line machines are compact, more affordable, and offer a higher-quality espresso.
If you'd like the option of brewing regular coffee as well, then you might be more interested in something like Nespresso's Vertuo Next. Personally, I favor the Original line machines for several reasons, but above all else they brew a better-tasting shot of espresso with a thick crema.
A note to coffee connoisseurs
If you're a real espresso aficionado and are looking for that true cafe quality at home, then you'll probably need to shell out for a fancy manual setup and invest some time into learning how to master it.
But if it's that touch-of-a-button ease you're after, the Nespresso CitiZ & Milk is a great choice. Let's take a closer look and see if it's right for you.
Nespresso CitiZ & Milk
CitiZ features
The CitiZ is one of Nespresso's more basic models, so there aren't a lot of bells and whistles. Its charm lies in its simplicity. It has just two brew options—espresso and lungo (long espresso)—but if you remove the capsule after brewing and hit either button again, you can top your espresso up with hot water for an americano-style coffee.
Milk frother add-on
The coolest feature of the CitiZ & Milk is the option to add the Aeroccino milk frother. You can purchase the Aeroccino separately for any Nespresso machine, but the CitiZ can be bundled with an integrated Aeroccino, so they are actually attached to each other. This saves you space, and a few bucks as well.
As with other Original line models, the Nespresso CitiZ has a speedy heating time of only 25 seconds, and automatically turns off after nine minutes of inactivity.
It also has a 33-ounce removable water tank, a capsule capacity of nine spent coffee capsules, and one of the best features: an adjustable cup support and drip tray that folds away so you can use any cup size you want, including travel mugs.
Size and design
The CitiZ has a stylish design with a cool retro vibe. It's not quite as streamlined as its cousin the Essenza, but I think this model has a bit more personality. It comes in black, grey, cream, and a super fun red if you really want to take that retro style to the max.
Even with the addition of the integrated Aeroccino (which you should definitely go for), the CitiZ coffee machine could easily slide into any corner of your kitchen or office without creating much of a footprint on your counter space. It's actually a top choice for offices because of its simplicity and versatility when packaged with the Aeroccino.
Ease of use
Nespresso machines are intended to be user-friendly and the CitiZ certainly is. Simply select your favorite coffee capsule, either Nespresso or third-party, slide it into the machine, push a button and you're off to the races. This machine, as with most Nespresso models, will automatically turn off after nine minutes, so you can rest easy that you aren't wasting energy if you fly out the door without turning it off.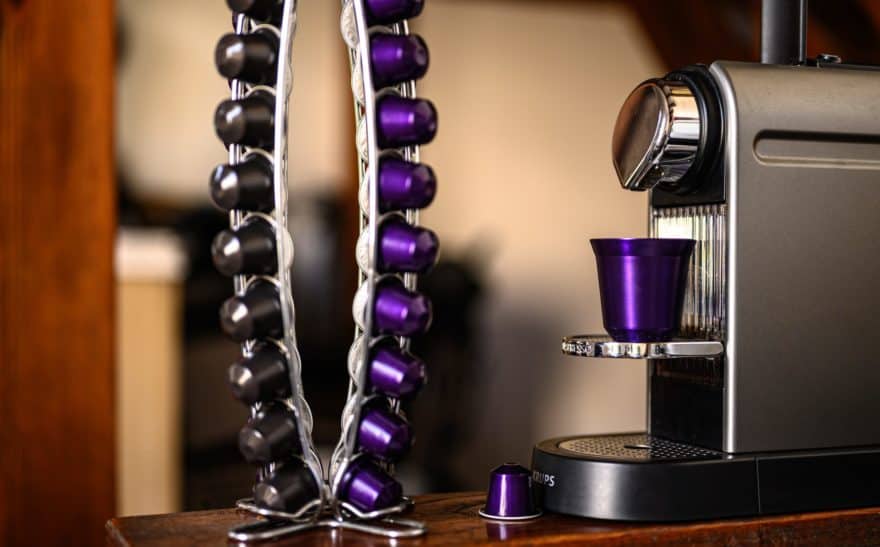 With the addition of the Aeroccino milk frother, you can have hot milk or make hot or cold milk froth. The Aeroccino is ridiculously simple to use, and many people prefer the taste and texture it produces over the Nespresso machines that have integrated milk canisters—particularly if you're new to making milk-based coffee drinks.
If you have some barista experience and really want to take your latte skills to the next level, you might want to explore our Creatista Plus review because it has a dedicated steam wand. If you just want that one-touch ease, the CitiZ & Milk is an excellent option, with great milk-frothing capabilities.
Cleaning and maintenance
You'll want to keep up with regular cleaning and descaling—every three months or so—to keep your machine running smoothly and ensure you get the best tasting cup of coffee. The CitiZ doesn't have the descaling alert feature now standard on many models, so you'll have to stay on top of this yourself, which isn't quite as handy.
Versatility
The CitiZ is not one of Nespresso's more versatile machines, but it does what it's intended to do quite well. The Nespresso CitiZ has two brewing options, espresso and lungo, but with the addition of the Aeroccino you can make lattes and cappuccinos as well. As with all Original line machines, you can test out Nespresso's vast array of capsule options, or branch out to endless third-party producers as well. This gives you a lot of versatility in terms of both flavor and capsule cost.
Coffee quality and flavor
Nespresso machines are known for producing rich espresso with crema, due to the 19 bars of pressure offered by all machines. The CitiZ definitely performs. Nespresso's Original line machines, although limited in their brew sizes, deliver a higher quality espresso than the Vertuoline, and definitely reign supreme when compared with other capsule coffee makers. With third-party capsule options, the flavor profile possibilities are vast.
Sustainability
Waste is a prominent concern with capsule machines, and Nespresso recognizes this. They've invested in a robust capsule recycling program that is (for the most part) easy to access, and simple to use. Those used pods in your capsule container don't have to go in the landfill. While some regions still don't have easy access to the program, you can check out Nespresso's website for the specifics in your area.
A compact, efficient machine like the CitiZ cuts down on water and energy use, and there's virtually no coffee waste when using capsule machines, which is a big plus.
Overall, I've been impressed by Nespresso's commitment to a sustainable future for the coffee industry. You can check out their progress and future commitments in their Creating Shared Value Report. We have previously taken an objective look at Nespresso's overall sustainability.
Overall impression
If you're looking for a simple capsule espresso machine with a touch of style, the CitiZ is a great choice. I highly recommend the addition of the integrated Aeroccino if you enjoy milk-based coffee beverages as well.
We should mention that on a deep dive we found some reports of leaking, as well as machine malfunction and deterioration over time. With any mechanized product that's used on a daily basis, wear and tear is bound to occur, but overall the CitiZ seems to perform well over time.
Nespresso CitiZ specifications
| | |
| --- | --- |
| Dimensions | 10.9" H x 5.2" W x 14.6" D |
| Weight | 8.9 pounds |
| Power | 1260 watts |
| Warmup time | 25 seconds |
| Pressure | 19 bars |
| Water tank | 33 ounces |
| Programmable drinks | 2 |
| Used capsule capacity | 9 |
| Cable length | 33 inches |
| Descaling alert | No |
| Warranty | 1 year |
Nespresso Citiz Coffee and Espresso Machine with Aeroccino
High performance: The 19 bar pump system offers barista-style single-serve coffee or espresso every time
Speed and Energy saving: the fast heat-up system reaches the ideal temperature in just 25 seconds, and the automatic energy saving function switches the machine off after 9 minutes of inactivity
Versatility: Adjustable cup size with two programmable Espresso (1. 35 oz. ) and Lungo (5 oz. ) buttons
Complimentary gift: Each machine includes a Espresso Original capsule welcome kit with a range of capsules with unique aroma profile
Bundle: The Aeroccino 3 milk frother is included to create the perfect finish to your single-serve coffee beverages
Image at top: © coffee-rank.com | Creative Commons