You can buy a home espresso machine with a few crumpled twenties at your local department store, or you can purchase a bespoke leviathan for the price of a small family car. And there's a wide range of options in between.
We've covered some of the entry-level espresso machines in another post, but in this post we're aiming to find you the best espresso machine under $2000. In this price range, you should expect commercial performance paired with automated convenience and perhaps a small miracle.
We know the Gaggia Babila will give you the first two. We're pulling for the miracle as well.
Gaggia Babila Espresso Machine, Stainless Steel
One touch brewing and frothing: bean-to-cup feature. Milk carafe includes automatic milk frothing for cappuccinos, and milk froth. Manual steam wand doubles as a hot water dispenser
Accessories included: 1 bottle of Gaggia descaler, 1 AquaClean water filter, 1 water hardness test strip, 1 tube of brew group lubricant, 1 brew group brush, 1 coffee scoop/grinder key
8 programmable brewing options for espressos, espresso lungos, coffee, ristrettos, lattes, cappuccinos, macchiato, flat whites and milk foam
Easy access to water reservoir: features a top loading removable 50.7 oz water reservoir; brew boiler wattage: 1400
Hassle-free 2-year warranty handled by Gaggia USA directly. For Gaggia USAs call center, call 888-389-4123
Machines like the Babila are made primarily for the consumer, but our roundup of the best espresso machines under $2000 also includes some "prosumer" machines: part professional, part consumer. Machines in both categories offer premium features on a take-home budget.
We'll detail how to choose the best machine for you and take a tour of some high-end picks from reputable manufacturers. These models represent the best balance of durability, features, and quality espresso for the money.
8 best espresso machines under $2000 at a glance
Gaggia is one of the best known Italian espresso machine brands. Their impressive reputation in the industry and uncompromising dedication to quality propels their Babila to the top of our roster, but there are some excellent runners up. Our eight favorite espresso machines under $2000 are:
What to look for in an espresso machine
Let's go over the basic anatomy of an espresso machine.
Inside, a boiler heats water to brew the espresso and produce steam for frothing milk. Since the ideal temperature to brew coffee is just below boiling, most machines use a temperature management system to dictate how and when water is used for brewing or steaming.
A traditional machine has the barista load coffee grounds into a basket in the portafilter and press them into a dense puck using a tamper, before locking the portafilter into the group head. In some of the super-automatic machines on our list, this is all taken care of by the machine.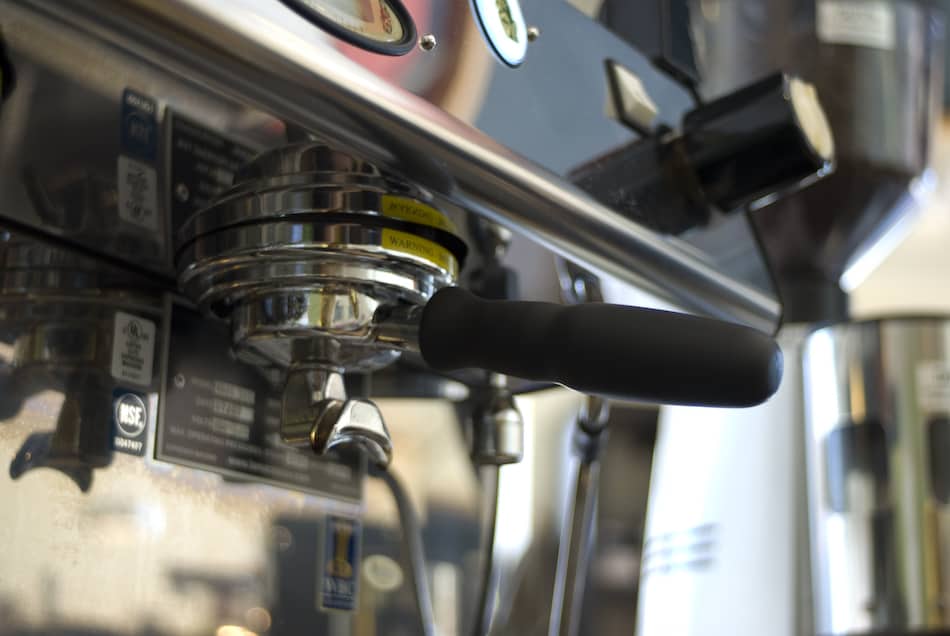 The group head is the point of contact between the machine and the coffee. As brewing engages, it distributes pressurized hot water through the espresso puck via a shower screen. It's designed to keep the pressure and temperature of the water as consistent as possible to ensure an even shot.
Espresso machines can generally be divided into three groups, based on how much of this is done manually, and how much is handled by the machine
Types of espresso machines
The manual or lever machine is the most hands-on tool for making espresso. A boiler heats water and you push it through the grounds with a lever. These devices are beautiful, but much less forgiving than their pump-driven counterparts. The pressure control is entirely up to you.
The most common prosumer machines are semi-automatic. An electric pump takes care of water and pressure. You grind and tamp coffee in the portafilter then control how much water passes through the puck.
Machines that allow you to pre-program the volume and time of the shot are known as fully automatic. Otherwise, their features and operation are very similar to a semi-automatic machine.
Super-automatic machines are equipped with a bean hopper and grinder, and will take you from raw materials to finished espresso at the touch of a single button.
Boiler type
Single boiler machines draw from the same source for brewing and steaming, so you can only perform one of those tasks at a time. It's a limitation on functionality, but a simpler setup that usually comes with a lower price tag. Between brewing and steaming, the machine needs to manage steam pressure by increasing or decreasing water temperature. On some machines, you need to engage the steam release with a switch and pull more water into the boiler. On others, this process will be automatic.
Heat exchange machines can steam and brew simultaneously because they keep the boiler hot enough to produce steam pressure. Brewing water passes from the reservoir through a copper tube suspended in the boiler, where it heats to brewing temperature on the way to the group head. These machines need a short flush before brewing to remove any super-hot water in the heat exchange system.
Dual boiler machines allow users to steam and brew simultaneously with less worry about manipulating water temperature. They are usually more expensive but also more consistent than heat exchange machines.
We go into more detail on the differences between heat exchange and dual boiler espresso machines in another post.
Group head type
Different types of group heads regulate heat differently and impact what kinds of portafilters are compatible with the machine. There's no standard size or style of group head, although some designs are widely used.
A group head is measured in millimetres across the diameter. Usually, that will tell you what fits if you want additional portafilters, but it's best to check with the manufacturer to be sure.
"E61" is a mid-century Italian design of group head made of heavy brass to maintain temperature consistency. It is popular with a range of manufacturers and common in commercial machines.
Some machines have "saturated" group heads that are surrounded by a section of the boiler to keep them hot. Others are heated by an electrical element or not heated at all, relying on hot water passing through to warm them.
Temperature control system
Temperature is critical when making espresso. How a machine regulates temperature has a big impact on quality. A simple thermostat tells the machine to keep water at a certain temperature, but idle time and water entering and leaving the boiler can lead to inconsistencies.
A PID (Proportional-Integral-Derivative) system uses an algorithm to increase water temperature by calculated increments rather than waiting for the water to get cold enough to trigger the thermostat. They are better able to account for cold water entering the boiler and they provide superior consistency throughout the machine's use cycle.
Capacity
The size of the reservoir, boilers, and drip tray can impact heating time and the amount of attention you must give the machine daily by filling the tank and emptying the drip tray.
Durability and ease of maintenance
An espresso machine approaching $2,000 is a big investment. It needs to last, and parts need to be serviceable. As the owner you can perform some maintenance, but it's a good idea to check what kind of professional service exists in your area.
Other features and controls
Once you move beyond the major functional organs of the machine, you enter the territory of buttons, bells, and whistles that will be valued differently from one person to the next. These include status lights, timers, pressure gauges, and other ways to monitor what the machine is doing.
Size and style
You will see and touch this machine every day. Don't judge a machine on its case alone, but there's no shame in wanting it to look good in your kitchen.
Consider what size footprint the machine has and the arrangement of its controls. Will you have easy access to fill the tank and use the steam wand where you are setting up your workstation?
8 best espresso machines under $2000 in detail
Keeping all these factors in mind, we present our top choices for the best espresso machine under $2000:
1. Gaggia Babila

Check availability
The Gaggia Babila is a super-automatic espresso machine that appeals to the home barista wanting some manual control.
This model offers bean-to-cup functionality with the press of a button and automatically froths milk, a rare feature in this class. A manual steam wand and hot water dispenser give you the option to handcraft your creations if that's your preference. Dual boilers ensure precise temperature control for extraction and steaming milk.
The automatic steam function uses an integrated carafe for one-touch espresso drinks with milk. The double-chamber carafe locks into the right front of the machine for dispensing milk into cups and then detaches for convenient refrigerator storage.
The built-in ceramic burr grinder has 15 adjustable settings. The machine also has a bypass dosing feature so you can use pre-ground coffee if you want.
The Babila offers five one-touch drink buttons and eight programmable brewing options from large coffees to ristrettos and lattes. The barista can customize each drink for temperature, volume, strength, and froth. A flow knob governs the extraction strength for rich espressos or full-cup coffees.
The Babila's compact size has its positives and negatives. On the one hand, it's relatively easy to find counter space and the machine won't completely dominate a small apartment kitchen. However, these dimensions also limit the capacity of the machine's compartments, so you may be topping up the bean hopper, emptying the puck container, and draining the drip tray a little more often than you would with other machines.
The complete pre-rinse, brew, and cleaning cycle is water-intensive, and will require several refills of the chamber.
At a glance:
9.6"W x 16.5"D x 14.8"H
Two independent boilers for brewing and steaming
50.7 oz water tank
Automatic and manual milk steaming
8 programmable beverages, 5 one-touch
2. Breville Dual Boiler Espresso Machine
Check availability
Breville's niche is the upscale home espresso machine with smart engineering. The Breville Dual Boiler is an automatic model that provides commercial-grade performance in a residential footprint. It executes the basics well in a sleekly elegant and compact design.
A notable feature is the dual-boiler heating system with separate boilers for espresso and steam. This system allows the barista to extract a shot and steam milk simultaneously. Each extraction's temperature is digitally controlled for consistency. The steam boiler produces instant steam on demand, and a pressure gauge monitors water pressure for extraction.
Milk steaming is manual and uses a commercial-grade wand with a three-hole outlet for a smoother texture. A separate hot water outlet makes warming cups and crafting Americanos a breeze.
Programmed options include buttons to select one cup, two cups, or manual volume control. For the one-cup and two-cup controls, the system uses duration to regulate the preset coffee amount. You can also customize the shot volumes and duration and save those settings.
A digitally heated group head works with the boiler to set the correct water temperature plus or minus 2 F. This process extracts maximum flavor without the sourness or bitterness associated with poor extraction. It also ensures consistency shot after shot.
Durability may be a concern as some internal parts under stress, such as group head components, are made of plastic. Some users have reported issues stemming from build quality rather than design.
At a glance:
14.1″W x 14.6″D x 14.7″H
Two independent boilers for brewing and steaming
84 oz water tank
Manual milk steaming
Programmable shot duration and volume
3. La Spaziale Mini Vivaldi II
The La Spaziale Mini Vivaldi II is a scaled-down version of the Vivaldi II that packs two boilers and a generous water reservoir. The front-filling tank and large drip tray boost ease of use no matter where it's tucked in your kitchen. It has two programmable shot volumes and a lever to control the steam wand.
La Spaziale designed the Mini Vivaldi for home or commercial use, meaning it's tested to an even more rigorous standard than most home espresso machines.
A pad on the front facilitates adjustments to brew temperature of one degree Celsius and provides a precise real-time reading for both boilers. The group temperature is also adjustable, enabling the barista to target the temperature profile of their shot with laser accuracy.
Consumers praise the Mini Vivaldi's powerful steam pressure for fast, velvety microfoam. A dual manometer displays pressure for both brew and steam boilers.
The downside of two boilers is heating time. This machine takes around 15 minutes to heat when it's powered on. It is available in 15- and 20-amp variations, with the 15-amp heating the boilers separately and taking 5-10 minutes longer. It's designed for always-on use, though users can switch the larger boiler off when it's idle or equip an optional automatic timer to save power.
Some users don't care for the plastic side panels and drip tray face, though they are high-quality and this is a cosmetic preference.
At a glance:
16.3″W x 16.3″D x 15.2″H
15 oz brew boiler and 40 oz steam boiler
100 oz water tank
Saturated 53 mm group head
Adjustable boiler and group head temperature
Programmable shot volume
4. Gaggia Cadorna Prestige
Check availability
The super-automatic Gaggia Cadorna Prestige is popular in Europe and only recently available in North America. Home coffee lovers looking for a white-glove experience will appreciate this model's full automation. Like the Babila, it features an integrated bean grinder and automatic milk steaming for one-touch drinks. However, it forgoes a manual steam option and relies on a single fast-heating boiler.
A large color display guides you in selecting and customizing 14 programmed drinks. After choosing from the menu screen, you can adjust coffee intensity and volume, milk volume, and temperature. Four separate profiles are available to store settings, ensuring each family member or coworker can enjoy a favorite brew.
The ceramic burr grinder offers 10 adjustments and fully automatic operation. Alternatively, you can use pre-ground coffee.
A pre-infusion feature coaxes maximum flavor from the grounds prior to the main extraction.
One caution is that the Cadorna Prestige is too new on the North American market to have much of a track record. However, it has a solid reputation among European users.
Another potential drawback for home baristas is the lack of a manual steam function. If you savor crafting the perfect crema or latte art, you may find this model too turnkey.
At a glance:
10.2″W x 15.7″D x 15″H
One stainless steel boiler
50.7 oz water tank
Automatic milk steaming
14 programmed beverages
5. Rocket Appartamento
Check availability
The Rocket Appartamento is a handmade Italian E61 machine with some flair, a slimmed-down version of the company's Cellini Evoluzione V2.
As its name suggests, the Appartamento is designed with smaller spaces in mind, but it doesn't skimp on performance or quality. A shiny stainless case with circular cut-outs and big, stylized control knobs give it a retro flavor. The panels that show through the cut-outs are available in white or copper.
The Appartamento has a heat exchange boiler for simultaneous steaming and brewing, and a separate water spout so you can whip up whatever is on the menu in no time.
This machine's dual pre-infusion system is unique. A static pre-infusion chamber and progressively working piston introduce water to the puck gently, producing even, crema-rich extractions.
Some users find flushing overheated water from the heat exchange system fussy. The Appartamento also doesn't have the insulated boiler of its big brother, resulting in slightly reduced temperature stability. The rails on the cup warmer are plastic. As we mentioned earlier, that beefy E61 group head gets very hot, so don't scald yourself.
If you're interested, we've done a more detailed comparison of the Rocket Appartamento and Quick Mill Anita.
At a glance:
10.8"W x 16.7"D x 14.2"H
60 oz heat exchange boiler
84.5 oz water tank
58 mm E61 group head
Dual pre-infusion
6. Gaggia Accademia
Check availability
The Gaggia Accademia is a super-automatic machine for users who prefer a straightforward, hands-off approach. Input beans, output espresso. This machine takes care of the rest, even steaming your milk.
An internal grinder provides fresh ground coffee, dosed and tamped hands-free inside the machine's completely enclosed brew group.
This all-in-one espresso station has seven programmable drink presets, making it ideal for households with multiple users.
Because the Accademia takes care of the entire process on its own, it's incredibly forgiving to users who don't have experience with an espresso machine.
Programming can be fine-tuned, and a separate manual steam-wand allows you to put the finishing touches on drinks exactly the way you like.
The biggest trade-off for the convenience of super-automatic machines is the lack of fine control they offer over the experience. Service and durability can also suffer, owing to the relatively high number of internal moving parts.
At a glance:
11"W x 16.8"D x 15.2"H
12 oz bean hopper
54 oz water tank
Integrated grinder
Automatic shot production and milk frothing
7. Quick Mill Anita Evo
Check availability
The Quick Mill Anita Evo is a redesign of the original Quick Mill Anita. Built with exacting craftsmanship in Milan, Quick Mill machines are reliable and easy to use. The Anita packs commercial power and durability in a compact, intuitive prosumer model.
If you're buying for a small office or cafe, the Anita can hold its own as long as you're willing to forego direct plumbing. It can deliver up to 20 espresso shots per hour, making it ideal for a lower volume of handcrafted drinks.
The machine takes about 20 minutes to reach brew temperature from off. Once heated, it will maintain temperature. You can leave it powered on or use an appliance timer to conserve energy and ensure a coffee-ready morning.
The Anita uses a heat exchanger system that brews and steams simultaneously. Its powerful boiler sends perfectly heated water to the brew head for your shot. If you're craving a cappuccino, you can froth your milk without waiting.
Separate boiler and pump pressure gauges on the front panel mean you can time your brewing and steaming to perfection. The boiler has a controller that regulates pressure by turning on heating if the pressure drops. The design includes automatic pre-infusion for each extraction, so you'll enjoy a smoother, richer taste.
The fully articulated, commercial-style steam and water wands have rubberized grips, and the steam wand has a four-hole .9mm tip for faster steaming.
It has a large water tank with a hinged cover for in-place refilling and a warning indicator for a low water level. If the level drops, the unit cuts boiler power but leaves the pump powered so you can finish a pull.
Other thoughtful features include a large, removable drip tray and a side access port for adjusting boiler pressure.
The machine ships with single and double commercial chrome-plated brass portafilters, and its steel housing and frame should hold up to years of use.
We like the Anita for its intuitive operation that delivers a sumptuous espresso without fuss on rushed mornings. If you want to learn more, we have compared the Anita with the Rocket Appartamento in another post.
At a glance:
11.5″W x 18.25″D x 15.75″H
54 oz heat exchange boiler
101 oz water tank
58mm E61 group head
automatic pre-infusion
8. Bezzera Unica
Check availability
The Bezzera Unica is a classic machine manufactured with fine Italian components. It has sleek stainless steel housing, an ornate drip tray, and stylish, easy-to-grip joystick levers for steaming and shot pulling. The standard levers are black plastic, but you can upgrade to gorgeous wood accents, which really refine the aesthetic.
The Unica features a slick and easy-to-access PID temperature control pad on the top right corner, and an attractive pump pressure gauge on the bottom left corner. The PID lets you adjust the temperature, ensuring you're brewing and steaming at ideal temperatures.
The Unica has two separate modes for steaming and brewing. Since the machine uses a single boiler for both, you need to change between these modes and their required temperatures. To encourage boiler temperature stability, the Unica doesn't auto-fill after steaming. To manually refill the boiler after steaming and reach your desired brewing temperature, simply flip the pump switch "P" on the front of the machine. Switch to coffee mode, and wait for the PID control pad to display your chosen brewing temperature.
The half-litre copper boiler is smaller than you'll find on some machines in its class, but the copper encourages quicker heating—an impressive 15 minutes—and provides temperature stability.
The Unica's vibration pump helps make the machine compact and affordable, but it does make this machine a bit noisier than higher-end rotary pump machines.
The generous three-litre water tank with removable reservoir lacks a water filter, so you may need to do more frequent descaling depending on your water source, or use filter watered for brewing. The absence of any sort of external visual cue or sensor to tell you when the water's getting low is a pet peeve.
The machine comes with a single-spout portafilter, a double-spout portafilter, a blind filter basket for backflushing, and a plastic tamper. (That's disappointing—get yourself a proper metal tamper!)
The Unica is a great machine to grow with if you're just getting started, and if you have some patience it can deliver outstanding espresso and silky microfoam at a much more approachable price than a dual boiler machine. We cover it in more detail in our Bezzera Unica review.
At a glance:
11″W x 17″D x 15″H
17 oz standard boiler
101 oz water tank
58mm E61 group head
PID temperature control
Our choice for best espresso machine under $2000
The ideal automatic espresso machine combines precision technology with room for individual craftsmanship. The Gaggia Babila delivers push-button convenience and coffeehouse drink variety. From bean to brew, ristretto to latte, it powers the morning with one touch. Automatic rinsing and cleaning cycles free up time for more important things like that second cup.
Hands-on baristas will appreciate the Babila's manual steam wand for deft control over frothing. The dual boiler system ensures instant hot steam in parallel with espresso extraction. You can enjoy programmed drinks as is or customize them and save the settings.
The Babila adds compact elegance and Gaggia quality to the home espresso experience. It best balances superb coffee, automatic convenience, and customization for the discerning barista.
While the Babila and all others on this page are fine machines, those who stretch their budget toward the $3,000 range can be rewarded with a significant step up in quality. If this idea tempts you, be sure to read our review of the Lelit Bianca.