For some people, coffee isn't just a beverage. It's a passion. The best Valentine's Day gifts for coffee lovers indulge their passion and bring something new to the coffee-drinking experience.
We've come up with 14 great Valentine's Day gifts to help you create a day of coffee-themed romance. We've chosen sweet trinkets, useful items, and unique gifts that we know the coffee lover in your life will adore. Try giving the gifts in the morning, so you can enjoy a cup of coffee together as a couple.
14 great Valentine's Day gifts for coffee lovers
1. Bean Clutch by Elsa Peretti
Check availability
When it comes to Valentine's Day gift-giving, it's hard to go wrong with Tiffany & Co. The coffee-loving lady in your life will also love this sterling silver clutch purse by Elsa Peretti, which comes in the shape of a coffee bean. You can get her this, or you can buy her 1,000 lattes at Starbucks. They're about the same price.
2. VSSL Java Coffee Grinder
Check availability
If you're sweetheart likes to play outdoors a lot, this is the grinder you need to get.
Built from aircraft-grade aluminum for backcountry hiking, the VSSL Java is durable yet still relatively lightweight and is designed to easily clip on to luggage or a backpack. It has 50 grind settings and can go fine enough to make espresso, which gives it admirable versatility. It is limited to a 20-gram capacity. This awesome little tool also comes with a cleaning brush.
3. Bean Pendant by Elsa Peretti
Check availability
While we're here at Tiffany & Co., let's look at a slightly more affordable option by Elsa Peretti. This is a sterling silver pendant on a chain, also in the shape of a coffee bean. That's just a nice necklace that keeps your sweetheart's passion for coffee close to her heart.
4. Kinto Slow Coffee Style 5-Piece Brewer Set
Check availability
A well-brewed, single-origin pour over is one of the most elegant coffees you can drink. Maybe your Valentine would like to brew it with equipment that looks equally elegant. We've always loved the Kinto travel tumbler, and now these top-notch designers have brought us an entire 5-piece pour-over set that will elevate the style of any kitchen. No plastic, no paper filters—just walnut, brass and glass. Oh, and a big kiss for you after the unwrapping.
5. Coffee Subscription from Phil & Sebastian Coffee Roasters

Check availability
Valentine's Day comes but once a year. If you want to give a gift that keeps on giving, how about a fresh bag of Canada's best craft-roasted coffee arriving on your sweetheart's doorstep every month?
With a coffee subscription from Phil & Sebastian Coffee Roasters, you get to decide how much coffee, how often, and what kind—espresso, filter or decaf. After you choose a category, you can let their experts surprise you each month by selecting Roaster's Choice. You can still use your online account to tweak the order from month to month if you wish.
Phil & Sebastian roast according to your order and ship the beans within days. The coffee is all direct trade—purchased straight from the growers—so no middleman is taking a cut. Shipping to Canada and the U.S. is free. If you subscribe for a full year, you get one free shipment.
And every month, the flame will be rekindled.
6. Espro French Press
Check availability
On the outside this Espro French press is simple and elegant. On the inside it is innovative and highly effective. Use it to get amazing flavor out of your favorite coffee beans—free of the usual French press sediment thanks to the Espro's specially designed double basket filter. The best French press coffee is made with coarsely ground beans, extremely hot water, and no more than four minutes of brewing time.
7. Espresso Cups by Caroline Dolan
Check availability
We popped into the Irish Design Shop in Dublin during the summer of 2019 and these little hand-made espresso cups won over our hearts. They have that power. They carry about five ounces—perfect for a long espresso or a strong Americano. We recently discovered that the artist, Caroline Dolan, is also making full 12-ounce coffee cups in the same style. The cups can make a cohesive set, but each is slightly unique as a result of being decorated by hand. They feel great in hand and even better on the lips—and isn't that really what Valentine's Day is all about?
8. Cafelat Robot manual espresso maker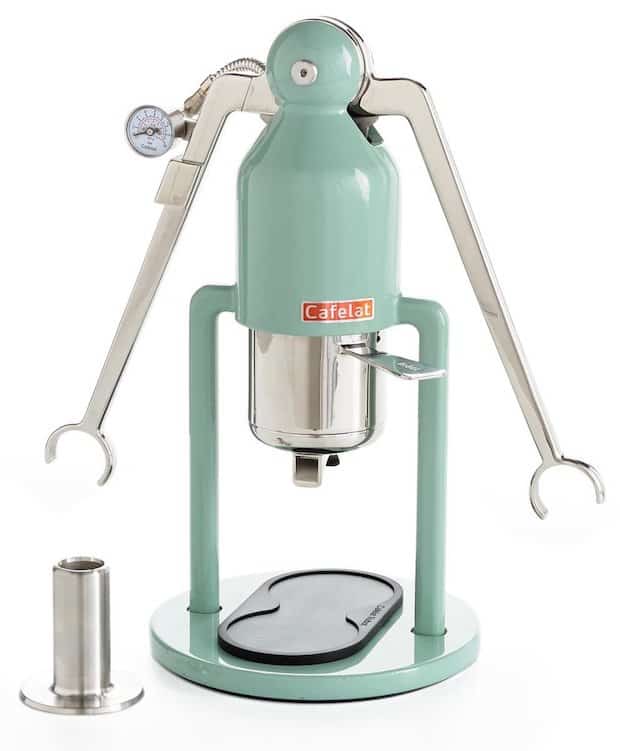 Check availability
We can't decide if the Cafelat Robot is retro or futuristic, but this manual espresso machine will make a great conversation piece in your sweetheart's kitchen. Equally at home in a 1950s diner or on the set of The Jetsons, the Robot lets you pull your own espresso shots. All you have to supply is the ground coffee, heated water, and some gentle pressure using your hands. A pressure gauge attached to the machine tells you when you've reached the desired nine bars of pressure for espresso. The machine is completely plastic-free.
9. The Ordinary Caffeine Solution
Check availability
Even our loved ones have restless sleeps. And because she's your Valentine, you love her even when she wakes up with puffy eyes and dark circles underneath them. First, make her a coffee. Then present her with this Caffeine Solution from The Ordinary. It's not for drinking—it's a beauty product that uses caffeine's antioxidant properties to tackle those dark circles and bags under the eyes.
10. Coffee Bean Stud by ERTH Jewelry
Check availability
This 14-karat gold ear stud is a shining expression of your love for her, and her love for coffee. Made to order in yellow, white or rose gold, it is sold as a single piece so select two at checkout if you want one for each ear. But hurry—these are made to order and will need two weeks for delivery.
11. Uncommon Grounds by Mark Pendergrast
Check availability
Uncommon Grounds: The History of Coffee and How It Transformed Our World is a classic book that every coffee lover should read. Mark Pendergrast dives into the history of coffee production and ties it in with trade, politics, and popular culture. The book comes as an attractive paperback that will look great if it's left out on the coffee table.
12. Hario Skerton Pro Manual Coffee Grinder
Check availability
Manual coffee grinders require more effort to use, but the results are so worth it. Plus, you'll never again wake up the neighbors with that noisy whirring sound. This elegant Hario Skerton Pro burr mill grinds the beans into a clear jar so that you can check the quality of your grind. Experiment with fine and coarse textures until your coffee tastes exactly how you like it.
13. Coffee Cup Necklace by McLaughlin Creations
Check availability
She loves coffee, and you love her. Express the sentiment with this sweet coffee-themed necklace. The coffee mug design is minimalist but expressive, and the heart cutout is absolutely adorable. The pendant is made from punched sterling silver and hangs on a silver chain. All necklaces come with a velvet storage bag and a gift box for presentation.
14. Tiemart Coffee Cup Tie
Check availability
Get a smile from your coffee lover with this dashing necktie. It's cute enough for Valentine's Day but classy enough to wear to work. The design features espresso beans and tiny cups of coffee on a slate gray background. The tie is 3.25 inches wide and 52 inches long and works with most contemporary styles.
15. Personal Creations Half Heart Square Red Mug Set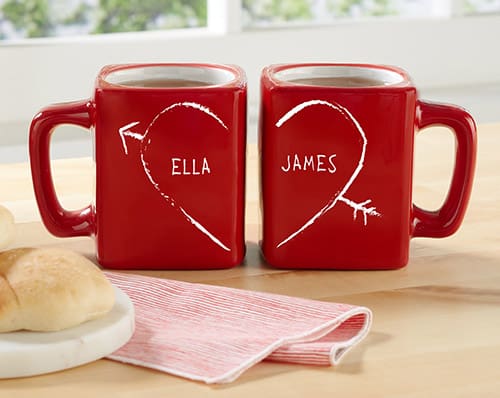 Check availability
These bright red coffee mugs are a gift that both of you can enjoy. Each mug has a unique square shape that will stand out in the kitchen cabinet. When pressed together, the designs make the shape of a heart. Personalize the mugs with your first names, pet names, or initials. The cups are dishwasher and microwave safe for worry-free coffee enjoyment.
On the other hand, if you're Yellowstone fans you might want to check out our post on John Dutton's coffee mug.
Valentine's Day gifts for coffee lovers should be useful, fun, or delicious. If you didn't find the perfect gift on this list, try visiting a kitchen supply store for brewing equipment and new coffee cups. Bookstores and novelty shops often have coffee-themed merchandise, while import stores and natural grocers might have unique roasts you can try. When in doubt, visit a local coffee shop and buy a bag of their premium house blend. The coffee drinker in your life is sure to appreciate it.