If you asked about my version of a perfect day, I would probably regale you with a tale of a day spent exploring a remote and breathtaking area of central Guatemala. It was, for me, the absolutely perfect day. I bet many of your perfect days have been travel days as well—and we all know the perfect day starts with the perfect cup of coffee.
There's no need to settle for weak or bitter hostel or conference room coffee, or to choke down instant coffee while camping anymore. Great coffee on the go is not only achievable, it's easy and affordable.
Perhaps you're already in the habit of bringing a percolator or AeroPress traveling with you, but if you grind your beans at home and then wistfully lament as their freshness evaporates, leaving you with an increasingly lacklustre brew as the days pass, there is an easy solution.
The best way to up your travel brew game is to add a portable manual grinder to the mix. If this seems like an unnecessary waste of precious luggage space, never fear—we've rounded up the best and most compact travel grinders to ensure you never have to start your perfect day without the perfect cup of coffee again.
Leading the list is a spectacular grinder from backcountry outfitters VSSL Gear, known as the VSSL Java.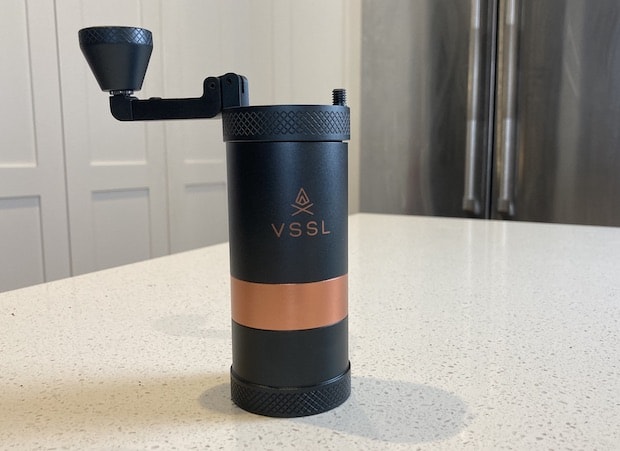 We tried the VSSL Java just recently, and had to move it straight to the top of our list because it combines easy portability, a sturdy build, and fine grind adjustment like no other travel grinder we've seen.
It's built for the backcountry but stylish enough for an urban kitchen, and does everything you want a travel grinder to do. It even made our list of accessories to go with a coffee maker for a boat.
We'll tell you more about the VSSL Java in a moment, but first let's walk through some coffee grinder basics, and features you'll want to consider as you embark on your travel brewing adventure.
If you're already savvy on the general particulars of coffee grinders and you've used a manual grinder before, you can jump straight to our picks for the best travel coffee grinders. They are:
We should also point out that if you're caught out on the road without any grinder at all, you need not despair—there are still ways to crack those coffee beans open. We have 13 ideas for grinding coffee beans without a grinder in another post.
Blade grinder or burr grinder?
Although an affordable blade grinder can produce a decent cup of coffee if you use quality coffee beans and a trusted brew method, any sophisticated coffee drinker knows burr grinders are the way to go. The main reason burr grinders win the day is because they produce a consistent grind, resulting in a richer, more balanced flavour profile. An uneven grind leads to over- or under-extraction, often resulting in either a bitter or thin finish.
If you're someone who invests in quality beans and you're meticulous about your brew process, you will certainly want to invest in a burr grinder. The barrier to entry for most people is the high price tag on electrical burr grinders. Manual coffee grinders, however, are almost exclusively burr grinders, and they are both affordable and great for travel.
Why use a manual grinder?
Manual grinders designed with travel in mind are compact, sturdy, and durable. Most have stainless steel or plastic components rather than glass, and those with glass components are thoughtfully crafted and built to endure a fair amount of handling. As mentioned, manuals are almost exclusively burr grinders, providing a consistently rich and delicious brew for a fraction of the cost of most home burr grinders.
The most obvious upside to manual coffee grinders is that they don't require a power source. You can grind the perfect cup anywhere, anytime. Manual grinders are also extremely quiet compared to electric coffee grinders, so if you're in close quarters you can wake your travel companions with the tantalizing smell of coffee rather than the jarring sound of an electric grinder.
Features to consider
Manual coffee grinders vary in design, quality and price, so how do you know which one will best suit your needs? There are several things to consider as you browse. Here are some of the most important:
Size and weight
The most important consideration when choosing your travel coffee grinder is its portability, so size and weight will be a top priority. You want something that can fit easily into your carry-on or backpack, without adding extra bulk. Luckily there are several slick designs to choose from. We'll dive into our favorites shortly.
Steel or ceramic burrs
This is a tense battle, and the jury is still out. Both have their strengths and their drawbacks. Steel burrs are much sharper, so they grind your coffee beans more quickly (something to consider when you're doing the work by hand), and with more precision. That being said, steel burrs, although sharper when new, are also quicker to dull.
Ceramic burrs are longer lasting and usually more affordable, but you'll be putting in some extra wrist work to get your desired grind. Most steel burr manual grinders will grind a full dose in a minute or less, while the ceramic style run about 2-3 minutes per grind.
Durability
Since you're going to be trucking this bad boy around the globe (or at least your local mountains), you'll want to find a travel grinder that is made of sturdy material, such as stainless steel or reinforced plastic. Some have beautiful glass canisters that allow you to watch your grind in action, and while this can be helpful for visually perfecting your grind, they are more likely to break during travel. You might also want to consider whether your grinder's components are easily replaceable. This will extend its lifespan.
Capacity
Many travel grinders have limited capacity. Most will only grind enough for a single brew at one time. This can be fine if you're a solo traveler or have time for multiple rounds of grinding, but if you're looking for something that can grind several cups at once, you might want to consider one of the larger models. You'll lose a bit of suitcase space, but there are still a few great, fairly compact options.
Adjustable grind
Even if you're a diehard AeroPress user and don't see yourself changing anytime soon, you know you still need that perfect grind. Not only do you want to ensure you get the grind that's right for your brew method, you want to be able to adjust on the fly if you're not quite getting the best out of your beans. You definitely want something with several adjustable settings. As you'll see below, everything on our list is adjustable and there are a range of options to choose from.
Your budget
There are a couple of budget travel coffee grinders that absolutely get the job done, but they tend to take a bit longer to grind, might not have the most precise and consistent grind, and may not last as long. As with most things, you get what you pay for. When you look at investment over time, it might be worth shelling out for something mid-range if you can. That being said, there is something for every budget.
With all that in mind let's breakdown our top picks.
Our picks for the best travel coffee grinders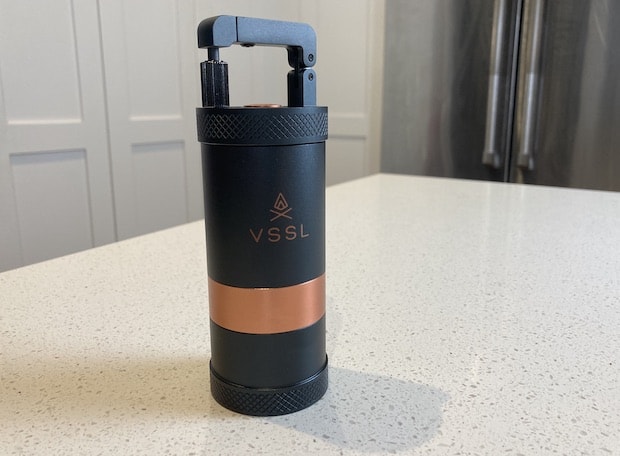 Check availability
Where do we start with the VSSL Java?
Well, its most unique feature is its crank handle. Their designers have somehow found a way to make it double as a sort of carabiner that attaches the whole device to your backpack.
The handle hinges across the top of the grinder and screws onto a small mount on the other side to create a really secure attachment. When it's time to grind, you just unscrew the attachment and flip the handle open at its hinge. Pull the knob out of the grind catch receptacle, plop it onto the handle and you're ready to grind.
A small button on the top pops the hopper open, and you can pour in about 20 grams of coffee beans.
That's enough for a generous mug using a plastic Hario V60 pour-over cone, and more than enough for an AeroPress which typically uses about 15 grams. Those two are our favourite lightweight travel brewing devices.
A dial on the bottom of the Java fine-tunes the grinder's stainless steel conical burrs, which have 50 settings.
The VSSL Java is built from really solid, aircraft-grade aluminum. This does add some heft, but at 395 grams it's still lighter than most on our list, including the 1Zpresso. It's actually comparable in weight to the Hario Mini Slim, but feels much sturdier.
Finally, the VSSL Java comes with a rugged canvas carrying case and a brush for easy cleaning of the hopper, burrs and grind catch.
We could be waiting a while to find a better travel grinder than this one.
Pros:
easy to attach to luggage or backpack
durable yet relatively lightweight
50 grind settings
grinds fine enough for espresso
Cons:
Check availability
The 1Zpresso JX-Pro was No. 1 on this list until the VSSL Java came around.
It is slick, sturdy, and efficient—it just doesn't outstrip the Java enough to justify its significantly bigger price tag. This stainless steel, portable coffee grinder sports 48mm steel burrs for a consistent and speedy grind every time. With 40 easily adjustable click settings, you get the precise grind you need whether it's for pour-over or espresso (something the more budget-conscious options can't always achieve).
The handle shape and rubber grip on the body combine to allow a smooth and easy grinding experience, and a consistently excellent brew. With a 35-gram capacity, you can grind enough for multiple cups of coffee. The tradeoff is its 650-gram weight. It's one of the heavier of the bunch.
Pros:
efficient steel burrs
ergonomic handle design
35 g capacity
40 click settings (including espresso)
Cons:
a bit heavy
higher price point
If you want the features of the JX, but are looking for something a bit smaller and lighter, 1Zpresso's got you covered with their Q2 Mini. It has all the great components of the JX but with a 20-gram capacity, for nearly half the weight, coming in at only 385 grams. With those specs, and a similar price tag, it's a very close competitor to the VSSL Java but without the handy attachment mechanism.
Check availability
The difference between 1ZPresso and Timemore isn't as wide as the price might suggest. The Timemore Chestnut C2 is a budget beast, easily outperforming other manual grinders in the same price range. It's sleek, compact and durable where it counts.
Unlike its even more impressive big brother the G1, it does have some plastic components, but Timemore is smart about where they utilize plastic.
The C2 sports the same high-quality 38mm conical steel burrs as higher end Timemore's, which is key to its impressively consistent grind.
The textured stainless steel body makes it both durable and easy to grip. It weighs in at 464 grams, which is a tad hefty but definitely worth it for the quality. It's 25-gram capacity makes it one of the smaller grinders on the list, but it still gets the job done for a pour-over or AeroPress, where it really shines. You'll get 15 grams of that medium grind in about 30-45 seconds, which is pretty quick.
Thirty-six easy-to-adjust grind settings help you dial in the perfect grind. It can be hard to keep track of the settings as there are only unmarked hash points on the base. Once you get used to how many clicks you need to get you where you want to be, it's extremely easy to adjust and just as easy to clean.
Another potential drawback of the C2 is that it's not great for espresso, but that's pretty standard with manual grinders. Because it's a stepped grinder, there isn't the fine adjustment required to dial in your espresso grind.The consistency of the C2 tends to diminish toward the finer end as well.
Overall, you won't find a better manual grinder for the price.
Pros:
affordable
durable
high quality conical steel burrs
compact
sleek
Cons:
a bit heavy
some plastic components
not great for super fine grinds
Check availability
If you're on a budget, or just need something for the odd camping trip and don't want to invest the big bucks, the JavaPresse manual grinder is a reliable option. This grinder made our list of the best coffee grinders under $100.
It has a slender stainless steel design, with a removable handle for even easier storage. This ceramic burr hand grinder won't be as high-performance as some of the pricier options, but it might just be enough to suit your needs. With 18 click settings, you still get a range of grinds, but it tends to be less consistent with coarser grinds, and it won't facilitate espresso. It does, however, offer a 40-gram capacity at only 266 grams of weight.
At this extremely economical price point, the JavaPresse is a decent choice.
Pros:
budget conscious
40 g capacity
slender design
removable handle
Cons:
only 18 click settings
no espresso option
longer to grind
less precise
Check availability
The Porlex Mini punches far above its weight class. The smallest of the bunch, with a removable handle, this little stainless steel beauty can fit right inside your AeroPress, saving even more precious space in your luggage. With ceramic burrs and only 13 grind settings, it won't be quite as fast as some other options, but it still provides a consistent grind, including a fine espresso setting. Its small stature means it also has a small capacity, only 20 grams, but it's the lightest of the bunch at only 226 grams.
If you're looking for something compact that still performs well, this is a great mid-range option.
Pros:
small and lightweight
consistent grind
espresso option
Cons:
only 13 grind settings
longer to grind
only 20g capacity
Check availability
Hario is an iconic Japanese brand that balances style, performance, and affordability. One of the most budget-conscious choices, and one of the smallest, the Hario Mini Slim would be great to toss into your carry-on or backpack.
Made of extremely durable plastic, and with a removable handle, this guy goes the distance. The ceramic burrs, although less speedy than stainless, still offer a consistent grind and long lifespan. With a 24-gram capacity it offers a bit more flexibility than the Porlex mini, and still only weighs 317 grams.
If you're looking for consistent performance from a trusted brand, at a great price, the Hario Mini Slim could be for you.
Pros:
slim and durable design
consistent grind
lightweight
affordable
Cons:
longer to grind
only 24 g capacity
plastic canister
Need to brew for your whole crew? Then check out Hario's flagship grinder, the Skerton Plus. With its slightly bulkier style and glass canister, I don't personally think it's the best choice for travel, but it's still fairly lightweight at only 500 grams, and you get a 100-gram grind capacity. The hopper of the Skerton can even be attached to other storage devices such as a glass jar or plastic canister in a pinch, or for ease of transport. The Skerton is a great manual grinder for the home that could certainly hit the road for the occasional outing.
Wrapping up
If you're ready to up your travel coffee game, I can't recommend a manual coffee grinder enough. They're affordable, portable, and plain fun to use. The travel coffee grinder you choose will depend on your specific needs, style, and budget. As you can see, there is something to accommodate everyone.
We've been clear in our praise for the VSSL Java. Personally, I'm also a fan of the Porlex Mini because it suits my needs at an excellence price point and I love that it fits right inside my AeroPress, creating the ideal travel brew setup. Next time you're about to set out on a potentially perfect day, make sure you start it with the perfect cup of coffee.
Need a battery-powered coffee maker to go with your travel grinder? See our favorites in this category.