Last Updated on October 1, 2022
Breville's Smart Grinder Pro has the potential to further modernize the kitchen of every coffee lover. The technological capabilities of this machine, with its powerful motor—not to mention the streamlined design— will improve your kitchen aesthetic while allowing you to indulge your coffee habit.
Breville Smart Grinder Pro
Stainless steel conical burrs designed to minimize grinding heat and protect the essential oils in the coffee bean
60 precise grind settings from the finest espresso to the coarsest French press grind
Precision electronic timer allows you to adjust grind time in 0.2-second increments
18-ounce coffee bean capacity with locking system for easy removal
Grind directly into portafilter, grinds container, gold tone filter basket or paper filter
Our in-depth Smart Grinder Pro review looks at the pros and cons of investing in this workhorse from Breville to improve your kitchen and coffee lifestyle.
Things to consider when buying an electric coffee grinder
Before we get into the specific features of the Breville Smart Grinder Pro, it's important to understand all the perks and potential pitfalls of an electric coffee grinder purchase. The price range of this one is enough to make a few people step back, so below is a quick list of everything you should look out for when investing in this kind of machine.
Grinding customization
The biggest benefit of grinding your own beans is being able to have more control over your coffee taste and flavor, and that goes for any electric and non-electric grinder. You can't necessarily achieve that with pre-ground coffee. An electric grinder brings that customization up to the next level.
The Smart Grinder Pro is particularly versatile because of its wide grind range. Most dedicated espresso grinders don't excel at coarser grinds, but this one can do it all. It's a machine you can stick with as you progress from drip coffee to French press to espresso.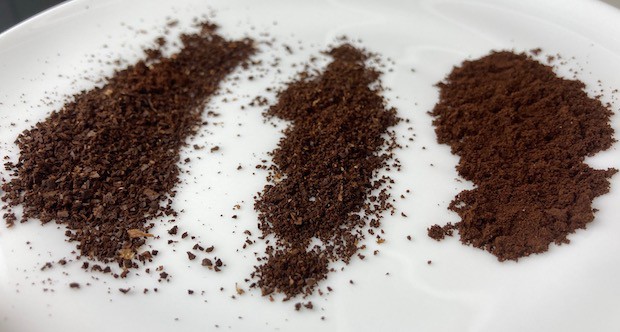 Speed
You may or may not know how long it takes to grind your beans using a manual grinder. Manual grinding takes a while, and the finer you grind, the longer it takes. A lot of home baristas are OK with this, and make it a part of their daily morning ritual to the point where it becomes almost meditative. But those who have earlier and quicker starts to their days may want something electric and most importantly, consistent.
Noise level
Anything electronic that grinds up consumables is going to make noise. That should be expected, but if it's important to you to step silently in the morning so you don't wake any family up, then it might be imperative for you to find a grinder that specializes in noise minimization but doesn't sacrifice performance. Machines with steel conical burrs may wake everyone in the household if those blades aren't muffled correctly by the machine.
Durability
Grinding takes some effort. You know this if you've done it manually. An electric grinder does no less work, so you are going to want one that will hold up over time. When a grinder has a high price point, you don't want to leave this sort of thing to chance. Look at the manufacturing materials, whether it ranges from plastic to metal to glass, and you should be able to tell which one will stand the test of time.
Burr or blade
There are two types of electric grinders and each breaks up the bean in a different way. A blade grinder chops beans to pieces with blades. There's a randomness to this that often produces inconsistent, uneven coffee grinds as a result.
A burr grinder uses conical or flat burrs that pull the beans to the bottom and grind them to a certain size, depending on how much space is set between the burrs. This produces a consistent grind size which enhances the flavor of your brew.
Bean hopper capacity
This is a concern for some folks, but we don't recommend getting too hung up on it. Ideally, you don't want beans sitting in the hopper for more than a couple of days, because they will begin to deteriorate. Better to keep them in an opaque, airtight container and pour them into the hopper shortly before brewing. Enough hopper capacity for a few days is plenty, in our opinion.
The Breville Smart Grinder Pro review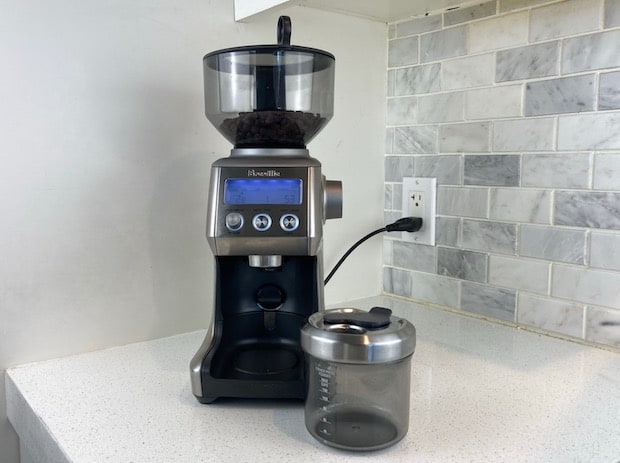 The Breville Smart Grinder Pro is a smartly designed grinder with an LCD screen display and a bean hopper that is easy to maneuver and work with. Its durability is not in question, with a hard plastic casing that sits on a stainless steel infrastructure. Its so-called "Dosing IQ" technology allows you to adjust the grind time in 0.2-second increments, so you can get exactly the amount of coffee you want each time (after some trial and error, of course).
Pros
60 precise grind settings for versatile customization and outstanding consistency of grind size.
Comes with a cleaning brush and cradles for small and large portafilters, so you can dose directly into a portafilter
Electric timer that gives you a choice of how long (and loud) you want your coffee to grind.
Sturdy design that should buy you some longevity.
Cons
Be sure to buy an up-to-date version, as older versions are known to have an impeller that wears quite quickly and can leave clumps of coffee grounds stuck to the burrs.
Hefty price, all things considered, although you are paying for quality.
Requires cleaning once a week to ensure optimal performance.
Key features
60 grind settings
Not many other electronic grinders can match the Breville Smart Grinder Pro in terms of grind settings.
Is the Breville Smart Grinder Pro good for espresso? You bet! In fact, this machine made our list of the top low retention coffee grinders, since it does a great job of giving you all your coffee back, which is particularly important for espresso drinks. From a coarse grind to drip coffee to fine espresso and everything in between, you can get whatever you're looking for. Look at the image of coffee grounds we posted above to see the variety this grinder can produce. No matter what type of coffee you want to make at home, the Smart Grinder Pro can handle it. And we have a separate post that recommends the best Smart Grinder Pro settings for several brewing methods.
Of course, it doesn't have to be complicated. If you only use one brewing method, once you find the setting you like in can stay there forever and give you the perfect dose of coffee grounds every time.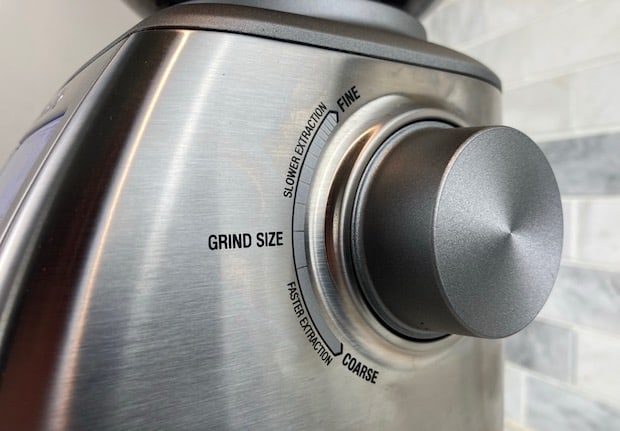 Even though all our customization wishes have been granted, if you're really serious you can lift out the top burr and make 10 micro-adjustments to your grind. We're not sure why that would be necessary, but once you do the math you have a staggering number of options when it comes to customizing your perfect grind. The Breville Smart Grinder Pro has really blown the competition out of the water when it comes to this feature.
Electronic timer
Now, if you're due for busy mornings then you know how important preset buttons are when starting your day. If you don't want to rely on pre-ground coffee with a coffee maker, then you can preset the timer to grind your coffee just right with the touch of a button.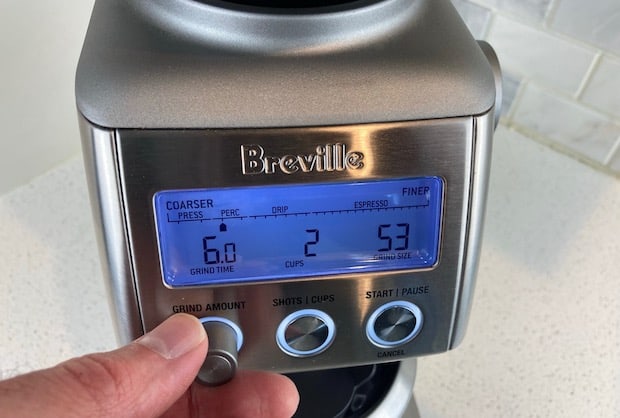 You don't have to compromise by buying pre-ground coffee anymore. You can keep an artisan bag of beans on hand and just top up the hopper whenever necessary. Your preferred grind will be available for coffee brewing in the morning.
Be sure to play around with the system. This is how you find the optimal amount of time for your grind. If you want to mess with it a bit, you can hold the timer down and let it count up from zero, and stop whenever you think you've reached the right amount of ground coffee.
The timer can also help you figure out how many beans to grind for the number of people you are serving. Whether it's for a small get-together or morning coffee with your family, once you know the right presets they'll always give you the right coffee measurements.
Thoughtful and easy design
Everything about this electronic coffee grinder speaks to easy maneuverability, despite the huge number of settings to choose from. Whether you're making espresso or just a regular cup of drip coffee, the bright digital LCD interface can help you attain your goal quickly. The display shows the grind setting, the grind time, and the number of shots/cups you have selected.
Grind setting is controlled by a small knob or dial on the right-hand side, allowing for quick and easy refinement of the grind size in small increments. You can use the portafilter holders for to prep coffee for your espresso machine, or park a pour-over cone like the Hario V60 right under the dispenser and have the machine grind right into the filter. That's fresh!
Though the hopper and housing are made of plastic, it's a sturdy plastic and the machine's real integrity comes from its stainless steel base and steel conical burrs. There's not much to worry about regarding its durability. It should be able to withstand a lot of usage given a dedicated space in your kitchen.
Older models of this product had a plastic impeller that would wear down over the course of a couple of years. This piece is responsible for whisking the coffee grounds away from the bottom of the burrs and into whatever receptacle is waiting. If it's worn, it doesn't do that as well and a clogged or jammed grinder can result.
Be sure to double-check the model before you move forward with any purchases, especially because this particular part can't be easily replaced by Breville. The discontinued BCG800XL is the one to be wary of. Newer models have addressed the issue.
Ease of cleaning
One last thing to take notice of is the need for somewhat diligent cleaning. You won't have to worry about it every day, but be sure to clean out the hopper and brush the stainless steel burrs every week or so. This is all to ensure that the burr motor doesn't get jammed over time. Any buildup of coffee grind can impact the integrity of your burr motor.
With that being said, this conical burr grinder is very easy to clean. You can easily take out the hopper and rinse it out in the sink. If you care about cleaning the other parts of the machine, the essential areas are easy to reach and don't require much finesse. The ease of cleaning adds to the convenience of the Breville Smart Grinder.
Our verdict
Though the Breville Smart Grinder Pro commands a higher price than competing electric grinders, it makes up for it with a durable design and technological capabilities that allow you to make endless adjustments. You can have complete control over your grinding and therefore your cup of coffee. With the Smart Grinder Pro, you can produce a wide variety of coffee drinks. Baristas rejoice—ultimate customization has arrived.
Plus, with everything this Breville grinder has to offer, you'll never have to worry about hand grinding your whole beans or settling for pre-ground coffee beans that become stale quickly. You can make all types of coffee from fresh grounds with the touch of a button. Never again shall you have to compromise. With this level of grinder, the coffee comes first.