Fans of the Paramount TV series Yellowstone have a lot of burning questions.
Will John Dutton become governor? What the hell did Teeter just say? And how many bodies are at the bottom of that cliff, anyway?
But for Bean Poet readers, the series raises one particular question that makes all others seem insignificant:
Where can I get one of John Dutton's coffee mugs?
The half-glazed terracotta mug is the real star of the show. It's as familiar and comforting as a Montana sunrise. Every morning after eating breakfast in silence with baggage-laden family members, John Dutton strolls outside his log mansion to gaze at the mountains and ensure his livestock hasn't been poisoned overnight—always accompanied by that lovely little mug.
White on the top, orange on the bottom, pure black goodness inside. What could be better?
If you're like us and have to have one, look no further. We have found the John Dutton coffee mug.
John Dutton's Coffee Mug
Check availability
John Dutton's mug is a large Mali mug from Nkuku. You can buy a pair of them for around $35-$40 through Nkuku's online store.
Nkuku is all about handmade goods made by artisans from around the world, using traditional skills and natural or recycled materials. These particular mugs are made by potters in southern India, fired in a brick kiln heated by an open fire—not unlike the infamous Yellowstone brand.
The base is natural terracotta, with the top half of the mug and handle dipped in an off-white glaze, to give it that two-tone look. The mug is about four inches tall and three-and-a-half inches in diameter, carrying 350 mL of coffee. You can wash it in the dishwasher and put it in the microwave.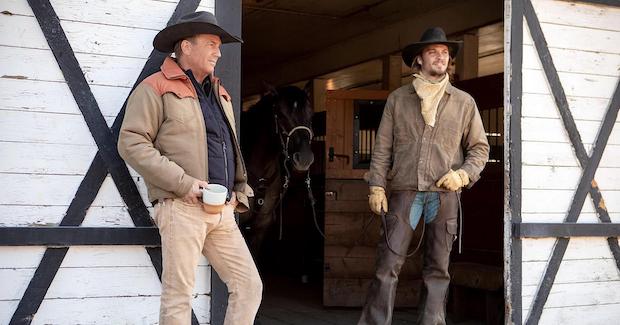 We're not sure how a Mali mug ended up in the big Yellowstone ranch house. Maybe Beth found them when she was out trashing shops on Main Street in Bozeman. Maybe John's a big online shopper who spends more time on Etsy than we realized. That's why he's got all the help.
At least we know Carter didn't steal it, because the mug preceded his first appearance on the show.
Whatever the case, the John Dutton coffee mug is out there, it's glorious, and we're getting one now. And if anyone tries to get in our way, we'll take them to the train station.