All you wanted was a Nespresso machine, and now you find yourself having to choose either De'Longhi or Breville.
Don't worry, you're not the first coffee lover to wrestle with this choice, nor the first to be confused by it.
Shopping for a Nespresso machine sometimes makes you feel like you're drowning in a sea of brand names, thanks to Nespresso's manufacturing partnerships with appliance brands around the world. We're here to clear up some of that confusion. We'll help you feel a little less stressed about choosing between Breville and De'Longhi coffee makers.
Nespresso machines by De'Longhi and Breville covered in this guide
| Machines by De'Longhi | Machines by Breville |
| --- | --- |
| | |
| | |
| | |
| | |
| | |
| | |
| | |
Who makes Nespresso machines?
The Nespresso machines you see in stores—and even on the Nespresso website—are not made by Nespresso. They were invented by Nespresso. They were engineered and designed by Nespresso. But when it comes to cranking them out of factories, Nespresso relies on other companies for that.
The brands that take care of this for Nespresso differ from country to country. Usually there are two or three such companies in each country. For North America, De'Longhi and Breville oversee almost all of the manufacturing, although KitchenAid makes a Nespresso machine as well.
De'Longhi is an Italian company that has been around since the early 1900s. They are best known for their coffee and espresso machines, although they make a number of other small household appliances as well.
Breville is an Australian appliance brand founded in Melbourne in 1932 that built its name on blenders, kettles, and—most famously—their sandwich presses known informally as "toasties." They also market the Smart Grinder Pro, a electric burr grinder.
When you buy a Nespresso machine in a retail store, it is usually co-branded: Nespresso, plus one of these manufacturing partners. In most cases, this is either De'Longhi or Breville. So you'll hear the terms "Nespresso De'Longhi" or "Nespresso by Breville."
When you shop at a Nespresso boutique or on the Nespresso website, you'll probably see only the Nespresso brand. Those machines are still Breville or De'Longhi Nespresso machines, but the manufacturers leave their branding off machines made for Nespresso to sell through its own channels.
Elsewhere around the world, you might find Nespresso machines made by Krups, Miele, Siemens or Magimix.
The difference between De'Longhi and Breville Nespresso machines
When it comes to the important stuff—a good cup of coffee—there is no difference between De'Longhi, Breville, or any of the other manufacturers. The same machine made by different partners will be driven by the same Nespresso technology and have exactly the same technical specs, right down to the water tank. They will make the same shot of espresso.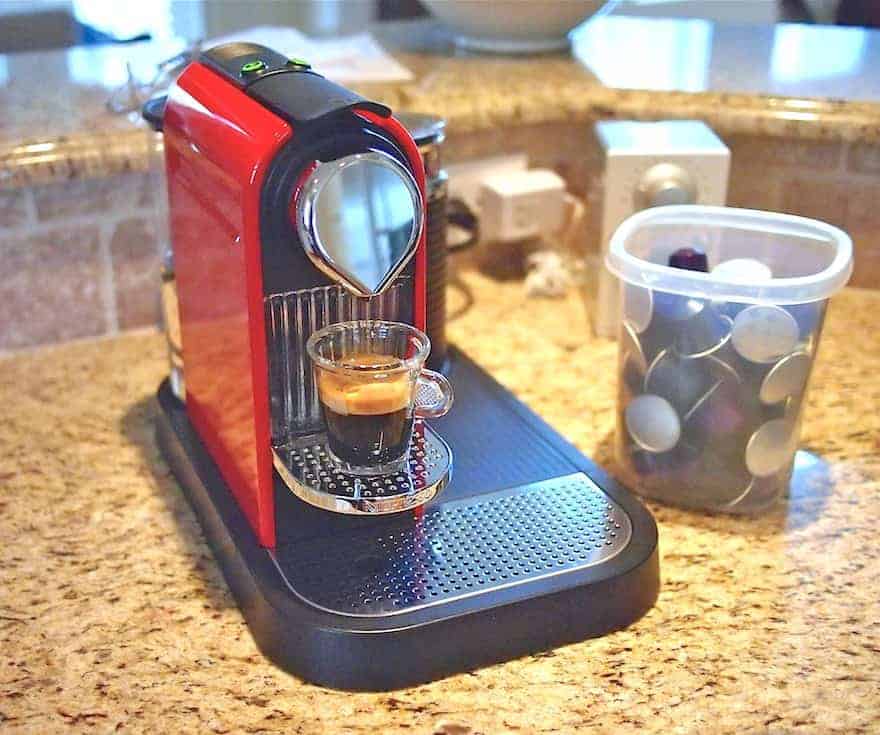 The machines might not look exactly the same, though. In several models, you'll notice slight differences in cosmetic design depending on the manufacturer.
Usually the changes are quite subtle, like the rounded top on Breville's VertuoPlus compared with De'Longhi's:
Nespresso VertuoPlus by De'Longhi
Check availability
Nespresso VertuoPlus by Breville
Check availability
Or the spout design on the Citiz. See the difference?
Nespresso Citiz by De'Longhi
Check availability
Nespresso Citiz by Breville
Check availability
The model with the differences that stand out most is the Essenza Mini, which has a significantly different silhouette depending on which brand made it:
Nespresso Essenza Mini by De'Longhi
Nespresso Essenza Mini by Breville
Check availability
But when you choose between the two, all you need to care about is how it's going to look on your counter, because the machines operate in exactly the same way and will make the same coffee.
But hold on, each brand makes its own unique models…
Where things get a little more complicated is in the models that are unique to each of the manufacturing brands. For example, KitchenAid, which we mentioned earlier, makes their very own KitchenAid Nespresso machine that looks nothing like any of the others:
And it's also true that De'Longhi and Breville have designed their own lines of Nespresso machines that they manufacture and sell under their own brands. They are called Lattissima and Creatista, respectively.
Nespresso Lattissima machines by De'Longhi
The line of exclusive De'Longhi espresso machines is called Lattissima. It includes the Lattissima One, Lattissima Touch, Lattissima Plus and Lattissima Pro. Only De'Longhi makes these machines.
Lattissima One
Check availability
Lattissima Touch
Lattissima Plus
Check availability
Lattissima Pro
The Lattissima is unique for its integration of milk right into the brewed coffee. You don't have to heat the milk separately or use a standalone milk frother. You just press the button for cappuccino or latte and the machine produces the complete beverage.
Nespresso Creatista machines by Breville
Breville's proprietary line is called Creatista. It includes the Creatista Uno and the Creatista Plus. These are good-looking machines that are styled much like Breville's Bambino espresso machines. The major difference is that the Creatista brews from Nespresso capsules while the Bambino asks you to load and lock a portafilter before starting up the hot water.
Creatista Uno
Creatista Plus
Nespresso machines that De'Longhi and Breville have in common
These unique lines aside, most of the familiar Nespresso models that you know and love are made by both De'Longhi and Breville. They include the Nespresso Pixie, the Inissia and Essenza Mini (see our comparison), Citiz, Vertuo, VertuoPlus and VertuoPlus Deluxe.
In most cases these coffee machines will look exactly the same. Some may have slight cosmetic differences. And one brand may offer the model in a wider variety of colours than the other.
Otherwise, you don't have to think too much about whether you choose De'Longhi or Breville.
Both are great brands that have been around for a long time. If you read the Nespresso machine reviews, they don't reveal any significant advantage for one brand over the other in terms of durability and reliability. If the choice is De'Longhi vs. Breville, you can just let your colour and style preferences be your guide.
Now check out our in-depth comparison between Jura vs. De'Longhi!
Not sure whether to go with Illy or Lavazza for your next coffee purchase? We'll help you decide with these top recommendations from both brands.