Coffee is a ritual. I never start a day without a cup—or two.
Do you often feel like you need a cup of coffee just to make your first cup of coffee, plodding around the kitchen gathering supplies in a sleepy haze? Creating a custom coffee station, where everything is at your fingertips, adds ease and enjoyment to your morning routine.
Not everyone has the sprawling kitchen of a suburban home, though, and many of us living in increasingly cozy spaces. Designing a coffee station for your small space is about ingenuity, creativity, and efficient use of what's available to you.
Let's check out some smart, creative, attractive and useful coffee station ideas for small spaces.
Getting started
The important things you'll need to consider when planning out your coffee station revolve largely around your particular brewing method, and how your space is laid out.
Equipment to include
If you drink regular pre-ground black coffee from a drip machine or pod coffee maker, all you'll need is your coffee maker, beans, and cups. You can easily tuck this setup into any corner of your kitchen counter.
If you have an espresso machine you'll need several additional accessories, such as: a knock box for coffee grounds, tamper, scale, grinder, cloth, etc. You'll need a bit more space and might want to consider incorporating some shelves, a cabinet, or a bar cart.
If you switch between multiple coffee brewing methods, such as pour over, French press or Aeropress, you'll want to find a larger space where you can have all options stored and displayed together.
Consider other items to help with organization and aesthetic, such as: glass jars, baskets, wooden crates, spoons or stirring paddles, fixings, a small waste container, and a few personal touches to make it your own.
Choosing the best location
Gather all necessary supplies and put them out on the counter or table to gauge how much space you'll actually need.
Is there an unused corner you can add a small shelf or bar cart to? It doesn't necessarily need to be in the kitchen.
Is there an electrical outlet in a useful location?
How often will you require a water source, and how cumbersome is that process? You can always bring water to the reservoir of your coffee machine in a jug instead of removing it, but try to find the most convenient spot.
How messy is your process? Bar carts are very cute, but is it a practical solution for your brewing method?
Is there a spot where you can take advantage of vertical space by adding shelves, stacking wooden crates, or hanging hooks?
How visible will your station be?
If it will be on constant display, you'll want to be a bit more thoughtful and creative with your use of containers and overall design.
If it's tucked away in a cupboard or cabinet, you might choose to keep things simple, and forego some of the more aesthetic touches.
Make it useful
Plan it out.
Make sure highly used items like coffee beans are the easiest to access, for a beautiful and functional coffee station.
Utilizes containers, shelves, trays or a cake stand to keep things organized and maximize space.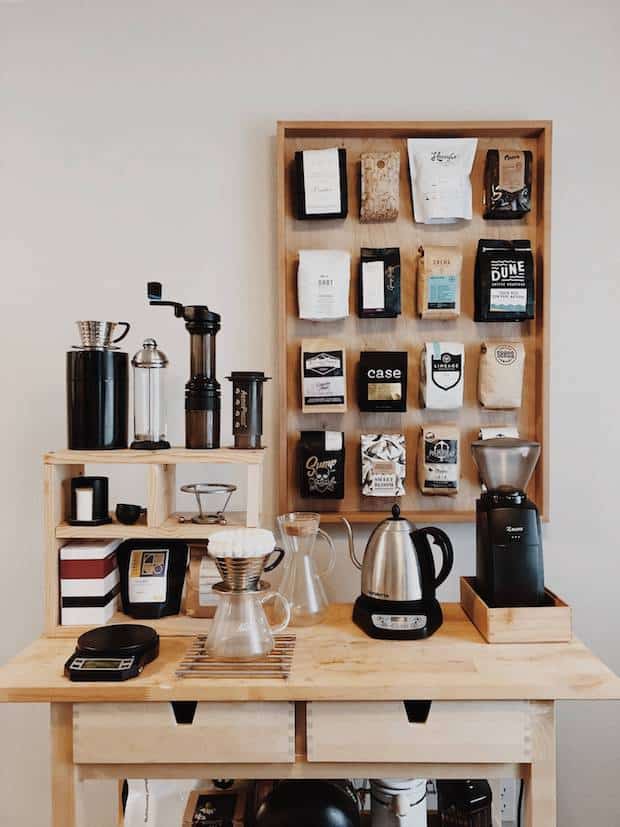 Now that you've thought about the logistics of your coffee station setup, it's time to have some fun. Let's explore some creative options for making the most of your small space coffee station. We'll start with the most compact, then move into some more expansive options if you've got a bit more space to play with.
On the counter
If you only have a small counter to work with, there are still several effective and attractive ways to organize your corner coffee station. If additional shelves are not an option, try getting a little elevation by using boxes, crates or a cake stand.
If you like to keep things minimal and streamlined, create a little coffee nook in a breadbox or other funky container. If you're crafty enough, the lid can act as a preparation area when open.
View this post on Instagram
If space allows, add some hooks either to the wall, or under the cupboard. This is not only a nice touch, but frees up limited space in your cupboards.
If you've got some overhead space to play with, consider adding shelves for storage space. By elevating items off the counter, you gain space that you can use for other purposes, or you can make use of an awkward, otherwise unused slice of counter.
You can also make use of exposed shelving above, or drawers below to display and store your coffee station supplies.
View this post on Instagram
If your coffee corner is too tight to actually make your coffee in, and you tend to ferry your supplies across the kitchen every morning, tuck all your coffee gear into a cute tray, so it's easy to carry and looks tidy and chic on your countertop.
On the wall
If counter space is hard to come by, I bet you've got a wall that's just standing there, waiting to be made useful. We often forget how much space we have just hanging around. You can get as creative as you like with arrangement of shelves, and a pegboard can be extremely useful and attractive.
A wall-mounted coffee bar is best if you use a hand brew method such as pour over, siphon, or French press, and you'll have to pull your items down and use your table or counter for actual preparation.
Inside a cupboard
If you're short on counter space, but have an extra cupboard, or even a couple of shelves, you can arrange all your supplies together in an easy-to-access kitchen coffee station.
You can combine other frequently used appliances as well, to create a slick and user friendly corner of your kitchen.
There's no need to be limited by your kitchen cabinet. You can tuck a standalone armoire or shelving unit into a little corner somewhere, to make a stunning and well-organized coffee station in any part of your home. You'll have plenty of storage for all your coffee essentials, and you can store other kitchen supplies inside as well.
Keep in mind how messy your brew method is, and whether keeping it in or around the kitchen might be the best option.
Standalone stations
A standalone coffee bar cart, side table or shelving unit can be extremely handy, and often quite stylish. They range from the compact and portable, to stationary beasts that can be used for multiple purposes, like storing lesser used cookware or other household items, or setting up your record player.
Bar carts are a popular choice for a coffee station that can be portable if need be, or just look cute in its permanent home. Bar carts are super handy and efficient with their multiple shelves and tiers, but keep in mind that some of the more dainty and ornate models are not always the best for actual coffee preparation. They come in numerous styles and sizes.
If you're going to park your coffee cart in a dedicated spot—at least for the most part—adding some additional shelving to the area creates an eye-catching aesthetic, and offers extra storage that frees up space in your kitchen.
If you've got a bit more space to work with, using a sideboard, dresser, or other waist-high shelving unit is among the best coffee bar ideas.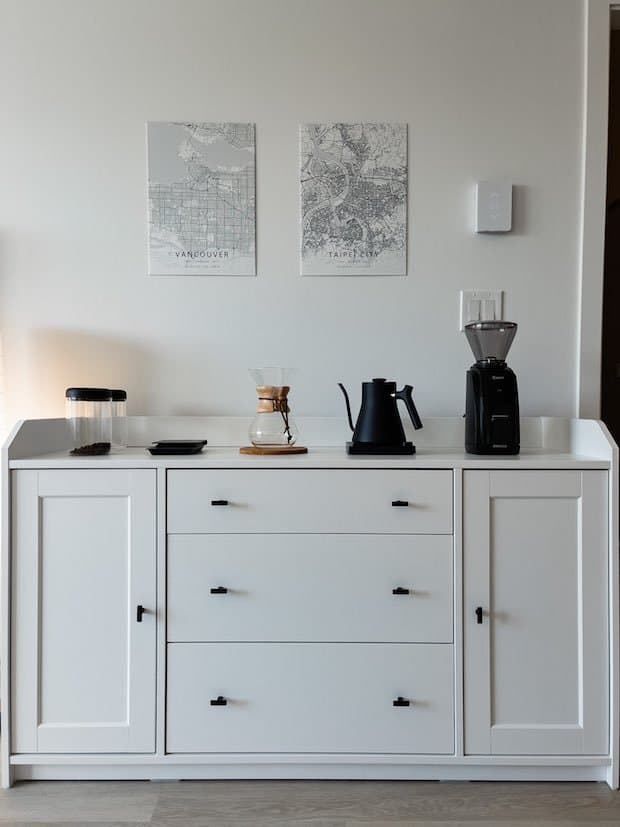 This may not fit in your kitchen, so again you'll want to assess the necessary cleanup, and potentially take a few extra steps to customize your station. You'll want to ensure it stays neat and tidy, as it will likely be a focal point in your space.
Use that wall space! Add some shelves around your unit for visual interest and storage.
Personal touches
Speaking of style and flare, you can design your coffee bar however you like, to reflect your personality and the overall vibe of your space. Adding personalized touches—whether chalkboards, indoor plants, photos, or your collection of coffee mugs or antique siphon brewers—creates a space uniquely your own, and worthy of the most sophisticated coffee lovers.
A few ideas that might inspire your coffee station design:
Minimalist
High-end hipster cool
Country chic
Home barista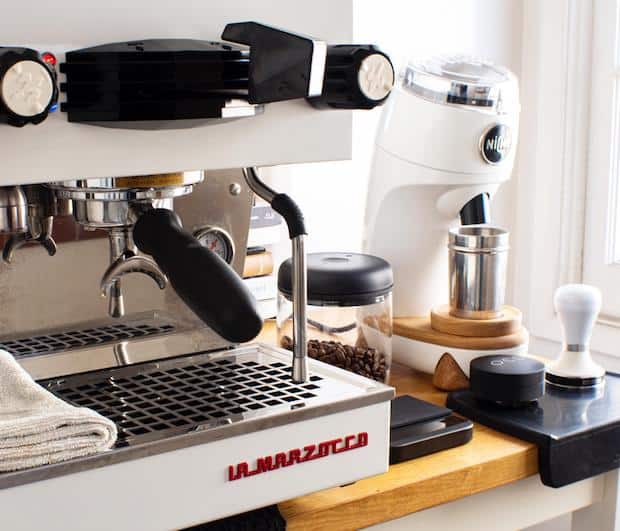 There are endless way to organize and style your home coffee station, and you needn't let limited space restrict your options. Using vertical space or an unused corner, and getting creative with your organization and styling, allows you to make the most of your space.
Hopefully these coffee station ideas for small spaces have inspired you, and you're ready to brew up something beautiful.