Last Updated on April 30, 2023
Two of the best devices for making pour-over coffee at home are the Chemex and the Hario V60:
Chemex
Hario V60
I took the leap into pour-over coffee when my automatic drip coffee maker broke. Like most people, drip coffee was all I knew. You can't beat the convenience of an automatic coffee maker in the morning.
But over time I discovered better coffees and a love of bright and cheerful Latin American beans. I learned different roasts, like the full city roast which is dark but not burned.
But I was still using the same coffee maker.
Why? My tastes were changing, and I was starting to appreciate good coffee.
So when that machine broke, I switched to pour-over. It takes more time, but the ritual is soothing and the prize is a great cup of coffee.
I got to know both the Chemex and the V60. Either one will help you make a great cup of coffee. Both are simply designed and easy to use.
If you can only get one and the choice is Chemex vs. Hario V60, here's what you need to consider:
What is a Chemex?
Chemex is a heat-resistant glass vessel made in the shape of an hourglass, with a small ridge that serves as a spout. It usually has a heat-proof wooden collar around its pinched waist, tied with a leather band for easy handling. Some of them have a handle.
The company makes several different models, including gorgeous hand-blown glass models.
Chemex emerged from a chemistry lab in 1941. Taking his cue from labware, Dr. Peter Schlumbohm designed a vessel to make brewing the perfect coffee simple and beautiful. He also designed the thick filters that must be used to make Chemex coffee extra clear. Chemex coffee filters are also compostable.
This coffee maker has received numerous awards for its design and its science. You can even find one in the Museum of Modern Art in New York City.
What is a Hario V60?
Hario V60 gets its name from the perfect 60-degree angle of its cone. This angle combined with the spiral ribs on the inside surface of the cone allows water to flow just right, and ground coffee to expand optimally.
Hario is a Japanese company that started by making glass and ceramic equipment for science labs. Today the company still makes lab equipment, as well as devices for the home and kitchen.
The Hario V60 comes in many colors and materials. Transparent glass is the classic, but there are also ceramic, glass, copper, and even plastic models if you want to keep costs down.
What is pour-over coffee?
Pour-over coffee is simply coffee made with hot water hand-poured over the grounds. The process is like a drip coffee maker except you, rather than the machine, control the flow of water. This method gives the brewer plenty of control over the coffee
I live in rural Illinois, which is one of the last places to pick up on new coffee trends. I first heard about pour-over a few years ago from my hip younger brother who lives in Portland, Ore.— coffee central USA. When I visited him, he took me around to several shops, introducing me to several beans and different pour-overs.
Pour-over coffee was easily the best coffee I have ever tasted. The flavor of the beans and the roast was maximized, without a hint of bitterness. I bought a pour-over coffee maker not long after I returned home. (The push of having my drip machine break was also an impetus.)
How to make pour-over coffee
Pour-over coffee enthusiasts recommend using a gooseneck kettle to heat and pour water into the coffee maker. This allows greater control over the flow of water and allows a slower pour to maximize coffee flavor. You don't absolutely need a gooseneck kettle for pour-over coffee, but it makes the job a lot easier, and you'll make better coffee with it.
You first add a little water to the grounds, allowing them to bloom (expand) and release carbon dioxide. Then you slowly pour the rest of the water over the grounds.
This process, with the filtration, creates a cleaner cup of coffee without sediment or bitterness.
In the video below, Gail from Seattle Coffee Gear goes through the process with the Chemex and Hario V60 side by side:
What's the difference between Chemex and V60?
Grind size
Chemex vs. Hario V60 is a classic argument for coffee people. One major difference between Chemex and the V60 is the grind size for the coffee beans.
Chemex is designed for a medium-coarse grind, but it is quite forgiving if the grind is a bit finer or coarser. The V60 gives the grind a lot of say in how the coffee turns out. A fine grind and a slow pour make the strongest coffee and a medium grind with a fast pour makes a weaker cup.
Funnel design
The Hario V60 has ridges, or grooves, on the inside of its cone that you don't see in the Chemex. These create some separation between the wet filter and the walls of the cone. This allows the brewed coffee to exit through the sides of the filter and flow neatly down to the bottom of the funnel.
The Chemex doesn't really provide this route for the coffee. Instead, the coffee adheres to the slim space between the filter and the funnel, and most of it exits through the bottom of the funnel.
The exit hole in both brewers is very large compared to many other pour-over devices, which is why the grind size and rate of pour are such key factors when you brew.
Filters
Both devices use paper filters, of different thicknesses. The Chemex's thicker filter doesn't let any sediment pass, making the brew clearer than that of the V60 (which is still pretty clear).
The V60 filters are usually a bit easier to find.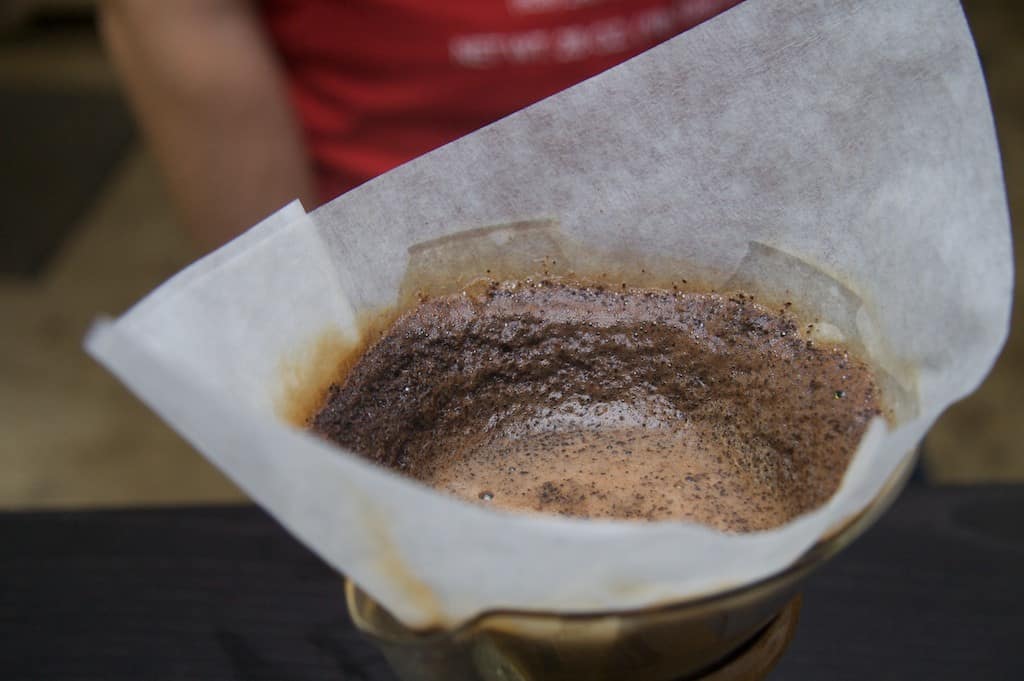 Variety of sizes
The Hario V60 is designed to make one or two perfect cups of coffee at a time. The Chemex comes in a range of different sizes from three cups to 13 cups.
Which one should you buy: Chemex or V60?
The Chemex and V60 are more alike than they are different. They are both pour-over coffee makers. They both make great coffee (although neither keeps coffee very warm). They are both relatively easy to use. And both require you to buy special filters.
At its heart, choosing one or the other device is really a matter of taste.
If you can, go out to friends' houses or coffee shops and taste coffee made with both devices. That way, you can really see which one you prefer. Both make great cups of coffee—but the small differences in flavor matter to many people.
Buy the Chemex if:
you want to brew multiple cups at the same time
you love its design and want to leave it sitting on your counter as art. (It is art, no question.)
you want the clear, bright coffee that comes from the thicker filter
you want a little forgiveness with your pour or your grind
you don't want any plastic
Buy the Hario V60 if:
you always want to make a single cup (smallest size)
you never want it to break, or plan to travel with it (avoid the ceramic and glass models)
you want to take complete control of a customized cup of coffee
you want the easiest possible clean-up
Chemex sizes and styles
The Chemex comes in many sizes: 3, 5, 6, 8, 10 and 13-cup devices (browse sizes here). All are clear glass. Chemex makes three lines of brewer:
Classic: natural wooden collar, tied on with a rawhide band available in different colors
Glass handle: the collar is replaced with a glass handle
Hand-blown: resembling the classic, but made in small batches by skilled artisans
Not all sizes are available in every line.
Hario V60 sizes and styles
The Hario V60 comes in several different materials:
Most are in the standard size which brews one or two cups (one mug). Plastic, ceramic, and metal devices can be purchased in a size that will make up to four cups. The plastic models are most affordable and aimed at beginners. I'm in love with the glass with the olive wood base, which rivals the Chemex for looks. The copper dripper is the top of their line, and also looks sharp.