Last Updated on June 14, 2023
I first stumbled across the Kinto Travel Tumbler last summer on a shelf at Bocca Coffee Roasters in Amsterdam. The stylish container offered a smooth sipping experience and it quickly became my go-to travel mug. I didn't think it could be beaten.
However, Fellow Products launched a new travel mug last fall called the Carter Everywhere Mug. It generated a lot of buzz as a mug that puts flavor at the forefront of its design.
I reached out to the folks at Fellow and they sent a couple of Carters so I could see how they stack up against my beloved Kinto tumbler.
What I learned is that these mugs are very different—so different, in fact, that I'm not going to pick a winner here. My recommendation would depend almost entirely on knowing what you want from your travel mug. Everyone's needs are different.
Instead, I'll go over how the mugs are similar and how they're different. By the time I'm done, you should know which one to pick.
At a glance: Carter Everywhere Mug vs. Kinto Travel Tumbler
The four key differences between the Carter Everywhere Mug and the Kinto Travel Tumbler, in my opinion, are as follows:
Carter Everywhere Mug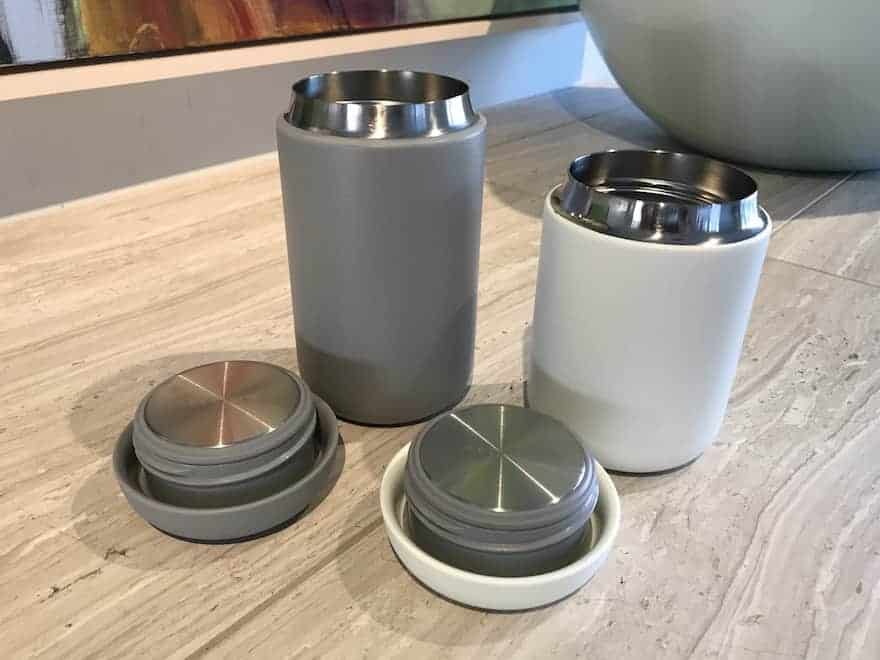 Two pieces
10 1/4-inch circumference
Ceramic interior surface
Can go in dishwasher
Check availability
Kinto Travel Tumbler
Three pieces
7.9-inch circumference
Stainless steel interior surface
Cannot go in dishwasher
Check availability
The differences in more detail
Two-piece vs. three-piece
The Carter consists of a vessel that carries your coffee, and a screw-on cap. That's it. Two pieces.
The Kinto, as you can see in our 'exploded' image below, has three pieces. There is the main vessel and a screw-on cap, but there is also a sipping cap that goes between the two. It screws directly onto the main vessel, and then the top cap screws onto it.
This has all kinds of implications. First, there are three pieces to keep track of and three pieces to clean. If you're looking for simplicity, this might be a drawback.
But the real difference comes when it's time to sip.
Sipping from the Carter is almost like sipping from a regular coffee mug. It has a wide mouth, and you just plant your lips on the rim and sip away. This means you can smell all the aromas of the coffee as you bring it to your lips, which enhances flavor.
But it also means you can easily spill your coffee. The Carter is not ideal if you want to drink while walking the dog, or driving, or riding a bumpy bus or train.
The Kinto's nicely designed sipping cap covers the top of the tumbler, so it keeps the coffee inside when things get splashy. When you sip, the liquid flows out through four narrow slots and gathers briefly in a well before it enters your mouth. Because it gathers in that well, it doesn't feel like you're sipping from a hole or a slot, it just feels like you're sipping coffee from the rim of a tumbler. And I find the flow of liquid to be just right—not too fast, not too slow. It's one of my favorite things about the Kinto.
Of course, this also means you're not getting the full aroma of the coffee as you sip, because most of it is blocked by the cap. That's the tradeoff.
Circumference of the mugs
The Carter Everywhere Mug has a circumference of almost 10¼ inches, significantly greater than the Kinto Travel Tumbler's 7.9 inches. This means when coffee sits in the Carter, there is more surface area for its aromas to rise, which contributes to the flavor enhancement we discussed earlier.
But this has other implications as well—some positive, some negative.
On the positive side, the Carter's wide mouth allows you to brew directly into the mug from many devices. For example, it's almost a perfect fit for the AeroPress. You can fit your AeroPress right onto the Carter and press away, straight into your mug.
Good luck trying that with the Kinto's narrow opening:
Both travel mugs can accommodate a Hario V60 dripper directly.
On the downside, the Carter's large circumference makes it a handful. Remember, there is no handle, so you must grasp the mug's sides. If you have small hands, you might prefer the Kinto which allows you to get a more full grip.
We also aren't entirely sure that the Carter will fit into the cup holder of your car. I wouldn't drink from it while driving anyway because of the potential for spills, but if you intend to do so, you should measure your holder first.
Interior surface material
While both of these travel mugs have stainless steel walls, one of the Carter's innovations is its ceramic-coated interior. The Kinto is stainless steel on the inside.
If you are sensitive to metallic tastes, you might prefer the Carter because it won't have your coffee sitting next to steel for hours on end. The designers, with their focus on taste, had this very much on their minds when they dreamed up the Carter Everywhere Mug.
Dishwasher-friendliness
Fellow promotes the Carter Everywhere Mug as being completely safe for the dishwasher. Kinto advises that you shouldn't put their Travel Tumbler in the dishwasher.
Other considerations
Heat retention
We tested how well each mug retains heat for three hours. My Kinto Travel Tumbler is the 12-ounce version, while we had both a 12-ounce and a 16-ounce Carter Everywhere Mug. (Kinto also makes a taller 16-ounce tumbler.) The chart below shows how well each one retained heat at half-hour intervals for three hours, starting with coffee at 195 F.
The 16-ounce Carter did the best, which makes sense because of its greater volume-to-surface-area ratio.
There wasn't much to choose between the Carter and the Kinto when it came to the 12-ounce sizes. The Kinto retained heat slightly better, but honestly, I came back to all three mugs after 12 hours just for kicks, and they were all still fairly warm:
Carter Everywhere (16 oz): 131 F
Carter Everywhere (12 oz): 118 F
Kinto Travel Tumbler (12 oz): 114 F
The bottom line is you don't have to worry about your coffee going cold in any of these mugs.
Materials
Both mugs feature a double-walled stainless steel body with a vacuum between the walls to lock in heat.
The lid of the Carter Everywhere Mug is made from steel and BPA-free plastic, and its interior is coated with ceramic.
The two caps on the Kinto Travel Tumbler are made from polypropylene, with silicone seals to prevent leaks.
On the outside, the mugs feel remarkably similar. Kinto calls their exterior finish a "powder coat finish," but to me it feels ceramic with just a bit of texture, like extremely fine pebbling. The Carter Everywhere Mug feels exactly the same. Essentially, there is no difference. (Note that I have the khaki-colored Kinto. All its colored models will have this coating. They also produce a version with a smooth stainless steel exterior.)
How they look
These are both great-looking, stylish mugs. To me, the Carter Everywhere's rounded edges give it a slightly more futuristic look, but I'll let our pictures do the talking and you can decide:
Portability
The Carter Everywhere Mug comes with a carrying bag/pouch made of recycled plastic bottles. It doesn't appear to be the most durable fabric, so I can't say how long it will last, but you can slide your mug into the bag and then attach it to a backpack with a carabiner, which is a nice touch.
Carter Everywhere Mug or Kinto Travel Tumbler: Which should you choose?
In my opinion, the choice between the Carter Everywhere Mug and the Kinto Travel Tumbler comes down to which you care more about: taste and flavor, or being able to drink from your mug anywhere you go.
The Carter Everywhere Mug is ironically named, because I wouldn't use it everywhere. It is perfectly leak-proof when closed, but once that cap is off and you are drinking, it doesn't do much to prevent splashing and spilling. You will get great taste and flavour, but if you hit a bump you might end up with hot coffee on your hands.
The Kinto Travel Tumbler takes care of this. I would drink from it in the back of a pickup truck on a logging road. But to do so, I would be compromising some taste and flavor for the protection its sipping cap provides.
Consider your circumstances and how you will most often use your travel mug, and the choice should be clear.