Espresso aficionados are a special breed among coffee lovers. They take a more artistic and artisanal approach to coffee brewing, obsessing over the slightest variation in beans, milk, viscosity and other factors.
Espresso is like wine—all it takes is for one variable to be a little bit off, and the coffee is sunk. But when everything's just right, it can be absolutely sublime.
Many espresso lovers turn to specialty bean-to-cup coffee machines to grind and brew their concoctions with the utmost care. We've selected 11 of the best machines for review here, and we like each one we selected. But if you force us to choose one, we're going to say the Gaggia Velasca Prestige offers the most value:
Gaggia Velasca Prestige Espresso Machine
One touch brewing and frothing: bean-to-cup feature with automatic milk frothing for cappuccinos, baby cappuccinos, and milk froth
Programmable: programmable brewing options for Espresso and Espresso Lungo, cappuccino, and milk froth, with 3 different temperature settings
Ceramic burr grinder and brew unit: ceramic burr grinder with 10 fineness settings, 5 brew strength settings, and bean hopper with 10.5oz capacity
Front loaded water reservoir: features a 54oz capacity and pulls out from the front of the machine, ideal for low hanging cabinets
2 year warranty: hassle free 2 year warranty handled by Gaggia USA directly. For Gaggia usas call center, call 888-389-4123
This guide will take you through all the best bean-to-cup machines, how they work, and what you need to watch for when shopping for one.
What is a bean-to-cup coffee machine?
Bean-to-cup coffee machines grind coffee beans just before making your espresso with them. Of all the factors that can impact the taste of coffee, the freshness of the coffee grounds is among the most important. The longer you wait between grinding the beans and brewing with them, the more time they have to oxidize, which can diminish your coffee's flavor.
A coffee maker that grinds and brews can ensure that your beans are ground and extracted quickly, before this happens. You just load up the best espresso beans you can find, and the machine takes it from there.
The fineness of the grind can also make a big difference. When making espresso, you want to grind them until they are almost a fine powder. You might be able to do this with a hand grinder, but that can be a lot of work, which is why plenty of people turn to a machine instead.
A whole bean coffee maker can speed up the process while attempting to maintain "barista quality." As we'll see, some machines have more success at this than others.
What to look for in a bean-to-cup coffee machine
Tank capacity
How many coffees do you want to make before you have to fill up the reservoir again? Some models have a much smaller capacity, and others can keep you going for days on end. One thing to consider: The more difficult a tank is to access (e.g. positioned at the back), the less often you'll want to fill it up.
Cleaning and maintenance
Ease of cleaning and maintenance speaks to a coffee machine's overall convenience. You don't want your coffee maker to become a full-time frustration. If you have to clean everything by hand on a regular basis, you are giving yourself more work to do, and that's exactly what you're trying to avoid with automated high-end coffee makers.
Models that offer automatic cleaning features or clean themselves internally at the press of a button can save you a lot of time scooping out coffee residue from the innards of the machine and reassembling it again. Look for models with as many self-cleaning features as possible.
Noise level
If your unit's bean-grinding mechanism sounds like a loud screaming demon out of a horror movie, chances are neither you nor any guests you might have over will be able to relax. You want to look for a machine that operates as quietly as possible.
You're always going to get some noise from a milk frother, so focus on the grinding and brewing here.
Price
You'll see that these units can range widely in terms of cost. Some bean-to-cup coffee makers are incredibly inexpensive. The high-end ones tend to cost several hundreds of dollars. For a truly elite model you're likely looking at $1,000-$2,000. For the most part, you get what you pay for.
Which one you prefer ultimately comes down to how much work you want to do for your coffee, and how much you're willing to pay for extra convenience.
Milk frothing
Texturized milk is a huge part of lattes, espressos, and similar coffee drinks. Machines vary in how much control they'll give you over milk frothing. Some machines do it all themselves, which is convenient but it kind of puts you at the mercy of the machine. If you want to play with milk texture and try your hand at latte art, you'll prefer a quality manual steam wand with as little automation as possible.
Before we discuss them in detail, let's take a quick look at the 11 best bean-to-cup coffee machines we've reviewed.
11 best bean-to-cup coffee machines at a glance
11 best bean-to-cup coffee machines in detail
Now, a more thorough look at the best bean-to-cup espresso machines on the market today:
The Gaggia Velasca Prestige is a super-automatic coffee machine for espresso lovers who want café quality with one-touch convenience. It features customizable push-button brewing and frothing for specialty drinks. Stainless-steel retro design and a low profile add understated flair to your kitchen.
A program menu features beverage buttons for espresso, espresso lungo, cappuccino, milk froth, and special drinks. The one-touch beverages can be easily customized for coffee volume, milk volume, brew strength, and two levels of optional pre-infusion. The espresso lungo setting produces a drip-style coffee and can be selected twice for a more robust cup. Five brew strengths and three temperature settings cater to a range of beans and user preferences.
The special drinks menu includes hot water and a baby cappuccino similar to an espresso macchiato. The machine has height-adjustable espresso spouts and a removable hot water dispenser for Americanos and tea.
The steamer is automatic and dispenses milk from the integrated carafe into cups placed under the espresso spouts, with no need to reposition. It's not quiet, though. The carafe is dishwasher-safe and removable if you want to store it in the fridge. In its place, the user can easily insert the hot-water dispensing spout to brew an Americano.
The top-mounted ceramic burr grinder has 10 settings. The bean hopper holds 10.5 ounces and has a small grind-size selector dial that you turn using a key that's included with the machine. The bypass doser for pre-ground coffee sits in the hopper. A large cup-warming plate shares the top of the machine.
The machine's design also features a front-loading water tank, dregs drawer, and drip tray.
Gaggia's hassle-free maintenance includes automatic rinse, carafe cleaning, and descaling cycles. An optional carbon water filter removes impurities and softens the water, which means you shouldn't have to descale the machine quite as often. You can rinse the milk circuit after each use with the touch of a button. The brew unit is easily removable from a side panel for cleaning.
Some users may miss having a manual steam wand and adjustable froth. Volume settings provide some control, but the Velasca Prestige's design prioritizes one-touch convenience.
The folks at Whole Latte Love show off the Velasca Prestige in this video:
Pros:
One-touch specialty drinks
Front-load compartments
Compact design
Cons:
No manual steam
No adjustable froth
Gaggia Velasca Prestige specifications:
| | |
| --- | --- |
| Dimensions | 10.25" W x 13.5" H x 17" D |
| Weight | 19.62 pounds |
| Power | 1400 watts, 15-bar pump |
| Hopper | 10.5 ounces |
| Grinder | 10 settings |
| Water tank | 54 ounces |
| Boiler | Single |
| Steam | Automatic |
The Oracle Touch really does have "the touch" when it comes to brewing brilliance, making it the high-end bean-to-cup coffee machine on this list. It's made by Australia's Breville, although in some countries it's marketed under the Sage brand.
This machine boasts a high-tech interface. While older Oracle models had buttons and levers, this model makes use of a colorful touchscreen, making it easier to use than ever. The touchscreen allows you to switch with ease between different settings and brewing setups for different styles of coffee.
The machine simply looks great. That has nothing to do with the coffee production itself, but it's great that a machine can look this sleek and elegant even at 20-plus inches tall and with a huge 84-ounce water tank attached.
The Oracle Touch's portafilter can accommodate different-sized baskets for different volumes of espresso. This can be a bit overwhelming for a newbie, but if you know what you're doing, that extra level of control is a huge asset and one of the reasons this model is our go-to choice.
Of course, the Oracle Touch comes with a steam wand to add heat and texture to your milky drinks. If that sounds like the sort of thing you'd expect a barista to do, you're not far off—this model is far more in line with the professional machines used in fine coffee shops than others on this list.
If you want to replicate professional espressos and can't get your hands on one of Starbucks' exclusive multi-thousand dollar machines, this is your next best option. With 45 (!) grinder settings, this is a high-quality coffee maker just slightly below what baristas use, all while brewing a better quality cup in the comfort of your own home.
It allows you to mix, stir, and exercise a greater degree of care and control over your espresso than a chain of coffee shops ever could. You have the choice of getting really involved, or you can simply lock the portafilter in place, push a few settings on the touchscreen, and sit back while the unit works its espresso-and-latte-making magic.
It's all pretty easy to learn. The interface is user-friendly and temperature sensors help keep it from overheating and boiling over.
Maintenance is also relatively easy. It doesn't take a lot of work to keep it in good shape. Descaling the unit (that is, cleaning away mineral buildup from your water) can take some time, though, so make sure you set aside a little time for that every few months.
With all that said, this is by far the most expensive option on our list at well over $2,500. This isn't the kind of coffee maker you buy to find out whether you like making espresso. The Oracle Touch is to coffee making what a Formula One car is to driving—not exactly what you'd recommend for your average driver.
If you can handle the sophistication and price, this machine is truly the crème de la crème.
Here's James Hoffman with an orientation of what he—as a Brit—calls the Sage Oracle Touch:
Pros:
Sleek design
Easy to use touchscreen interface
Offers a bevy of barista-level coffee brewing options
Grinds beans well
Cons:
Breville Oracle Touch specifications:
| | |
| --- | --- |
| Dimensions | 17.1" W x 20.7 H x 17.3" D |
| Weight | 35 pounds |
| Power | 1800 watts, 15-bar pump |
| Hopper | 8 ounces |
| Grinder | 45 settings |
| Water tank | 84 ounces |
| Boiler | Double |
| Steam | Manual |
Check availability
The Jura D6 is Jura's entry-level automatic for users seeking intuitive operation and outstanding coffee. The D6 does one thing very well, and that is brewing superb espresso. The machine's minimalist lines underscore its simplicity theme.
The D6 features Jura's pulse extraction process timed to produce optimal flavor, aroma, and crema. This method, used only for espresso, slowly pulses water through the grounds. For regular coffee, the machine uses standard extraction and can brew up to eight ounces.
We did notice that the D6 is a bit loud compared to more expensive Jura machines we've tried. The casing doesn't seem to be quite as soundproof. Beware if you have light sleepers in your house!
The D6's straightforward controls feature LED buttons with text display and two rotary dials. The left switch selects options, and the right switch manages milk steaming and hot water. Programmable features include seven specialty beverages and the ability to customize brew strength, coffee volume, and temperature. One-touch buttons include cappuccino, espresso, coffee, milk foam, and hot water.
The Jura D6 gives you programmable strengths from mild to extra strong. The strongest setting doses a hair-raising 16 grams of coffee, must more than most models.
The steamer siphons milk from your container and automatically froths and dispenses it, controlling volume with a timer. You can program milk foam duration from three to 60 seconds. You have to manually open and close the dispenser switch.
We liked being able to access the bean hopper from the right side of the machine, below its height profile. The metal burr grinder has six settings that adjust incrementally for finer control. There's also a small cup-warming plate on top.
The water tank features easy side access and a high-performance filter. Using the smart water filter removes the need for descaling. This is a feature in all Jura models.
Automatic cleaning cycles include rinse, clean, milk rinse, milk clean, and descale. The brew head is stationary and is cleaned in place by inserting special Jura cleaning tablets. Jura has removed the pre-ground coffee option from the D6 and instead uses that chute for the cleaning tablets.
The D6 does not come with a milk container, but Jura does sell stainless steel and refrigerated countertop milk containers as accessories.
If you like to jumpstart your joe remotely, the D6 is compatible with Jura's Smart Connect Bluetooth adapter, which is sold separately. This transmitter fits inside the front panel and connects to the Jura Operating Experience app so you can select drinks and receive maintenance alerts.
Allie from Seattle Coffee Gear puts the Jura D6 through its paces:
Pros:
Strong coffee dosing
Compact design
Automated maintenance
Excellent water filtration system
Cons:
No pre-ground coffee option
Milk container not included
Maintenance costs for cleaning supplies
Jura D6 specifications:
| | |
| --- | --- |
| Dimensions | 11" W x 13.6" H x 16.3" D |
| Weight | 19.2 pounds |
| Power | 1450-watts, 15-bar pump |
| Hopper | 7.1 ounces |
| Grinder | 6 settings |
| Water tank | 63.6 ounces |
| Boiler | Single |
| Steam | Automatic with manual start and stop |
Check availability
The De'Longhi Dinamica is an automatic coffee and espresso machine that caters to American palates with its TrueBrew iced coffee feature. The TrueBrew iced coffee system grinds a higher coffee dosage, pre-infuses longer, and extracts longer. The result is espresso over ice that remains robust and flavorful. To brew, you push an over-ice button that manages the process from bean to iced glass.
The Dinamica's user interface has four one-touch drink buttons for espresso, lungo, over ice, and coffee. The coffee option produces a drip-style brew using lower pressure than the machine uses for espresso. To customize one-touch drinks, you can select the volume and choose five strength settings from extra mild to extra strong.
Noise level on this machine is pretty average—not exactly loud, but it doesn't purr quietly either.
The Dinamica features a manual Panarello steam wand for frothing, which includes some technology that really reduces the skill level required to produce good foam. You can also adjust it for drier foam. The wand doubles as a hot-water dispenser and comes apart for manual cleaning.
The steel burr grinder has 13 settings, and the hopper is set flush into the machine to maintain its compact profile. Bypass dosing supports a single serving of pre-ground coffee, if you happen to have some on hand.
A front-facing water tank, charcoal filter, and dregs bin add convenience in small spaces. The Dinamica undergoes an automatic rinse cycle when you power off, and also has a rinse button for on-demand cleaning. The removable brew unit is accessible from the side. The drip tray is dishwasher-safe.
If you're looking for a one-touch solution for cappuccinos and lattes, you should note that the Dinamica offers only manual steaming. Great if you want to practice your latte art, not so great if you want to set it and forget it. The special steaming wand simplifies the process a bit, but on the other hand it doesn't give you the full control that a traditional wand would.
You can get a good look at the Dinamica in this video from Hughes:
Pros:
Brew process for iced coffee
Adjustable frother
13 grinder settings
Compact design
Front-loading compartments
Cons:
Manual steam only
Not ideal for micro-foam
De'Longhi Dinamica specifications:
| | |
| --- | --- |
| Dimensions | 9.3" W x 13.7" H x 16.9" D |
| Weight | 20 pounds |
| Power | 1250 watts, 15-bar pump |
| Hopper | 10.6 ounces |
| Grinder | 13 settings |
| Water tank | 60 ounces |
| Boiler | Single |
| Steam | Manual |
The Barista Express from Breville is another excellent choice if you're looking for something that approaches the complexity and quality of a barista-level espresso and coffee maker. It's essentially a deluxe version of the popular Breville Infuser with a grinder built in.
Those 29 pounds may seem a bit heavy, but this machine isn't designed to be an inexpensive portable espresso maker. It's geared toward a more bespoke barista-quality experience, so that's par for the course.
The generous 67-ounce water tank and stainless steel conical burr grinder make this a good choice for brewing up a large amount of high-quality coffee in a short span of time.
The Barista Express gives you the option of selecting between manual or automatic settings. The latter option naturally allows you to brew everything in a faster, hassle-free fashion with little likelihood of error. The former option gives you a greater degree of control over everything from the coarseness of the coffee grounds to the extraction time of the espresso and much more.
If you are new to the world of espresso-making, you can easily start off automating much of the process and then take over as you gradually begin to feel more comfortable. That said, if you're new, this model may also be a bit pricey.
In addition, the steam wand can produce a lovely silky-smooth milk texture for your cappuccinos and lattes.
Add in the fact that it's relatively easy to clean, and there's a lot to like about the Barista Express. The only major drawback, besides the cost, is that it can be a bit temperamental. We wouldn't say it's "fragile"—the build quality is solid—but there are many moving parts and features, which increases the likelihood of something going wrong or breaking down. The machine does have a one-year warranty and Breville makes it easy to obtain replacement parts.
But that is the tradeoff you make with most high-level machines. Like an Italian opera diva, it may be a bit temperamental, but the results are sublime and almost always worth it.
Let's have Wendy from ECS Coffee show you around the Barista Express:
Pros:
Barista-quality build
Can toggle between automatic and manual settings
Gives you wonderfully smooth milk for lattes (including milk art!)
Easy to descale
Cons:
Can be temperamental
A bit pricey
Breville Barista Express specifications:
| | |
| --- | --- |
| Dimensions | 15" W x 16.2" H x 15.2" D |
| Weight | 29 pounds |
| Power | 1600 watts, 15-bar bump |
| Hopper | 8 ounces |
| Grinder | 18 settings |
| Water tank | 67 ounces |
| Boiler | Single |
| Steam | Manual |
Check availability
The De'Longhi La Specialista semi-automatic appeals to coffee lovers who want to handcraft espresso with a little guidance. This model combines manual operation with smart technology that handles some of the trickier barista aspects for you.
The La Specialista features a dual heating system that keeps temperature control for coffee extraction and milk steaming separate. The independent steam boiler means you can froth milk at whatever temperature you like while coffee is brewing.
The De'Longhi La Specialista features a smart tamping station that automatically applies the correct pressure to fresh grounds. The grinder dispenses coffee into the portafilter, and the user tamps with a lever and then moves the portafilter to the brew unit for extraction.
The control panel has a stylish, industrial look with its metal dials and buttons set against a black backdrop. The left dial sets the grind size and a right dial selects preset espresso, Americano, and coffee drinks. To create an Americano, espresso and hot water from separate spouts pour into the stationary cup. The user can select normal or high coffee temperature and save drink settings with one touch.
La Specialista touts its advanced latte system for perfectly steamed lattes and cappuccinos. Though steaming is manual, a wand setting adjusts foam from flat-white milk to cappuccino-ready microfoam. A separate dial controls steam volume.
While the milk frothing is inevitably a bit loud, the machine in general brews fairly quietly. If it starts to get noisy, there may be some parts inside that need a bit of lubrication and the folks at De'Longhi are great about walking you through that kind of stuff.
The La Specialista's integrated burr grinder has six grind settings, and a bypass allows the use of pre-ground coffee. A pressure gauge guides the user on optimal coffee dosing. Other thoughtful features include a cup-warming tray and a folding metal shelf to raise small cups nearer to the spouts.
For maintenance, you can simply push a button to rinse the group head and portafilter. The machine does not include a dregs bin.
De'Longhi offers an industry-leading three-year warranty for owners who immediately register their products.
Espresso connoisseurs may find the grinder's six adjustment settings a bit limiting. Even the finest grind wasn't fine enough for us to experiment as much as we'd like.
Other considerations include the machine's height and design. At 17.5 inches tall, it's the third tallest machine on our list so may not fit in some spaces. The water tank and power switch are located at the back, which means you'll have to reach for access.
In this video, Neil from ECS Coffee gives you the rundown:
Pros:
Dual heating systems
Integrated tamper
Separate hot water spout
Cons:
Only six grinder settings
Impractical for small spaces
Back-access water tank and power switch
De'Longhi La Specialista specifications:
| | |
| --- | --- |
| Dimensions | 15" W x 17.5 H" x 14" D |
| Weight | 29.7 pounds |
| Power | 1450 watts, 19-bar pump |
| Hopper | 8.8 ounces |
| Grinder | 6 settings |
| Water tank | 70.4 ounces |
| Boiler | Double |
| Steam | Manual |
Check availability
De'Longhi has long been one of the big names in espresso, and its Magnifica ECAM 2210SB machine is a great indication of why. It takes that timeless brand and puts an ultramodern twist on it, offering a unit that's sleek, chic, and quite compact.
Kitchen décor is all about marrying form with function, and this unit does that with ease.
We really like the Magnifica's 13 different grinder settings, which is enough to exert quite a bit of control over your espresso, latte, or cappuccino-making procedure. It also has an adjustable nozzle that you can use to pour for different sized cups.
What's more, the unit is automatic, allowing you to simply punch in your settings and allow the unit to do the rest.
Compared to other models, it is quite easy to clean and overall low-maintenance. If there's a drawback, you'll find it in the reviews: A number of users have found that over time, the whole beans stop flowing easily into the grinder from the hopper and have to be helped along. This may be due to oil buildup from dark-roasted beans that makes things a bit stickier. We recommend keeping the hopper and grinder nice and clean to prevent this—and of course, lighter roasts should help.
Here, Yannick from Appliances Online in Australia provides a demo of the Magnifica:
Pros:
13 grinder settings
Adjustable nozzle for added custom pouring options
Elegant, compact, ultramodern appearance
Easy to clean
Cons:
Beans in hopper can get backed up
De'Longhi Magnifica ECAM2210SB specifications:
| | |
| --- | --- |
| Dimensions | 17" W x 13.8" H x 9.4" D |
| Weight | 19.8 pounds |
| Power | 1450 watts, 15-bar pump |
| Hopper | 8.8 ounces |
| Grinder | 13 settings |
| Water tank | 60 ounces |
| Boiler | Double |
| Steam | Manual |
Check availability
The De'Longhi Eletta is a super-automatic espresso machine aimed at users willing to pay for premium one-touch performance. Its dual heating system ensures fast specialty beverages on demand.
Its relatively high price led us to expect the best, and while it's a perfectly fine machine, we don't think it set itself apart as clearly as it should at this price. At the very least, they should be able to get the noise level down. It may have been the loudest machine we tested.
The control panel has one-touch programmable metal buttons and a two-line LED screen. Drink buttons include cappuccino, caffe latte, latte macchiato, and a milk menu. You can program espresso and milk volumes for each drink and choose from five brew strengths and four temperature settings. The Eletta pulse-brews drip-style coffee at lower pressure for more balanced flavor. The separate milk menu offers steamed milk, flat white, macchiato, and custom milk drinks.
This system steams milk automatically in an integrated carafe, and you can fine-tune the density of the froth by turning a dial. We found that its wand could produce a finer micro-foam than many home models. You can prepare milk at the same time the beans are grinding to cut down on your total drink-prep time. The steam wand also dispenses hot water.
The Eletta's grinder has an easily adjustable dial with 13 settings, and a bypass if you want to do a single cup of pre-ground coffee. The finest grind is finer than that of most super-automatic machines. It extracts slowly to produce a rich espresso with nice crema.
There's also a large, efficient cup warmer on top of the machine.
For cleaning, the milk dial includes a clean setting that will run steam and hot water through the milk circuit. The water tank, drip tray, and dregs bin open from the front, and you can access the removable brew group from the side. The Eletta comes with a water filter and a hardness test strip. It also alerts you when it's time to perform maintenance tasks.
The machine has auto-start and auto-shutoff capability, and an optional energy-saving mode.
The boxy, old-school look of the Eletta and its control panel may not appeal to everyone, but the metal buttons look very durable. It's the second tallest machine on our list, which gives it a high-volume water tank (67 ounces) despite a relatively small footprint.
You may come across reviews from Eletta owners who complain that the water and milk aren't hot enough, but they seemed fine to us. We're guessing that not everyone takes the time to learn how to adjust the temperature on these machines, but it's not a complicated process. This video from De'Longhi explains it quite clearly:
We have more on the Eletta in our comparison of De'Longhi and Saeco espresso machines.
Pros:
Dual heating system
Fine milk foam adjustments
13 grind settings
Cons:
Controls and appearance starting to look dated
Large footprint
De'Longhi Eletta specifications:
| | |
| --- | --- |
| Dimensions | 10.2" W x 18.4" H x 14.2" D |
| Weight | 24.5 pounds |
| Power | 1250 watts, 15-bar pump |
| Hopper | 14.1 ounces |
| Grinder | 13 settings |
| Water tank | 67 ounces |
| Boiler | Single |
| Steam | Automatic |
Check availability
The Gaggia Brera is a compact, entry-level super-automatic machine perfect for small households wanting taste and simplicity at a low price point. The bean, water, and dregs compartments hold less than comparable models, but the scaled-down design is intentional.
Operating the Brera is nearly plug-and-play. The front panel has a display and four buttons, including the power button. The two beverage buttons produce espresso and long coffee. To pull a separately ground double shot, press the drink button twice.
The third button customizes brew strength and volume, and you can save the settings. Gaggia's Optidose system lets you choose between light, medium, or strong aroma and adjusts coffee dosage from 7 to 10.5 grams.
The coffee spouts accommodate cups up to 4.5 inches.
The Brera features a ceramic burr grinder that stays cool while grinding beans to preserve flavor. You can use a hopper knob to adjust the grind between five settings, or choose the bypass doser if you have some ground coffee you want to use. Like other super-automatics, the Brera pre-infuses the fresh grounds before bringing all the pressure.
Creating cappuccinos and lattes is straightforward. The Brera uses Gaggia's Rapid Steam Technology for fast heating, so you can steam your milk immediately after brewing a shot. The steam wand also dispenses hot water.
Steaming uses a Pannarello wand for foolproof milk frothing and finely textured foam. To heat milk without foaming, submerge the wand's air hole fully in the milk to stop aeration. You can also upgrade to Gaggia's Cappuccinatore auto-frothing kit if you want the machine to do all the work for you.
At 12.4 inches tall with a stainless steel front, the compact Brera stylishly suits small spaces. It has convenient front access to the water tank and dregs drawer, and side access for the removable brew group.
Maintenance features include an automatic rinse upon powering on and off and an alert for descaling. The dregs drawer holds eight pucks worth of coffee grounds. The Brera doesn't come with a water filter but takes a Mavea Intenza filter.
Take a look at Gaggia's quick start video guide to familiarize yourself with the machine:
Pros:
Ceramic burr grinder
Rapid milk steaming
Three true dosing options
Front access for water tank and dregs drawer
Compact
Cons:
Limited number of drinks
Smaller capacity compartments
Gaggia Brera specifications:
| | |
| --- | --- |
| Dimensions | 10" W x 12.4" H x 17.5" D |
| Weight | 18.7 pounds |
| Power | 1400 watts, 15-bar pump |
| Hopper | 8.8 ounces |
| Grinder | 5 settings |
| Water tank | 41 ounces |
| Boiler | Single |
| Steam | Manual Pannarello wand |
Check availability
The Miele CM6160 is the mid-range countertop super-automatic from this premium Swiss brand. The line appeals to espresso lovers willing to pay for stellar execution on the basics, and high programmability.
The Miele combines convenience and customization with four user profiles, dedicated beverage buttons, and a deep menu. The front panel features one-touch espresso, coffee, cappuccino, and latte macchiato. For a wider selection, the menu interface offers ristretto, lungo coffee, caffe latte, hot milk, and milk froth.
You can customize each drink on the fly or save preferences to a user profile. You can adjust the coffee dose, milk amount, pre-infusion timing, and temperature. With one touch, you can make two drinks. Spout height adjusts up to 5.5 inches.
Unlike most super-automatics, this model can brew an eight-cup pot of coffee if you need it. Each cup is individually ground and extracted for rich, consistent flavor. You can buy the optional thermal carafe from Miele to hold all that coffee.
The stainless-steel burr grinder has five settings, and there is a bypass doser for pre-ground coffee. The bean hopper and water tank have top access.
The Miele features automatic milk steaming using a Cappuccinatore siphon system. The milk container sits outside the machine, so consider this if counter space is an issue.
The Miele includes thoughtful features such as programmable power on and off, automatic cleaning and rinsing functions, and alerts for descaling and spout cleaning. The large side panel provides access to the removable brew group, milk tube storage, and grind setting control. The dregs drawer holds 10 pucks.
Given its top compartment access and external milk carafe, the Miele works best if you have ample space. Whether you interpret its boxy appearance as bland or Euro modern, the machine should suit most decors.
Seattle Coffee Gear compares the 6160 to one of its competitors right here:
Pros:
Highly customizable drinks
User profiles
Can brew a pot of coffee
Can produce very hot drinks
Cons:
Learning curve for menu
No hot water spout
Requires more space than some competitors
Miele CM6160 specifications:
| | |
| --- | --- |
| Dimensions | 10" W x 14.25" H x 17" D |
| Weight | 22 pounds |
| Power | 1450 watts, 15-bar pump |
| Hopper | 10.5 ounces |
| Grinder | 5 settings |
| Water tank | 61 ounces |
| Boiler | Thermoblock |
| Steam | Automatic |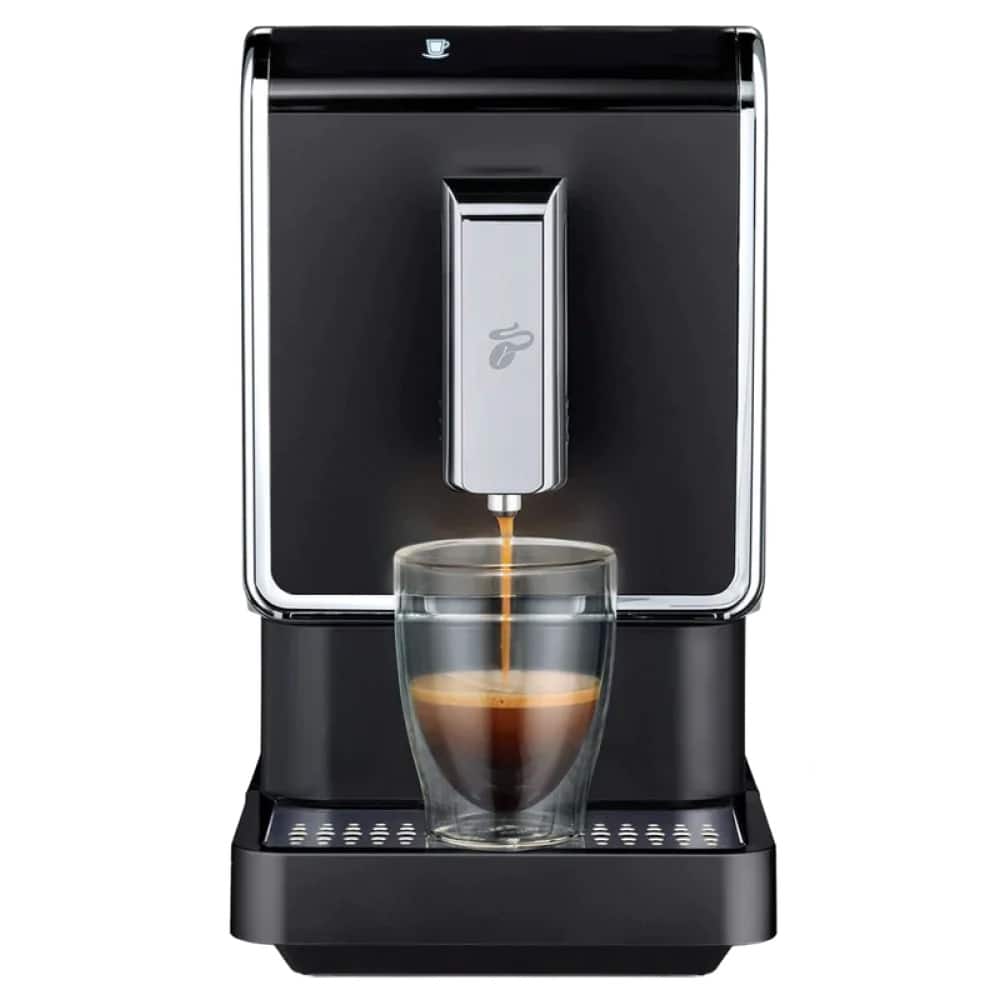 Check availability
Prime
eligible
The Tchibo Bean-To-Brew coffee machine offers an appealing and relatively affordable alternative for those seeking a balance between the convenience of single-serve coffee pods and the quality of a traditional espresso machine. This fully automatic coffee and espresso machine delivers quick, easy, and convenient coffee without the waste and limitations associated with capsule machines.
The big difference between this machine and many of those above is that this one doesn't make milk drinks, just coffee. If you want to get into lattes and cappuccinos, you'll have to froth your milk separately and then add it to your Tchibo brew.
While the Tchibo machine boasts several impressive features, such as its ease of use, adjustable coffee strength, and compact design, it also has a few drawbacks. The water tank capacity isn't as big as you might like, and the machine can leave some coffee grounds scattered around the bottom of its interior during the brewing process, which will have to be cleaned up from time-to-time. The drip tray is magnetic, which is convenient for easy detachment but sometimes it can come detached when you don't want it to. And of course, drink options here are somewhat limited compared to other machines.
Despite these limitations, the Tchibo Bean-To-Brew coffee machine stands out as an environmentally friendly and versatile option for coffee lovers who value both convenience and quality. The unique features and ability to cater to various coffee preferences make it a valuable addition to any coffee enthusiast's kitchen.
Ed's experience here was pretty similar to mine:
Pros:
Easy-to-use interface
Adjustable coffee strength with 'Intense' setting
Accommodates different cup sizes with adjustable pour spout
Compact and space-saving design
Cons:
Limited water tank capacity
Coffee grounds can spill inside
Somewhat limited drink options compared to other machines
Tchibo Bean-To-Brew specifications:
| | |
| --- | --- |
| Dimensions | 7.1" W x 12.4" H x 15.7" D |
| Weight | 18.1 pounds |
| Power | 1350 watts, 19-bar pump |
| Hopper | 300 grams |
| Grinder | 5 settings |
| Water tank | 37 ounces |
| Boiler | Single |
| Steam | None |
Our choice for best bean-to-cup coffee machine
All the bean-to-cup machines we've reviewed here are solid performers. They range from a smartly engineered semi-automatic to high-end super automatics. When we consider them all, our winner is the Gaggia Velasca Prestige. It offers the one-touch convenience of an automatic and the ability to customize your drinks the way you like them.
For people who love push-button specialty coffee, the Velasca Prestige brews the standards very well. The espresso quality is excellent, as is the quality of the milk foam. You can customize variables such as pre-infusion, coffee and milk volumes, brew strength, and temperature.
The Gaggia makes a practical and beautiful addition to your kitchen. Its sleek retro look comes in a compact footprint that fits under most cabinets. The water tank and dregs box open from the front for easy access. The automatic rinse, milk carafe cleaning, and descaling cycles make maintenance relatively easy. For busy coffee lovers who want quality and convenience at a reasonable price, the Velasca Prestige is an outstanding choice.
FAQ about bean-to-cup coffee machines
Do I need a professional espresso maker?
That depends on what you're trying to make. If you just want a quick shot of something espresso-esque, then probably not, but for the full espresso, latte, and cappuccino experience, one of the more bespoke models is really necessary given the added options they offer.
Are bean-to-cup machines hard to clean?
That depends on the model. Some are, some aren't. A big factor is if they offer self-cleaning mechanisms, or can internally clean themselves without you having to do it.
Are bean-to-cup machines expensive?
Again, it depends. For the full expresso experience, you're likely looking at several hundred dollars at least, but less expensive models can give you a basic espresso or latte for much less.
Do bean-to-cup machines make more than espresso?
Yes! These bean-to-cup coffee makers can make all manner of different coffees, from basic black java to espressos and lattes and much more.
Photo at top: © De'Longhi Deutschland GmbH | CC BY-SA