The coffee world sometimes seems like an endless stream of new trends, and often they come and go.
Flavor profiling is different. It's here to stay.
Not since temperature control has a new innovation had such a direct and drastic effect on the taste of espresso. Pressure profiling and its inseparable cousin, flow profiling, are really just means to achieve what we actually want, which is flavor profiling.
Flavor profiling is manipulating your espresso extraction for desired qualities, balance, and complexity. If you're searching for that elusive "perfect" shot—the one that's sweet, bright, nuanced, and tells you the story of where it's from and where it's been—it's out there.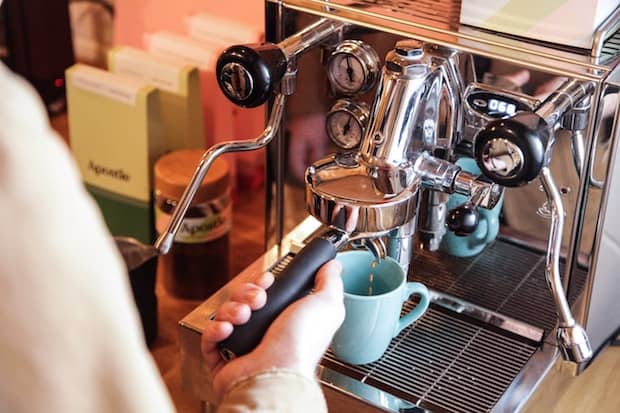 Several impressive pressure profiling home espresso machines can let you take this next step in the evolution of coffee, and help you manipulate your extraction in increasingly precise and effective ways.
If you're considering a pressure profiling machine, you've likely been experimenting with flavor profiling the old fashioned way: by adjusting your grind, coffee weight, and extraction time. These remain important factors, and a high-end grinder is an essential pairing for any of these machines.
However, on a traditional machine you're limited in what you can achieve. Many machines struggle with light roasts (which tend to offer the most complex and nuanced flavor profiles), and are choked by extremely fine grinds.
If you've hit the ceiling with your current machine and you're ready to dive deeply into the world of flavor profiling, we've collected what we view as the best pressure profiling espresso machines on the market. We're going to break down what sets them apart from non-profiling machines, and from each other.
Real talk—they ain't cheap. But many of them will last you a lifetime, or at least until the coolest new machine comes along that can brew from space…or make you breakfast.
Why flavor profiling?
I think we can all agree that pre-infusion at low pressure is a necessary step for a balanced and complex espresso extraction. Allowing the coffee puck to become fully saturated before hitting it with high pressure decreases the chance of channeling and uneven extraction.
We also find that ramping down pressure at the end of our brew can aid further in arresting the possibility of over-extraction and the resulting bitter flavors.
We can now go even further by adjusting pressure throughout the process to target specific aspects of our beans and extract a complex and nuanced flavor profile. This is next-level, and paired with the increased availability of high-quality, single-origin beans, we're on the brink of an espresso revolution!
So, how does it actually work?
Pressure and flow: What you need to know
Full disclosure, I'm no engineer. I'm more of a soft science gal. I could probably tell you why you'll buy a certain machine, but not necessarily the intricacies of that machine's inner workings. But I do my homework so you can do less of it! My goal is to compile and analyze the mind-numbing details, and attempt to bring them to you with some simplicity and clarity.
The mechanics of pressure and flow as they relate to espresso machines are frequently discussed online, and people seldom agree on the difference between the two, or whether one is more effective for flavor profiling than the other. Here's how I like to think of it, based on my hours of eye-crossing examination.
Pressure profiling
Pressure and flow are linked. Changing one affects the other. If you crank up the pump in an espresso machine, you increase both the pressure and the flow of water. That, essentially, is pressure profiling.
Flow profiling
Now imagine you crank up the pump, but somewhere in the pipes there's a valve that can shrink the opening through which the water passes. That's going to restrict the flow. It doesn't change the pressure coming from the pump, but it does change the flow of water toward the coffee puck and also the pressure in the group head. That is flow profiling.
Pressure vs. flow profiling: What really matters
What seems to be of more consequence than whether a machine uses pressure or flow profiling, is the user experience itself. How does the machine feel to use, how difficult is it to learn, and what is the end result? If your goal is the best-tasting espresso possible, how the coffee actually tastes should be top priority.
Here's the thing. Every machine on this list brews an amazing shot of espresso. They're all dual boiler with PID temperature control. All come with high-quality accessories, direct plumbing if you want it, and they all have impressive steaming capabilities. Upgrading to even the least expensive of the bunch should vastly improve your home espresso game, and offer you a lot of flexibility in terms of flavor profiling.
So, rather than comparing them in terms of flow vs. pressure profiling, I've grouped them by user experience, which I hope will be more helpful in finding the machine that's right for you.
So lets dive in and see what these machines can do!
Manual profiling espresso machines
These machines put the process in your hands. They look and feel more like a traditional espresso machine, and they're all flow-profiling machines.
Check availability
The Lelit Bianca is a stunning, well-made flow-profiling machine. It is by far the most affordable of the bunch, and although it may not have loads of extra features, it's a quality espresso machine that makes a gorgeous cup of coffee. At 15.75″H x 11.4″W x 19.1″D it will easily fit into any kitchen, and it might sound crazy but at 58.5 pounds it's actually one of the lightest on the list. That being said, it's still a bit of a beast compared to many conventional machines. You'll want to find it a permanent spot on your counter.
How it works
As we explained in our Lelit Bianca review, the Bianca utilizes a wooden paddle above the E61 group head, which controls a valve that varies water flow. You swivel the paddle to open the valve, increasing flow and thereby pressure. A pressure gauge on top of the group shows you the active brew pressure, and you can adjust the flow throughout the brew process. This allows you to slowly pre-infuse as long as you like, then ramp up to your ideal brew pressure, and then ease off at the end of your shot. This is the most traditional profile, but you can play around with any number of other variations.
The Bianca gives you a lot of flexibility compared to some paddle machines, like the Slayer, that have paddle "positions" which must be preset and then you move between them. This makes the Bianca more versatile during extraction, but a bit more difficult to perfect. It can also be tricky to make adjustments, as you have to intuitively remember how you manipulated the shot and try to either replicate or adjust it the next time around.
Considerations
At nearly half or even a third of the price of some other machines on this list, what are you sacrificing with the Bianca? Well, it's truly a home machine. Smaller boiler capacity means slightly less steam pressure, and there can be some rebound time (around 2-3 minutes) after pulling just a couple of shots in a row. This shouldn't be an issue if you're just making drinks for yourself or your small household, but something to keep in mind if you like to throw dinner parties and show off your skills.
It's also built like a home machine, which allows it to be lighter and more compact, but also means it may not last quite as long as some of the others. Servicing on Lelit machines can be a bit harder to come by, but hopefully that will change in the future as the brand gains popularity in North America.
The Bianca also lacks some features of the other machines, such as a programmable on/off, and with a 25-minute heat-up time you'd definitely want to add an external timer.
Who should buy the Lelit Bianca?
If you're just getting into profiling, and are willing to spend some time getting to know your Bianca, you can make some exceptional coffee for a fraction of the price of the other machines on this list. (Check availability)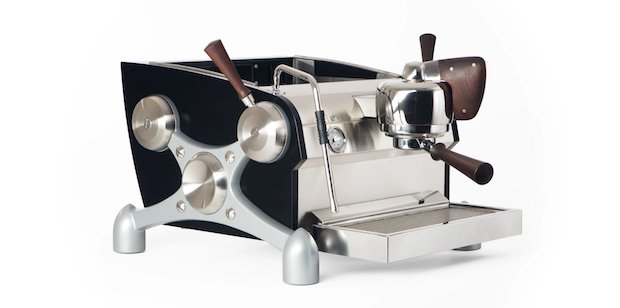 Check availability
The Slayer is a cool machine, built by coffee nerds who are continually searching for the best shot of espresso. Is it ten grand cool? I'm not totally convinced. Some people say it's the best espresso machine out there and produces the best espresso they've ever tasted. Others report the shots can be a bit thin, and the machine is finicky to use and can be temperamental.
The customization options are neat, and if money isn't a concern, you can personalize the machine and really make it a focal point of your kitchen, or coffee nook. At more than two feet wide, a foot and a half deep and 100 pounds, it makes the Bianca look portable. Current models are plumb-in only, so you need to have the appropriate setup. Word on the street is that a reservoir model is in the works, but for now this is a beast of a machine that's not for the newbie, or the budget-conscious.
How it works
The Slayer is operated by paddle as well, but with three click-in positions: off, pre-infusion, and full pressure. Rather than moving the paddle in small increments to control the flow, as with the Bianca, the three positions move an adjustable, pre-set needle valve that controls your chosen flow rate for pre-infusion and brewing. You can return the paddle to the pre-infusion position to ramp down at the end of your shot, so you can still achieve a fairly sophisticated profile.
Once you dial in the ideal settings for your needle valve, the Slayer offers more accurate repeatability than the Bianca, and it will be easier to use once you get used to it. The downside is that you can't play around throughout the extraction process, set multiple stages of pressure, or control the rate of transition for your pressure ramp.
Considerations
The Slayer is no doubt a solidly built machine that offers commercial-grade performance, both in extraction and steaming. If treated well and serviced routinely, it could be your forever machine. There are some things to consider, though.
It's pricey. If you want to customize it, even more so. The electronic V3 group head is going to be more expensive to replace and more difficult to service than something more standard like the Bianca's E61.
It will take time and many adjustments to fine-tune the machine. The intense steaming power can be a bit much for some people, particularly if you're new to steaming, or when using small amounts of milk. The good news is, once you get the hang of this machine, it can produce some amazing beverages. Just be prepared to dump a few along the way.
It's going to take up a lot of space, and you need to plumb it in. They also recommend using filtered water to increase the longevity of the machine, and to improve the overall flavor of your espresso. This is a common recommendation, but when plumbing in a machine, this means adding a home filtration system to your kitchen as well—yet another cost.
Who should buy the Slayer?
If you like to hang with the cool kids, are looking for a fairly hands-on approach, and cost is not a consideration, this is probably the machine for you. It has the potential to be your forever machine, but since Slayer is constantly making improvements and adjustments, chances are you'll be looking to upgrade within a few years. (Check availability)
Check availability
The La Marzocco GS3 is a good-looking machine that combines a classic aesthetic with a few easy-to-navigate electronic touches. It has the build quality we expect from La Marzocco and brings commercial capabilities to the home espresso market. At 14"H x 16"W x 21" D and 76.1 pounds, it's slightly narrower than the Slayer and significantly lighter, but it's still a big boy that will need a permanent home.
Backed by La Marzocco's exceptional customer service and maintenance team, this could absolutely be a forever machine. It is at the higher end of our price range, and as with the Slayer the look is customizable, which can up the cost further, but it still comes in a couple thousand dollars under the Slayer.
How it works
There GS3 has two modesl that differ in their operation and user experience. Both utilize a conical valve system to regulate flow. The conical valve shaft moves between a pressure port and a waste port, diverting water to restrict flow. This does lead to rather a lot of wasted water, and it is beneficial to have this machine plumbed in and direct-drained, but it also eliminates the need for an electric solenoid valve, which would be more expensive to replace in the long run.
The AV, or automatic volumetric model, operates somewhat similarly to the Slayer, in that it has a pre-infusion rate and time, and then ramps up to full pressure to brew. In the GS3 AV, however, this is controlled electronically and pre-programmed. This makes the GS3 AV simple to operate, but it lacks the ability to go back to the pre-infusion rate for a ramp down at the end. We also lose some of the tactile experience of controlling the paddle, which I know a lot of us hate to relinquish.
The MP, or manual paddle model, gives us that hands-on control. Unlike the Slayer, the GS3 MP gives you full control at the paddle. The periscopic pressure gauge above the group head allows you to monitor and adjust pressure throughout extraction. As with the Bianca, this will obviously take a bit more practice. It means you must constantly monitor your shot, but it gives you much more versatility for in-shot profiling, and allows you to control your pressure curve.
Considerations
The MP is my pick of the litter for several reasons. The build quality and performance of La Marzocco machines, coupled with their servicing, just equals a long-lasting, commercial-grade machine. In fact, some owners have used their GS3s for catering events and in lower volume cafes with excellent performance and exceptional drink quality. I also think it's one of the best-looking machines, but that's just my personal style. The manual control of the MP gives us that tactile experience and more control during extraction.
The semi-saturated group head does mean it will be more expensive to service and replace, so that is something to consider, but if you're opting for the GS3 cost is probably not the defining factor.
The waste water produced by the conical valve is another consideration, and if you don't have the ability to have it direct drained that might become a nuisance.
Who should buy the La Marzocco GS3?
If you can afford it, I can't imagine you'll look back. (Check availability)
Digital profiling espresso machines
Pressure profiling is controlled by changes in pump speed that vary flow rate and thereby pressure. These digital profiling machines take a more electronic approach to it. They tend to offer more versatility than manual machines, and some of them are much easier to use. The tradeoff is a more modern feel that can, in some cases, be less hands-on.
These machines are a mixture of pressure and flow profiling, with the Decent DE1 offering both.
Check availability
The M&V Vesuvius is a slick, streamlined, fully programmable pressure-profiling machine. It has a few subtle wood accents on the portafilters and joystick levers, but I don't personally find it quite as attractive as the Lelit Bianca. At 16.33″H x 14.5″W x 20″D, and 53 pounds, it's a touch wider than the Bianca, but otherwise nearly identical in size and weight. It would easily fit into any kitchen, but the polished stainless steel will be a fingerprint magnet.
Plumb this machine in if you like, but if you stick with the reservoir it pulls out of the side of the machine, rather than the top, which is an ingenious modification—particularly if you like to utilize the top of the machine for warming cups.
How it works
The Vesuvius utilizes a magnetic gear pump, with adjustable speed, to control and manipulate brew pressure. Each fully programmable profile allows you up to seven pressure stages throughout your extraction, which gives you a lot of versatility and control. Like the Slayer and the La Marzocco GS3 AV, you can't adjust the profile during the brew process but you can record your favorite profiles to revisit. With five saved profiles available you can dial in your profile for different coffees and roasts and once you get things perfected the Vesuvius is simple and elegant to use. Digital memory of your previous brews allows you to make fine and recordable adjustments, and you can even customize the transition time between pressure settings, so you can get pretty scientific with your method.
The Vesuvius has joystick levers that are lovely to handle. You pre-program your pressure profile, but the group head is controlled with a lever, so you do get a bit of that hands-on experience. As with the GS3, the temperature of hot water from the spout is adjustable, something the Slayer doesn't offer.
Another thoughtful design aspect is that the brew head exhaust port extends all the way to the drip tray, which minimizes splashing. It's a simple detail that will make your daily routine that much more enjoyable.
Considerations
The Vesuvius is one of the more affordable machines on the list, with some of the most comprehensive features. It isn't of the same commercial quality as the Slayer or La Marzocco, though, which is important to keep in mind. The drip tray is somewhat small and awkward to remove. The water reservoir—although easier to access—is still a bit of a struggle to fully remove. You might find the components a bit cramped (the downside of a more compact machine). And the steam can be a bit wet. These are things you sacrifice, but at half the price of the Slayer, it's still an excellent home machine that will offer you a lot of versatility, tons of features to play around with, and ease of use that the manual machines don't offer.
Who should buy the Vesuvius?
If you're eager to nerd out on micro-adjusting pressure profiles, but you're not so sure about your manual skills just yet, the Vesuvius is an approachable machine that still offers a lot to learn and grow with, and a nice amount of hands-on operation. (Check availability)
Honorable mention to the Rocket R 60V, which functions very similarly to the Vesuvius. It has the addition of app-controlled brewing, but at a slightly higher price point and with fewer features overall than the Vesuvius, it didn't quite make the cut.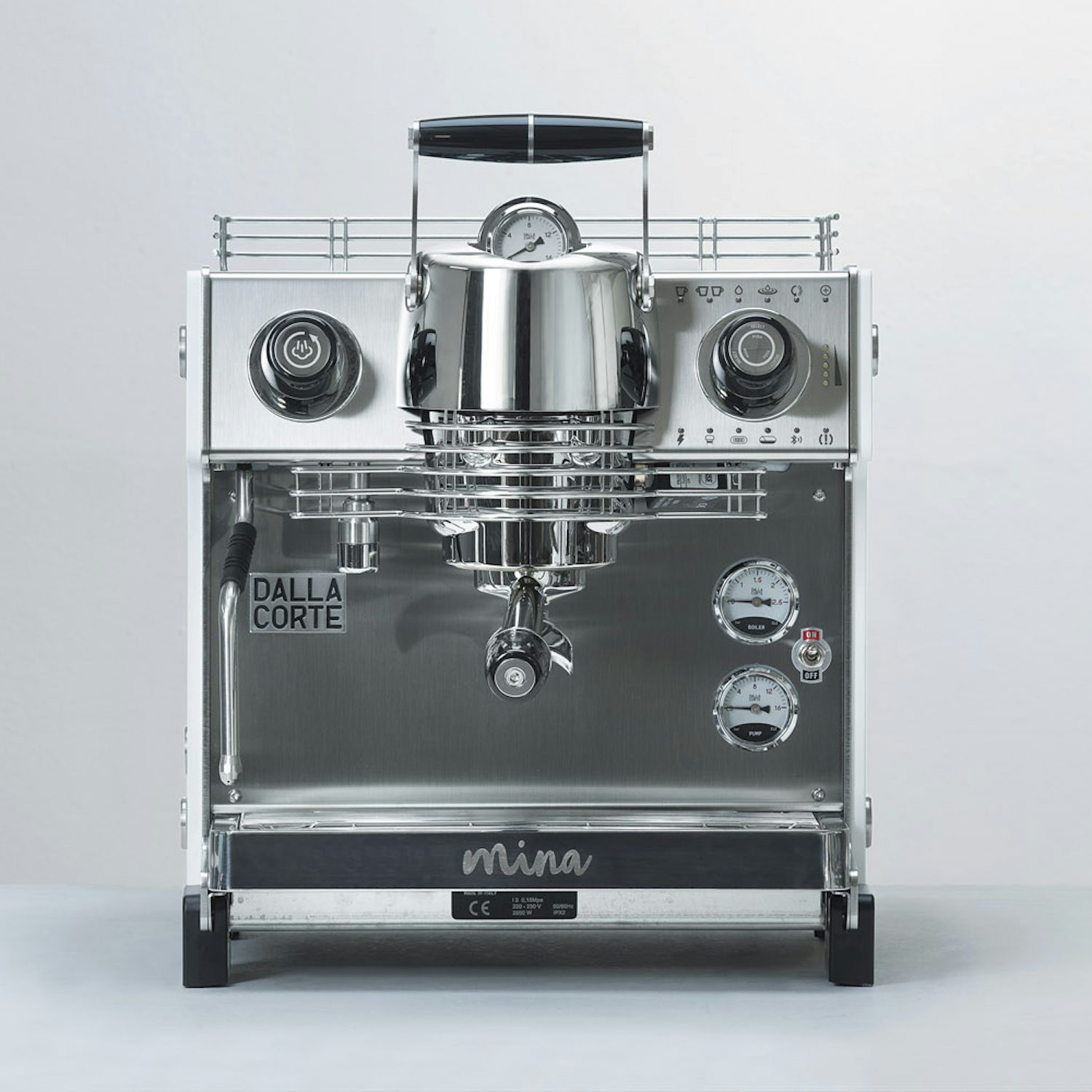 Check availability
The Dalla Corte Mina is nearly as expensive as the Slayer, but in my opinion it offers a lot more.
I'm not so sure about the retro-modern design. Is that a thing? Can you be retro and modern? Like it belongs in a soda shop in the future.
Like many of the other higher end machines on the list, it's customizable in a range of finishes and colors, some of which are just plain fun. Style preferences aside, it's well built, with quality components. At 16.1"H x 15.2"W x 15.2"D and 73 pounds, it's similar in shape to the La Marzocco GS3, but doesn't quite rival it or the Slayer when it comes to commercial-level performance. It does, however, offer a user-friendly mix of both manual and fully automatic, programmable flow profiling.
How it works
The Mina's secret weapon is its patent-pending electronic valve regulator which utilizes an iris diaphragm (more commonly used for aperture control in cameras). The iris can be adjusted by minute increments, closing to one hundredth of a millimetre. This provides insane flow profiling options with a precision unmatched by any other machine.
The Mina is adjusted through an app, so you need to have a phone or tablet to make adjustments. Although the machine can be used manually as well, you still need to use the app to set your profile stages.
In automatic mode, use the app to adjust temperature, flow rate at five different stages, and even the rate of change between stages to control the curve of your pressure ramp. Much like the Vesuvius, you can save your favorite profiles to keep things simple and replicable, and in the automatic mode, simply press a button and it will brew to your specifications while you watch, or steam your milk.
There's even an optional addition of their Milk Control System, which makes steaming as simple as placing your milk jug under the custom steam wand and letting the machine do the rest.
In manual mode, you pull down the "yoke" to move through five pre-set stages. You have manual control over the timing of each stage and you can switch back and forth between them to further customize your profile. This doesn't offer quite the full manual control of the Bianca or GS3 MP, but with five profile stages there's a lot you can play around with.
Considerations
It's pricey. It's right up there with the Slayer, and although it offers top performance and a lot of versatility, particularly if you're new to the process, it's just not quite as solid as the others in its price class.
The app can be finicky (as is the curse when introducing digital technology), which could make your morning routine a bit of a chore at times, but with your saved settings, you can always brew straight from the machine if you're in a rush.
The interface of the machine is quite different, with dials and buttons rather than levers, which might decrease a bit of that tactile experience that many of us enjoy so much.
Who should buy the Dalla Corte Mina?
If you've got the budget and you're looking for something cutting-edge, with a touch of that classic manual control, the Dalla Corte Mina seems like the rising star of the bunch. You'll surely be happy with her for many years. (Check availability)
Check availability
Full robot! Early adopters only need apply. Guys, this thing is insane! I wouldn't be surprised if the Decent DE1 actually can make your breakfast. No knobs, no levers, no buttons at all (except for the inconspicuous power switch). A compact little square at 12.5″H x 9″W x 14"D, plus four inches for the tablet, and only 21 pounds, the Decent DE1 is fully portable and even comes in a wheeled suitcase for transport. They're expecting you to show this puppy off around town.
You can plumb it in if you want (kit sold separately), but I'd keep it portable.
How it works
Where to even begin? The DE1 is controlled completely through an app on the included Android tablet, which sits nicely in a holder on the top of the machine. The app can be uploaded to any Android tablet or phone as well. The app comes loaded with pre-set profiles to get you started with ease, but once you really dive in you can adjust both pressure and flow, temperature, and extraction weight.
Each shot is tracked graphically in the app, and you can't make adjustments during extraction other than a premature cut off, but you can analyze your shot in detail after, tracking your adjustments and their effects.
This is a very scientific approach to espresso, and if nerding out on how each variable affects the others and your final result, this machine will be an endless rabbit hole for you to explore.
Considerations
This is a whole new world and although the profiling options are pretty much infinite, there's zero tactile experience. There's also the technology dependence, which means the chance of glitches and crashes is always there.
Decent is constantly upgrading the software based on both their own research and user input, which should lead to improved functioning, but it also means you've got to be OK adapting on the fly.
As with any electronic device, there is the risk that it will eventually become obsolete and you'll have to buy the newest model to support the newest software.
Decent Diaspora is a private online community of staff and other Decent owners, so you have support at your fingertips. It's also a great place for sharing your findings, getting profile ideas, and generally sharing your espresso passion—but if online forums aren't your thing you might feel somewhat lost at sea.
Who should buy the Decent DE1?
If you're an early adopter, a hardcore flavor-profiling nerd, and are yearning to spend hours analyzing and adjusting your extraction, go for the DE1. It seems like a lot of fun.
If you're OK with press-of-a-button brewing and steaming, the Decent can do more than any other machine, and it comes in at the lower end of the price range on this list. You can also pack it up in under 10 minutes, to easily become the hero of any dinner party. (Check availability)
Final thoughts
That was a lot to investigate and unpack, and I hope it helped you sift through the different profiling machines out there.
To recap: If money were no object, I would definitely set myself up with the La Marzocco GS3 MP, but I'd happily experiment with the Bianca for years at a much more approachable price point.
The M&V Vesuvius is great for someone who wants to learn and grow but needs a little hand along the way, and doesn't want to totally break the bank.
The Slayer might be too cool for school, the Decent DE1 is from the future, and the Dalla Corte Mina seems to be an interesting hybrid to keep your eye on.
Flavor profiling is certainly the future of espresso, and if you're inspired to start experimenting I hope you find the machine that perfectly suits your mission.