Living in Vancouver, I know little about the Calgary coffee scene. But while researching articles for this site, one name kept coming up: Phil & Sebastian Coffee Roasters.
Serious coffee drinkers seemed to love the Calgary roastery. Their cafes kept sending baristas to the national championship. I reached out to their director of coffee quality, Karine Ng, for some advice for new baristas and she was generous with her wisdom.
So when Phil & Sebastian reached out to Bean Poet to offer a coffee subscription box for review, I jumped at the chance.
The coffee arrived fresh. It was tasty and—importantly—unique. I'd recommend it to anyone looking to expand their coffee horizons by ordering fresh roasted coffee beans online.
I'll go into more detail below, but if you don't have time to read my full Phil & Sebastian coffee review, you can order right now at the link below and receive 50 per cent off your first month (Bean Poet will receive a small commission if you do). Just be sure to use the promo code "SAVE50" at checkout:
Now let's talk a bit more about what you can expect from a Phil & Sebastian coffee subscription.
About Phil & Sebastian Coffee Roasters
Company founders Phil Robertson and Sebastian Sztabzyb met in the mid-1990s as engineering students at the University of Calgary. An uncle of Phil's got them hooked on espresso, and they soon turned their studious brains to the task of making the best coffee possible. They made pilgrimages to coffee hotbeds like Seattle and Vancouver to learn as much as they could.
They opened a kiosk in 2007 at the Calgary Farmers Market, and it became an overnight sensation after a spectacular review in the local paper. That brisk business helped the friends finance a roasting operation and eventually open their own cafe away from the market in 2009.
Since then they have expanded to six Calgary locations and become one of the most famous coffee shops in Canada. Their reputation also crosses borders, as they ship their direct trade coffee across Canada and the U.S..
What is direct trade coffee?
Direct trade coffee is purchased directly from the farmers who grow it. Without any middleman, the farmer gets a bigger cut of the proceeds.
Phil & Sebastian call themselves "Canada's most conscientious craft coffee roaster." They don't cut corners in their supply chain, venturing to countries in Latin America and Africa to meet the growers and make their deals. They know exactly where their coffee comes from, who their money is going to, and how the farms operate.
The single-origin beans fit Phil & Sebastian's mission, which is to help people discover how varied and nuanced coffee can be. Let's face it, they're coffee nerds, and they're trying to take customers on the same journey of discovery they went through themselves in the early 2000s. Coffee subscriptions, which can bring the customer a new surprise every month, are a great way to do it.
What is a coffee subscription?
A coffee subscription lets you subscribe to coffee in much the same way you subscribe to Netflix or your grandparents subscribed to the newspaper. You pay a recurring monthly fee for a product, but the key is that you can set it and forget it—once you've arranged your payment, the product just keeps coming. In this case, the product is coffee.
Why get a coffee subscription?
Freshness and convenience are the two biggest advantages of a coffee subscription. Without a subscription, you can have either freshness or convenience, but rarely both. Fresh coffee demands frequent trips to your local roaster, which may not be convenient. For convenience, you could just pick coffee up during your weekly trip to the supermarket, but it won't be fresh. A subscription gets you both.
And if you want to be serious about coffee, you need to be serious about freshness. Coffee is at its best starting three or four days after roasting. Quality begins to deteriorate two weeks after the roast. That's not a long time, and it forces you to make a lot of dashes to the local roaster if you want fresh coffee on hand. A subscription delivers it to your door.
If your coffee consumption habits are consistent, it's easy to dial in the frequency of your deliveries so that fresh coffee arrives just as you're finishing your last batch.
How a Phil & Sebastian coffee subscription works
Ordering a coffee subscription from Phil & Sebastian is easy. We'll walk you through the process, then show you a video.
First, go to the Phil & Sebastian subscription page. If you use the link in this paragraph, Bean Poet will get a small commission from your order. If you use the promo code "SAVE50" at checkout, you'll get 50 per cent off your first month.
Next, click the button that says "Build Your Coffee Subscription." You'll be guided through a series of simple questions:
Is this for you or someone else? (They want to know if it is a gift.)
Where is the subscription being sent? (The choices are U.S. or Canada, both with free shipping.)
Do you want espresso, filter coffee, a bit of both, or decaffeinated?
What kind of flavor profile do you like? (This is where you let them know how adventurous you are. They'll give you everyday crowd pleasers if that's what you want, or you can roam far from familiarity. If you choose Roaster's Choice, you'll get a nice variety and they'll try to keep it interesting from week to week.)
How frequently, and how much? (Choose weekly delivery, every two weeks, or every four weeks, and anywhere from one to 12 340-gram bags with each delivery.)
If you've chosen to mix up your order, you can specify what portion of it should be espresso, filter or decaf.
Not only is the website easy to use, but it also gives you a lot of flexibility. You can jump into your account at any time to adjust your choices, change the amount of coffee, or change your delivery frequency.
In all cases, shipping is free to Canada and the U.S., and they don't roast the coffee until you order it. It's going to arrive fresh.
How much does a Phil & Sebastian Coffee subscription cost?
The cost of a Phil & Sebastian coffee subscription is comparable to that of other artisan roasters' subscriptions.
You get a slight discount for ordering on a more frequent schedule, and a significant discount for ordering more coffee per delivery.
Just to give you an idea, we set up an order for two bags (each bag is 12 ounces or ¾ pound) of their Roaster's Choice to be delivered every two weeks, and it came out to $41.30 Cdn per order (with shipping included). That's $31.16 US at the time of writing, or $15.58 US per 12-ounce bag.
Our taste test
Our coffee landed on our doorstep on a Friday, in Phil & Sebastian's signature 6-inch cube cardboard box.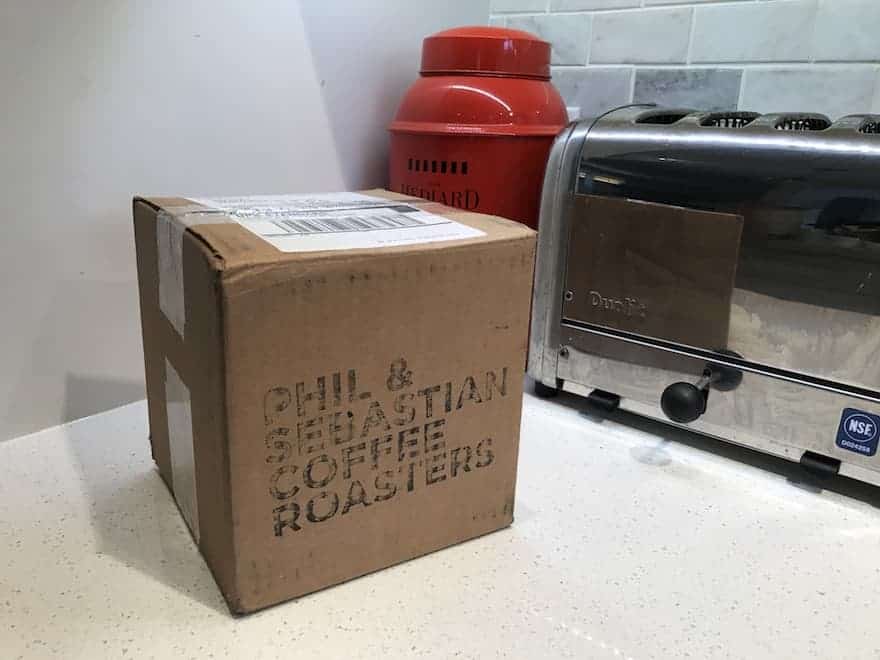 As soon as we cut the tape and lifted the flaps, the smell of fresh coffee rose from the box. So nice.
Inside were two 12-ounce bags, each with a different coffee. One was called The Standard and the other was Elder Chavez.
Here are the roasted beans prior to brewing, with The Standard on the left and Elder Chavez on the right: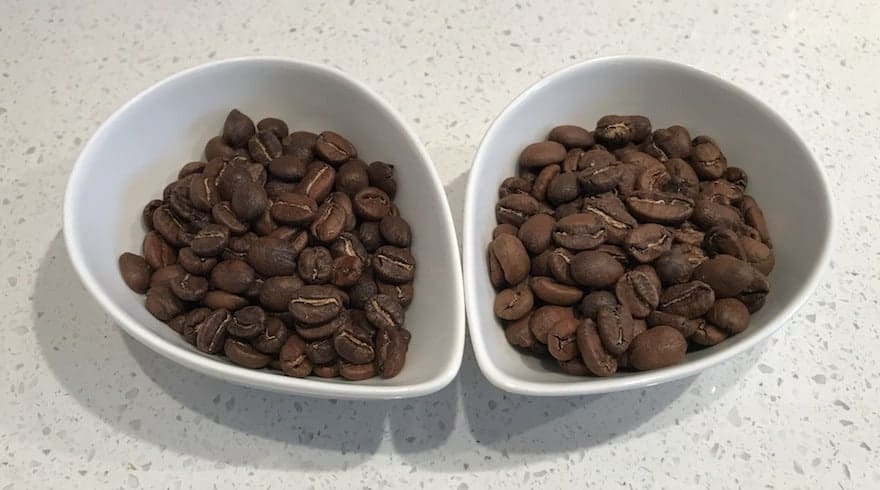 The Elder Chavez beans were roasted medium, with The Standard just slightly beyond medium. By all accounts, Phil & Sebastian tends not to roast any of their coffee very dark.
We ground the beans just on the fine side of medium and brewed them with 200 F water using a plastic Hario V60 pour-over cone and its standard filters. We let it bloom for 30 seconds, then poured for 3:15.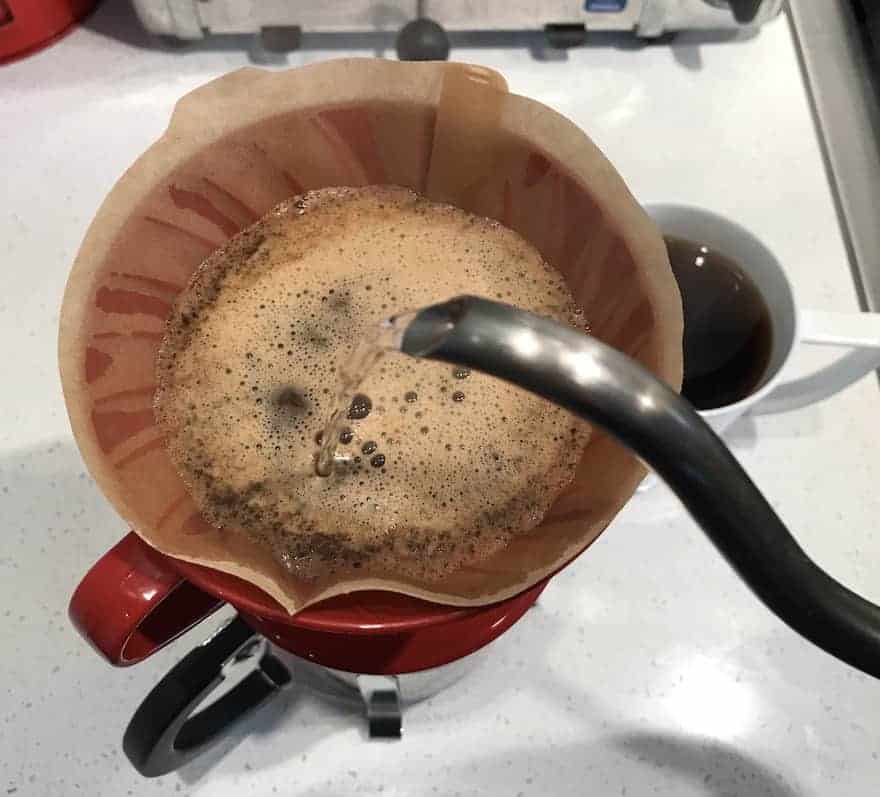 The Standard
Phil & Sebastian describes this as their take on a classic coffee. Notes on the bag indicate it was grown by Rodolfo Benavante in Patzun, Guatemala and roasted on Monday, four days earlier.
The Standard doesn't always come from the same grower. Phil & Sebastian are going for a particular taste profile with this coffee which is achieved primarily through roasting, so the beans could come from any number of the Central American farms with which they work.
The coffee had light body and medium acidity. Notes of citrus and pear came through, with just a hint of mellow autumnal spices. After trying it black we added a dash of sugar and it really came alive, like a little-used acoustic guitar waking up after half an hour of strumming.
Phil & Sebastian organize their coffees into three categories based on how "out there" they are. The Classic is among the least exotic (level R1—an "everyday crowd pleaser") but we're betting folks who seldom venture beyond store-bought blends will find it adventurous enough.

Elder Chavez
'The other coffee was Elder Chavez, named after the man in Honduras who grew it, right around here:
This coffee had been roasted on Wednesday, two days before we got it. You can't get much fresher than that!
This is a level R2 coffee, according to Phil &Sebastian, which ought to be "delicate and thought-provoking."
We would agree. The medium-bodied Elder Chavez had more personality than The Classic, with prominent grassy notes that one of our tasters even called "lemongrassy." Its herbal notes were joined by mellow woodsmoke and some nutty caramel. Sugar didn't have quite as dramatic an impact on this one, but it didn't need it. A super interesting coffee just as it was.
We didn't taste a level R3 coffee, which is supposed to be "vibrant and inspiring." We can only imagine.
Our take
Give Phil & Sebastian's coffee subscriptions a shot if you want to explore a world of high-quality coffees without having to do too much legwork yourself. You'll not only get great coffee consistently, you'll also learn a lot—Phil & Sebastian profile their coffees on their website. You can learn where it was grown, when it was harvested, and even get to know the farmers you're supporting.