Last Updated on June 17, 2023
Norway is a nation of coffee. They aren't far behind the Finns in terms of consumption, and you can find some of the best cafes in the world in Oslo.
Perhaps it's the cold climate, or that Norwegians just love to take a break and enjoy a sweet, but coffee is consumed with religious fervor throughout the country.
There are a few coffee shop chains, but you'll mostly find independent coffee shops that range from the simple and folksy to the chic and modern. Norwegians take their coffee seriously, and they take it often.
History of

Norwegian coffee culture
Coffee arrived in Norway in the 1600s, but as in many European countries, it remained an elixir of the elite for several centuries. Norway has historically been a fishing nation, so they would trade fish for coffee beans with the Americas. It wasn't until favourable trade agreements with the Dutch allowed Norway to import coffee without taxation that prices dropped and coffee became more widely available.
Prohibition of alcohol between 1917 and 1927 saw a steep increase in coffee consumption. You would begin to see it served in every household. It quickly took over as the social drink of choice, and remains so to this day due to continued high alcohol prices.
Until the rise of cafe culture around the world in the 1990s, Norwegian coffee consumption was more about quantity than quality, with large pots of filter coffee being consumed without much attention.
The rise of Nordic coffee culture was in line with North America and the U.K., following the influence of American pop culture and international chains like Starbucks. Norway was quick to hop on the artisanal coffee bandwagon, and the quality of both product and presentation increased immensely throughout the 1990s.
Independent coffee shops
Norwegians favor smaller, independent coffee shops, and although you can find a few larger chains throughout the country, they prefer their locally owned haunts and have become very particular about where their coffee is from and how it is prepared.
Current

Norwegian coffee culture
Norwegian culture is closely connected to nature, and many Norwegians have a cabin in the woods where they can escape to take advantage of the long summer days and awe-inspiring Northern lights.
The most traditional way to enjoy coffee in Norway is kokekaffe—in a tin or copper kettle over an open flame. If you're having it on a hike it might be called turkaffe, or hiking coffee. You simply boil water on an open fire, remove from the heat and add coarsely ground coffee, then let it sit for about four or five minutes. The result is a complex, light brew, with a rich, oily mouthfeel. You might find more coffee grounds than you're used to, but it's easy to overlook for this delightful local preparation.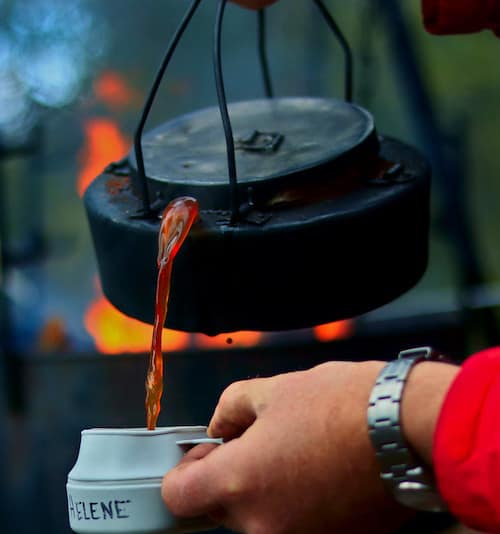 It's not all backwoods cowboy coffee, though. Norwegian coffee shops are some of the best in the world, featuring chic, modern design and baristas who are obsessed with coffee. Norwegian coffee drinkers have become extremely particular about their brews, with an increased demand for supply-chain transparency and ethical sourcing. Norwegian baristas are highly skilled and love sharing their passion with people.
As barista culture grew around the world in the 1990s, international events and competitions began to spring up. Nordic countries dominated the events for the first several years. Norway's Robert Thoresen won the first ever World Barista Championship in 2000, and Tim Wendelboe, the now nationally renowned cafe owner, won in 2004.
View this post on Instagram
Wendelboe has been a driving force in the artisanal coffee scene in Oslo, modestly working his way up the ranks to own his own cafe and roastery. Wendelboe has a passion for sourcing coffee, developing direct relationships with growers, and even went so far as to buy his own coffee plantation in Colombia—mostly as an experimental and education site. His belief that great coffee must be cultivated with care for the environment as well as the people that grow it, is reflected in his care for the product itself. It's what sets his cafe apart.
It is now common to find baristas who share Wendelboe's passion and precision in major cities throughout Norway. You can find some of the best baristas and finest cafes in the world.
Cultural contributions
Norway embraced the rise of cafe culture in the 1990s and their commitment to product and presentation led them to become leaders on the barista world stage. They may not have invented any beverages or intricate brewing methods, but their commitment to quality and their respect for the barista profession helped highlight the skill and precision required of the position.
Training ground for baristas
Working in a cafe is a coveted job in Norway, and if you have aspirations of becoming a world-class barista it's a great place to work and study. Cafes like Tim Wendelboe's serve as educational and training centres, and are instrumental in the continued advancement of coffee culture around the world.
Etiquette
Coffee is woven into the fabric of life in Norway. If you visit someone's home they will certainly offer you coffee, and the same will be expected of you as a host. Coffee is for celebrating, for socializing, and for getting things done. There is no wrong time to drink coffee, and although basic filter coffee is still the most common, there is no wrong way to enjoy it either. The coffee break is an essential part of any workday and coffee is almost always accompanied by something sweet.
If you're visiting one of Norway's many distinguished coffee shops, you'll find the usual suspects on the menu and ordering will be quite similar to North America. Coffee time is for taking a break, so sit down and enjoy the wonderful atmosphere of the cafe. You'll never be rushed. A coffee bar is a great place to meet up with friends and plan the activities of the day, which will certainly include several more coffee breaks.
What drinks to order
Filter coffee remains the most popular throughout Norway, and they prefer a light roast, which allows the subtleties of flavour to shine through.
Cafes throughout Norway, particularly in Oslo, are always up on the hippest new brew method and always looking to extract the finest cup of coffee, so you might want to try a pour-over to get the full experience.
Espresso-based drinks are popular as well, prepared by some of the best baristas in the world. They tend to keep things simple, but their focus on quality beans and exquisite preparation will no doubt impress.
Final thoughts
Norwegian coffee culture is a delightful mix of the rustic and the refined. You can experience the simplicity of a kokekaffe while enjoy the breathtaking scenery, or visit a modern, refined cafe to find an espresso drink crafted by some of the best baristas in the world. Whether you're a coffee lover, looking for that elevated experience, or you just like to keep it simple, you'll find it all in Norway's cafe scene.
Image at top: © @markheybo | Creative Commons