Do you ever struggle to find just the right word to describe your coffee?
Let's give you 110 to choose from.
The following list of coffee notes comes from the Coffee Taster's Flavor Wheel published in 1995 and updated in 2016 by the Specialty Coffee Association in collaboration with World Coffee Research. It covers just about everything you might taste in your coffee.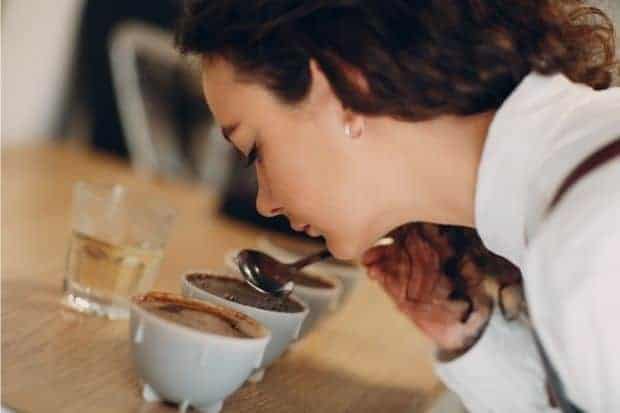 List of Coffee Notes
Roasted

Pipe tobacco
Tobacco
Burnt

Acrid
Ashy
Smoky
Brown, Roast

Cereal

Spices
Nutty/Cocoa
Sweet

Brown sugar

Molasses
Maple syrup
Caramelized
Honey

Vanilla
Vanillin
Overall sweet
Sweet aromatics

Floral
Fruity

Berry

Blackberry
Raspberry
Blueberry
Strawberry

Dried fruit
Other fruit

Coconut
Cherry
Pomegranate
Pineapple
Grape
Apple
Peach
Pear

Citrus fruit

Grapefruit
Orange
Lemon
Lime

Sour/Fermented

Sour

Sour aromatics
Acetic acid
Butyric acid
Isovaleric acid
Citric acid
Malic acid

Alcohol/Fermented

Winey
Whiskey
Fermented
Overripe

Green/Vegetable

Olive oil
Raw
Green/Vegetative

Under-ripe
Peapod
Fresh
Dark green
Vegetative
Hay-like
Herb-like

Beany

Other

Papery/Musty

Stale
Cardboard
Papery
Woody
Moldy/Damp
Musty/Dusty
Musty/Earthy
Animalic
Meaty/Brothy
Phenolic

Chemical

Bitter
Salty
Medicinal
Petroleum
Skunky
Rubber