So, you're on the road and craving a caffeine fix, but gourmet coffee shops are nowhere in sight. You'll survive! Gas stations have become the modern-day oases for the caffeine-deprived. All you need is to know the spots with the best gas station coffee to fuel your day, and you'll be a happy camper.
Imagine stepping into a well-lit gas station filled with the tantalizing aroma of freshly brewed coffee, making you feel like you just stumbled upon a hidden gem. As you fill your cup with that steaming hot elixir, you realize that the age-old stigma against gas station coffee is so last century. Goodbye bland coffee, hello road trip energy!
From the ever-famous Wawa to QuikTrip's delightful offerings, the highways are lined with these treasure troves of brewed goodness. Who says you can't find a quality cup of joe at a pit stop on the way to your next adventure?
Best Gas Station Coffee Brands
Let's explore some fantastic gas station coffee brands that can add a little pep to your step while you fuel up for your journey.
1. Buc-ee's
According to GasBuddy, Buc-ee's has the highest-rated gas station coffee in the nation. They offer a smooth, flavorful blend that's far superior to many other gas stations. Plus, their spacious locations and clean bathrooms make for a comfortable pit stop.
2. Starbucks
While Starbucks isn't technically a gas station, many of their locations are situated near highways and interstates, making them a convenient stop for coffee-loving road trippers. Their coffee is consistently high-quality, and they offer a wide variety of flavors and brewing methods to suit any taste.
3. QuikTrip
QuikTrip's original coffee blend is a favorite among many gas station coffee connoisseurs. It's a well-balanced brew that's both flavorful and smooth, and it's consistently fresh and hot.
4. Wawa
Wawa is known for its wide variety of coffee flavors and options, making it a great choice for those who like to mix things up. They offer everything from classic blends to seasonal flavors like pumpkin spice.
5. Kum & Go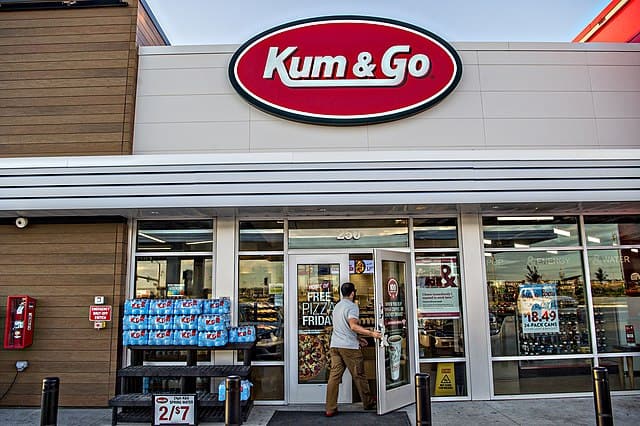 Kum & Go has a range of tantalizing coffee options, including House Blend Brazilian Gold, Dark Roast Colombian Roast, Hazelnut, French vanilla, and Mocha. They also offer hot and cold coffee varieties to suit different preferences.
6. Pilot
Pilot's coffee is known for its affordability and convenience. While it may not be the most flavorful or high-quality coffee on this list, it's a solid choice for those on a budget or in a hurry.
7. Circle K
Circle K's coffee is a decent option for those who need a quick caffeine fix, but it's not particularly noteworthy in terms of flavor or quality.
8. 7-Eleven
7-Eleven's coffee is cheap and convenient, but it's not going to win any awards for taste or quality. It's a decent option if you're in a pinch, but there are better choices out there.
9. Speedway
Speedway's coffee is a good balance of affordability and taste. While it may not be the most flavorful or high-quality coffee on this list, it's a solid choice for those on a budget or in a hurry. They also offer a variety of flavors and brewing options.
10. Casey's General Store
Casey's General Store's coffee is fresh and tasty, making it a great choice for those who prioritize quality over convenience. While they may not have as many flavor options as some other gas stations, their coffee is consistently good and worth stopping for.
Coffee Benefits for Road Trips
Ready for an adventure on four wheels? Make sure you bring a cup along for the ride, and experience the perks of sipping the sweet nectar during your journey. Let's explore some delicious and functional benefits.
Staying Awake at the Wheel
Caffeine is a stimulant. Getting a cup of gas station coffee can give you that extra boost of energy, helping you stay alert and focused during those long drives. But don't just take our word for it, consider:
According to our bff science, caffeine can improve your reaction time and ability to concentrate on the road.
Drink coffee judiciously. A study suggests that moderate caffeine consumption—at three to five cups a day—can benefit your road trip lifestyle.
Pro tip: Avoid chugging that coffee right before hopping into the driver's seat. Allow some time for the caffeine to work its magic on your sleepy self.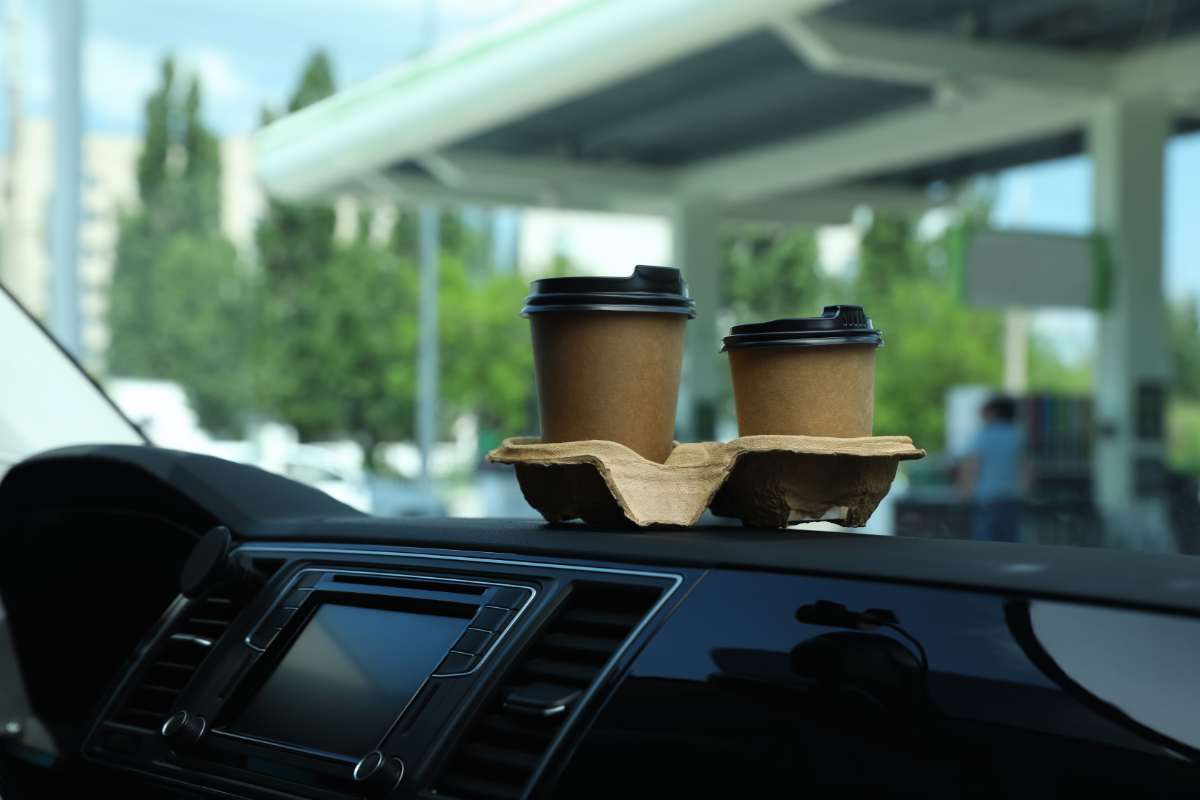 Keeping Your Mood in High Gear
Good news, stopping for a cup of gas station Joe can also be a mood-lifter. Here's how your cuppa can pump the happiness.
Boosting endorphins: Drinking coffee may increase endorphin production, the "feel-good" hormones that keep you happy during long road trips.
Antioxidant benefits: By packing a punch of antioxidants, coffee can help combat stress, fatigue and even grumpiness that can occur during those hours on the road.
Not to mention the grins you'll get from surprising your travel buddies with their favorite java. Just remember not to drink excessive amounts, as nobody wants a jittery, nervous driver behind the wheel.
So, on your next road trip, make sure to embrace the benefits of gas station coffee. Stay awake, lifted and emboldened to explore new horizons.
Tips for an Even Better Gas Station Coffee Experience
Customize Your Cup of Joe
Don't be afraid to get creative with your gas station coffee! Here are some quick and easy tricks to elevate your on-the-go brew:
Mocha on a budget: Grab a hot chocolate packet from the gas station or have one handy in your glove compartment. Mix half a packet or more into your coffee and voilà, you've crafted an instant mocha.
Temperature control: Sometimes gas station coffee can be scalding hot. Make it the perfect drinking temperature by pouring your coffee halfway through and then adding the rest of your desired cold mix-in (milk, cream, etc.). You'll save your taste buds and still enjoy a balanced brew.
Pairing Your Coffee with the Perfect Pit-Stop Snack
Finding that ideal snack to complement your coffee can make all the difference in your gas station coffee experience. Here are some winning combinations:
| Coffee Type | Recommended Snack |
| --- | --- |
| Classic Black Coffee | A buttery croissant or a delightfully glazed donut |
| Fancy Instant Mocha | Chocolate chip cookie or salted caramel granola bar |
| Creamy Cafe au Lait | Apple cinnamon muffin or banana nut bread |
Remember, the ideal gas station coffee and snack pairing is all about your personal tastebuds. Don't be afraid to experiment and find your own dream team!