It's hard to get pour-over coffee right without the right tools, so I decided to go find the best electric gooseneck kettle out there. When it comes to pour-over, excellence is in the details. All the little things—the pouring, water ratio, grounds saturation—might not seem significant, but they can make or break the quality of your cup.
After identifying 11 worthy models, I concluded that the SAKI Baristan Electric Kettle is the best value you can get. I'll explain why below, but first a look at my top three, in order.
Our Top 3 Electric Gooseneck Kettles
Any of the models on my longer list of 11 might suit your needs. Before I get into them, let's talk a bit about pour-over coffee and what you need to look for in an electric gooseneck kettle…
Pour-over coffee
The pour-over style is a brewing method where water is poured over the coffee grounds. It sounds simple enough, but optimizing pour-over coffee requires deft kettle handling.
The angle at which you pour should be consistent. Whether the water comes out in a thick stream or a thin stream is entirely up to you and your wrist. But once the water touches the coffee bed, you need to pay close attention to where the grounds are being saturated.
If it sounds like a bit of a chore, don't worry! A gooseneck kettle gives you the control you need.
What is a gooseneck kettle?
The gooseneck kettle's most prominent feature is its spout, from which it received its name. The spout is narrow and curved, just like a goose's neck. As silly as the name sounds, the spout's design makes it the best tool for brewing coffee carefully. It offers an opportunity for the brewer to control the pour with precision.
Why use a gooseneck kettle?
The main advantage of a gooseneck kettle is the great control it gives you over the flow of the hot water. It is very easy to slow your pour to a trickle, or increase the flow rate gradually. You also have very precise control over where the stream lands. This is all very helpful, particularly when making pour-over coffee.
Do you need a gooseneck kettle for pour-over coffee?
You can make pour-over coffee without a gooseneck kettle, but you will make things harder on yourself. The short spout and wide opening of a standard kettle offers very little control. Trying to do a controlled pour from one of those is like trying to fill a Coke bottle with water from a bucket. You'll get it done, but you're going to make a mess.
A quality pour-over coffee depends on the coffee grounds being evenly saturated and spending just the right amount of time in contact with hot water. With a gooseneck kettle, you can direct the water stream with accuracy toward any part of the coffee bed that you want, and it is very easy to speed up or slow down the flow to help you achieve the ideal extraction time. So while you don't necessarily need a gooseneck kettle for pour-over coffee, it really, really helps.
What to look for in an electric gooseneck kettle
If you're shopping for an electric gooseneck kettle, doing your research before purchasing will ultimately save you time and money. Here's a compilation of things to look for while browsing:
Design
A kettle's design isn't just for aesthetic purposes. Gooseneck kettles may look the same with their long curvy spouts, but don't be fooled by cheap imitations. When it comes to kettles, quality matters.
Some low-quality goosenecks produce an awkward flow of water because the spout is bent at the wrong angle. Some spouts are prone to damage, especially at the base where leakage can occur. In worst cases, the spout may come off after a few months of use. Avoid these cheap kettles by carefully inspecting the product before purchase.
Take note of what material the kettle is made of. A spout that rusts in its interior will pour brownish water. Yikes! To keep your water clean, stainless steel kettles are your best bet.
Comfort and convenience
Pouring coffee is a relaxing task until the kettle itself becomes too hot to handle. Though ornate kettles may seem nice, their functionality is important. Is the grip made of durable material? Is the handle too bulky to keep a firm hold? A fancy handle can make for an unsteady grip, no matter how appealing the design. Before you buy a kettle, double check the handle's sturdiness.
Capacity
Consider the volume of water a kettle can hold and the number of people you regularly serve. A kettle that can hold an appropriate amount of water will be able to serve everyone in one go (provided you have a large enough pour-over funnel and filters). With a bigger kettle, you can avoid the inconvenience of repetitive refills while enjoying a good brew with the whole crew.
Automatic settings
Most electric gooseneck kettles give you the ability to preset the temperature to which the water will be heated. To bring out the ideal flavour, coffee needs to be brewed with water that's between 195-205 F.
With some kettles, this temperature control extends to the period after heating. They will keep the water at the designated temperature for a certain period after the water reaches it—perhaps up to 60 minutes.
You'll also find kettles with built-in timers, which are useful for timing your pour when brewing pour-over, or how long your French press steeps.
Finally, you may want to look for one that will give you a little beep or some other alert when your water reaches its temperature.
Flow rate
One of the most important traits in a kettle is the flow rate. The pour-over style demands a consistent flow of water while brewing. Find a sturdy kettle that changes its flow smoothly depending on the angle at which you hold it.
A drooling spout that sloshes water can brew more frustration than coffee. To avoid this, check the kettle's flow control before you purchase or, if you're shopping online, test the product immediately after receiving it. If the product is inefficient, you can always return it.
Electric gooseneck kettle vs. standard
An electric kettle and a stovetop kettle each have their own pros and cons, but I'll tell you what bugs me most about my stovetop kettle.
They don't shut off when they reach the boiling point. This isn't really a problem with regular kettle, but with a gooseneck kettle it can be. That's because the narrow, curved design of the gooseneck makes it very easy for hot water to ascend the spout as it heats and expands. When a gooseneck kettle boils, you will inevitably get water spurting from the spout and making a mouse.
Electric gooseneck kettles mitigate this problem in two ways:
They either shut off or give you an alert when the water is hot.
If they do spill, they do it on the counter rather than your stovetop.
You do not want a gooseneck kettle spurting water all over your gas stove. The water will flow toward the burners and may soak the pilot light, making it very difficult to ignite the next time you want to use it.
On an electric stovetop, you have the possibility of short-circuiting the element if things get too wet.
None of this happens when your kettle is out on the countertop and shuts off as soon as it reaches brewing temperature. That, to me, is the biggest advantage of an electric gooseneck kettle vs. a stovetop version.
| | Electric | Standard |
| --- | --- | --- |
| Pros | heats water fast | can heat beyond boiling point |
| | built-in thermometer | no risk of electrical fire |
| | temperature control | |
| | notification when water is ready | |
| | | |
| Cons | consumes electricity | slow to heat |
| | | more 'hands-on' |
| | | thermometers etc. must be bought separately |
| | | may not signal when water is ready |
The 11 best electric gooseneck kettles
I recommend any of the 11 electric kettles below for brewing delicious pour-over coffee at home:
Check availability
The Baristan Electric Kettle from SAKI is a relatively recent addition to this list. I moved it straight to the No. 1 position, because I feel it offers most of the features of my second- and third-choice kettles—at least the features you're most likely to use—at a much more affordable price.
In fact, the Saki Baristan is a Fellow Stagg lookalike. It has the same matte black finish and stylish profile. It doesn't offer Bluetooth compatibility (so you won't be able to operate it from your bed), but I don't need to spend an extra $60-$70 for that.
Instead, the Baristan just gives you a solidly built stainless steel kettle with an exceptionally comfortable handle and easy-to-use touch-display operation.
You fill it with water (it can handle up to a liter), put the kettle in place, turn it on and set your temperature using simple + and – buttons on the display. When you reach your desired temperature and let go, the machine will take a second before your set temperature begins blinking and a red glow pulses around the base of the kettle, indicating it is in heating mode.
You can watch the temperature rise on the digital display. When your water has reached your target temperature, all the lights turn solid again.
You can then switch to timer mode if you want to take advantage of the digital timer for your pour-over.
I found it somewhat counterintuitive that the target temperature would blink while heating. On most digital electronic devices, a blinking number means it's waiting for you to confirm your setting. This perplexed me at first, but once SAKI support clued me in, I got the hang of it. The kettle has been a joy to use ever since.
I was struck immediately by the high-quality packaging of the Baristan. The kettle and all its parts come nestled snugly in contoured foam within a thick box. When I lifted the kettle out of its foam, I could tell immediately by its heft that it meant business.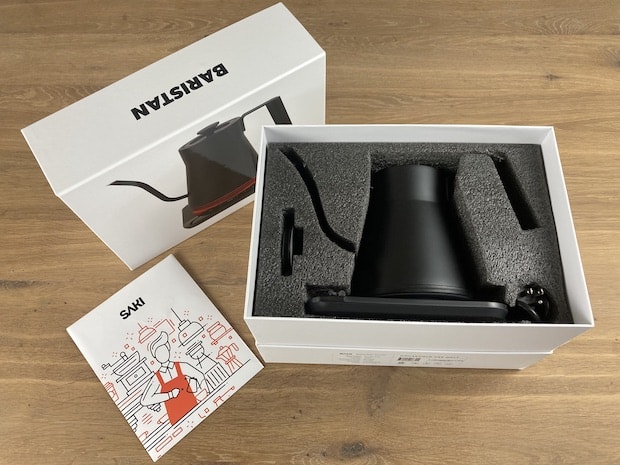 The interior walls are shiny, smooth, polished stainless steel, with the maximum 1-liter mark clearly indicated on the inside.
The lid is padded and fits snugly into place, so there's no rattling as you boil.
The best part might be the handle. It's thick, with a pebbled rubber grip that doesn't get hot at all and gives you full control when pouring.
As expected, the gooseneck provided a smooth, steady flow when it came time to pour.
The Baristan has become the go-to gooseneck here at Bean Poet headquarters, and I have a hard time imaging anyone being disappointed with this offering from California-based SAKI.
Pros:
the best handle there is
digital display with easy touch operation
built-in brew timer
no-rattle lid
keeps water at temperature for up to an hour
Cons:
short, two-foot power cord
operating instructions could be more clear
Check availability
Brewista takes pride in the accuracy and safety of its Artisan kettle. With its digital temperature selection, water can be heated to a precise temperature, so it doubles as a great tool for making certain teas.
Another feature I love is the built-in timer to monitor your pouring time. Perfect pour-over coffee depends on the rate and timing of the pour. With the Brewista Artisan, once you've nailed it you can duplicate it easily by setting the timer.
Other features include automatic shut-off after one hour. If you're the type who often leaves your kettle unattended, this can save you a lot of electricity.
Then there is the auto-start feature. It allows you to create your own presets for how long and how hot you want your water.
Pros
1.0L capacity can serve a lot of people
pouring timer
automatic safety feature to prevent excessive power usage
lift-off base for easy pouring
Cons
Check availability
Out of all the kettles, the Fellow Stagg EKG has always stood out with its matte black coating and alluring design. Coffee connoisseurs who like minimalistic design can add this to their kitchen for a smart, modern look.
When I say "minimalistic" I'm talking about the look, not the technology. The Stagg is one of the smartest kettles out there. If you download Fellow's app, you can turn the kettle on and control the temperature via Bluetooth from the comfort of your bed. You can see the app in action in the video below.
The product is sturdy and durable. With the Fellow Stagg EKG, you won't have to worry about buying another electric kettle in a long time.
Pros
modern and eye-catching all-black design.
stainless steel
built-in timer
Bluetooth connectivity
Cons
takes longer to heat than its competitors
not fully automatic
If you're a fan of specialty coffee, then you're probably familiar with the Hario brand. Their pour-over cones and manual grinders are industry stalwarts.
Now we have the Hario Buono electric gooseneck kettle, which looks a lot like Hario's stovetop version with its signature beehive-like profile. But this one sits snugly on its own heating element which means the handle won't be heated by your stove—my only gripe with the stovetop version!
It's a great handle, by the way, ergonomically designed with a nice grip for easy pickup.
The Buono's base is scratch-resistant with a nonslip rubber ring on the bottom, so it stays firmly in place even when wet.
The kettle is made of stainless steel that resists scale formation, so you only need to clean with water. It runs quietly on 1,000 watts. It can hold a 0.8 liters or just over three-quarters of a cup. Its slender spout controls the flow of hot water well, ensuring no spills, and it is detachable if a replacement is needed, although I can't imagine why it would be.
Pros
high quality and stylish
easy to use and clean
stable base
Cons
doesn't come with a stopwatch
The Cuisinart GK-1 is easy and comfortable to use, making it quite a popular model. Its capacity of 34 ounces, or just over one liter, is quite generous. The adjustable gooseneck spout allows you to pour water with accuracy and precision.
Between power on—indicated by a light— to auto shutoff (which I can't live without), the Cuisinart GK-1 draws 1200 watts to heat a full kettle in just three minutes. You can select temperatures from 140 to 212 degrees Fahrenheigt.
The warranty is three years, which covers you off well against any potential manufacturing faults. They'll either refund your money or replace your kettle.
Pros
stylish design
spout offers precise control
company stands by its product with a three-year warranty
Cons
the 'Cuisinart tax' means you're paying a little extra for the name
Check availability
Taking its cue from the Stagg, the Cosori Electric Gooseneck Kettle also rocks a cool matte-black look. It's a great choice for those who drink coffee and tea, because its five temperature presets include three for tea (did you know green tea should be brewed 25 degrees lower than coffee?), one for coffee, and one for straight-up boiling. They're all laid out neatly in a panel at the front of the machine.
The Cosori also heats quickly! With 1200 watts of power, it gets your water ready in 3-5 minutes, and it will maintain the desired temperature for an hour.
The stainless steel vessel has nicely weighted handle attached, which moves the centre of gravity back toward your hand and gives you really precise control while pouring.
Pros
eye-catching black design
temperature presets for both tea and coffee
very fast to heat
Cons
can spill from spout when filled too high
5 temperature settings may be overkill for some
Check availability
Bonavita is a staple in many coffeehouses. Its popularity as a long-standing brand makes it an appealing choice for aspiring and professional baristas. Their Bonavita 1.0L Digital Variable Temperature Kettle includes most of the necessary features for coffee-making and is suitable for pour-over.
Pros
stainless steel
allows precise temperature adjustment
customized handle for excellent grip.
suitable for complex brews
Cons
contains plastic material inside
Check availability
I really liked the blue LED screen display on the Ulalov kettle, which is super easy to read. This kettle comes with some nice features like auto-shutoff, and also detects when there is no water inside and shuts off automatically for protection.
It's made out of high-quality, durable stainless steel, with an international two-year warranty which provides worldwide coverage.
It's another great kettle for those in a hurry, because its 1200 watts of power can heat water to boiling in two to three minutes. This product is perfect for anyone in a hurry since it only takes 2-3 minutes to prepare your coffee, for it has 1200W.
Pros
heats quickly
well-designed handle doesn't get too hot
auto shutoff
Cons
makes some noise while heating
Check availability
The Bodum Melior gooseneck kettle is a high-quality kettle that makes it really easy to prepare your coffee. The shape of its gooseneck spout provides wonderful control and precision for optimal pouring. It's made entirely out of stainless steel material except for the cork handle and lid knob, so it's plastic-free (except for the base), BPA-free and dishwasher safe if you choose to go that route.
The gooseneck spout is made of material that prevents limescale deposits, and it's always easy to clean. The presence of a non-slip handle and knob make it safe, comfortable, and easy to use. Its elegant design, the double-layer base for fast heating, and the automatic switch-off function make it a lovely object in your kitchen.
I like this as an affordable model from a brand that generally sells good quality products. The Bodum Melior gooseneck is no exception, receiving plenty of positive reviews from customers.
Pros
100% stainless steel, with no plastic anywhere inside
very resistant to damage
easy to clean
good-looking design
affordable
Cons
doesn't always sit snugly on the base
inconsistent build quality
Check availability
The Ovalware gooseneck kettle is a high-quality kettle that performs well. The kettle heats your water to a preset temperature very quickly. It shows the preset temperature on a digital display screen, along with the battery life and ready time. A built-in stopwatch allows you to preset time for your pour, which gives this kettle an edge over some others on my list.
The Ovalware kettle has a stainless steel body that makes it durable and corrosion-resistant. It's designed to stand on any kitchen counter and does not require a lot of countertop space. The gooseneck spout pours evenly, without any dripping.
With a capacity of 0.8 liters or just over three cups, the Ovalware is quite efficient and takes less than five minutes to bring water to a boil.
Ovalware is a relatively new brand that in five-plus years has become known for designing and manufacturing innovative kitchen equipment.
Pros
high quality
elegant design
built-in-stopwatch
plastic-free
Cons
some reports of leaking over time
Check availability
The Jocuu electric gooseneck kettle provides the water flow control you expect and precise temperature readings.
To customize temperature, you can select from more than 100 settings, and the kettle provides a stopwatch to time your pour as well. The 1000 watts of power are quite generous, allowing you to heat water to a boil in less than three minutes.
It's a stainless steel kettle with an elegant design that comes with a three-year warranty. Jocuu claims to offer ongoing technical support after purchase.
Pros
accurate water temperature
great flow control
stopwatch
heats quickly
Cons
buttons aren't very responsive
Final words on our top pick
I told you at the top that my recommendation is the SAKI Baristan. If you hesitate to take my word for it, read feedback from people who have bought it on Amazon. You'll see that they're quite happy with it.
The Baristan has a stylish design, the best grip I've seen on a gooseneck kettle, precise temperature features, large capacity and a consistent flow rate. These features make it the best electric gooseneck kettle on the market.
The Baristan has a one-litre capacity. This is suitable for a household full of coffee drinkers. It can accommodate more people than other electric kettles and leave more water to spare. It's especially handy during celebrations and friendly visits.
You can adjust how hot you want your water to boil with the variable temperature control. The water temperature inside the kettle will be displayed on the base's digital screen. This feature allows you to bring out the best flavor in your drinks.
The kettle can boil a full litre in about five minutes.
The "keep warm" feature or temperature hold can keep water at the set temperature for one hour. This is great for long coffee breaks or multiple refills.
The gooseneck spout and its tapered mouth are specifically designed for precise pouring. It gives the user control and a consistent flow of water. This is an advantage for making pour-over coffee.
The handle and lift-off base make it easier to pour. The handle is molded to comfortably fit your hand. You don't need to worry about a hot handle or an awkward grip.
The Baristan provides you with all the advantages befitting the best electric gooseneck kettle on the market.