Today's Kickstarter campaigns are tomorrow's everyday coffee tools.
For proof, look no further than the Flair Espresso, which launched on Kickstarter in the fall of 2016 and is now widely regarded as providing the best value in an affordable hand pull espresso maker. Or the Hyperchiller, a summer 2015 launch that has been keeping coffee lovers cool for the four summers since.
Kickstarter is perhaps the best known of the crowdfunding platforms that help entrepreneurs raise funds they need to put their ideas into production. The inventor describes a project and posts details of a prototype, then offers a reward to anyone who likes the idea enough to help fund its production. When enough money is raised, the item goes into production. More often than not, the product itself becomes the backers' reward. They are among the first to receive it when it's ready to ship.
Following year: Best Coffee Kickstarters of 2020
As we close out the decade, Bean Poet is pleased to present the 2019 Coffee Kickstarter Awards. The projects we've selected have all met their fundraising goals and are the products we expect to have some staying power. Today, they're cutting edge. By the end of the next decade, they could be commonplace. And you'll be able to tell your friends, "Hey, you know that started out as a Kickstarter…"
Here are our choices…
uKeg Nitro Cold Brew
Cold brew coffee maker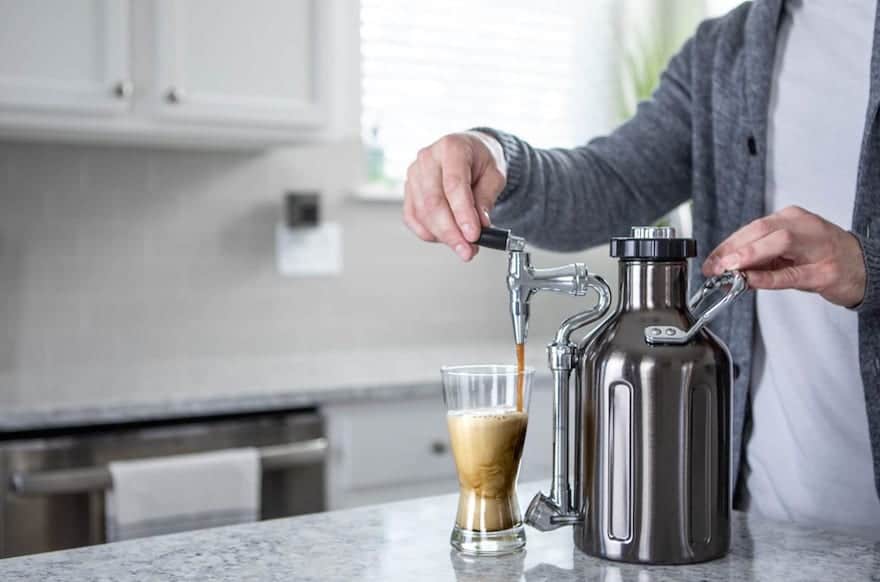 Imagine keeping your own tiny keg of Guinness in the fridge. Except instead of Guinness, it's cold brew coffee! Any time you turn on the tap, you get a beautiful, creamy, cascading brew.
That's the idea behind the uKeg Nitro Cold Brew Coffee Maker by GrowlerWerks, a company previously known for its uKeg carbonated beer growler.
The coffee version allows you to brew, store and pour your cold brew all with the same vessel. Small gas cartridges provide the nitrous oxide that gives the brew its tiny bubbles.
GrowlerWerks launched the project on June 5 and six weeks later they had more than $640,000 in funding from nearly 4,000 backers. The Nitro King now has some competition.
The double-walled, vacuum-insulated, stainless steel kegs are available for order through Amazon or the GrowlerWerks website.
Avensi
Coffee-enhancing glasses
You probably know that wine glasses are uniquely shaped to bring out the best in wine. That's why white wine is served in a different glass than red wine, and champagne in a different glass still.
But what shape of glass brings out the best in coffee?
ICOSA Brewhouse, creators of the Arctic Cold Brew Coffee System, collaborated with 90 coffee experts in 30 countries to come up with a set of glass coffee cups uniquely designed to bring out the taste, aroma and flavor of your coffee. The Avensi glasses feature a single-wall glass top, shaped for swirling, with a double-walled glass base that keeps coffee warm and your hands cool.
When you think about it, we spend so much time trying to craft the perfect coffee, it makes little sense to simply dump it into a conventional mug without any thought as to whether the vessel is optimizing the flavor. Here, the inventors of the Avensi glasses have done the thinking for us.
You can find them at the ICOSA Brewhouse website.
Twist Press
Pressure brewer with a twist
The corkscrew design of the Twist Press takes advantage of torque to create coffee-brewing pressure. It's a bit like an Aeropress, but instead of leaning on a plunger to push a piston down through the brew cylinder, you simply twist a couple of handles toward each other to accomplish the same thing.
This new design from Barista & Co. features a brewing chamber with diagonal channels on the outside, which accommodate the "threads" on the inside of the plunger. You lock the brewing chamber onto a filter handle, deposit your coffee grounds and water into it, then insert the plunger and twist. The resulting pressure can brew your coffee in as little as 30 seconds.
The Twist Press is really lightweight and has a built-in coffee storage compartment, so you can easily stash enough grounds for a weekend camping trip.
You can find the Twist Press at the Barista & Co. website.
H2Joe
Travel coffee mug meets water bottle
Lugging a water bottle and a travel coffee mug to work is a chore that would be more easily performed if you had one extra hand.
Enter the H2Joe, which allows you to carry cold water and hot coffee in a single container.
The coffee goes into a double-walled, vacuum-sealed stainless steel compartment that screws onto the bottom. The water goes into a triple-walled main chamber that is BPA-free. Each compartment is connected to its own drinking spout, so you just unscrew one cap to sip your water, or flip the other cap to quaff your coffee.
Each compartment carries 12 ounces of liquid. The coffee stays hot for six hours, and the water stays cold for eight. The compartments are well insulated, so they don't affect each other's temperature.
You can also wash the H2Joe in your dishwasher.
They are available for pre-order now at the H2Joe website.
Pakt Coffee Kit
Mobile pourover setup
Going on the road? You can take your chances with the coffee maker in your Airbnb (hopefully the cleaners remembered to dump the old filter!), or you can travel with the Pakt Coffee Kit.
This kit contains everything you need to make great pourover coffee, all packed together like Russian nesting dolls. There's an electric kettle, a stainless steel drip funnel with resuable metal filter, a double-walled stainless steel travel mug, a container that holds enough ground coffee for five cups, and a scoop.
It's all made from durable materials that can withstand the rigors of travel. When packed together, the collection takes up less space in your suitcase than a pair of shoes, and weighs no more than a 15-inch Macbook Pro.
All that's missing is a grinder (you'll have to grind before you fly) and electricity. The Pakt Coffee Kit won't work for backcountry campers, but if you're going someplace you can plug in, you're all set.
You can order one from the Pakt website.
Congratulations to the innovators behind the great projects that made this year's list! We're looking forward to whatever the world's coffeepreneurs have in store for 2020.